Happy Birthday to me!
Well, not just me, but my blog!  Eat Bake Drink Cook made it to its one  year blogiversary!  I can't believe it.  And boy have I come far!  Take a look at the picture from my 1st post and my 1st birthday post.

Yeah…I think I've learned a thing or two.  I have made 126 posts, had 153 comments and 10,240 visitors to my site (some stats are just from October 2012 since that is when I switched my site to wordpress.com).  While some people reading this blog may laugh at those stats and have those comments and visitors in one day, it means so much to me.  I went from nothing to so much more in one year.  And it keeps on growing every single day.  I have participated in Kitchen Challenges, Leftovers Clubs, went to 3 conferences, was featured in Huffington Post Taste and Dining in DC, and met many, many friends.  To me, that is amazing. I look forward to learning and growing even more in the coming year.
To celebrate, I made some sprinkled vanilla bean whoopie pies.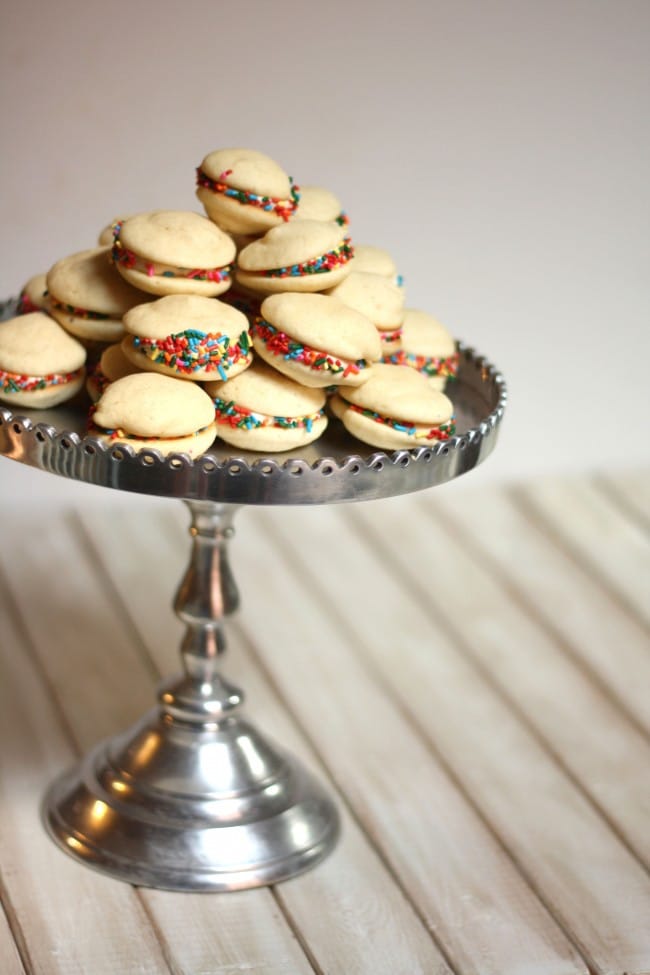 I made these for book club the other day and they were a hit.  One fellow book clubber said, "These taste like childhood dreams."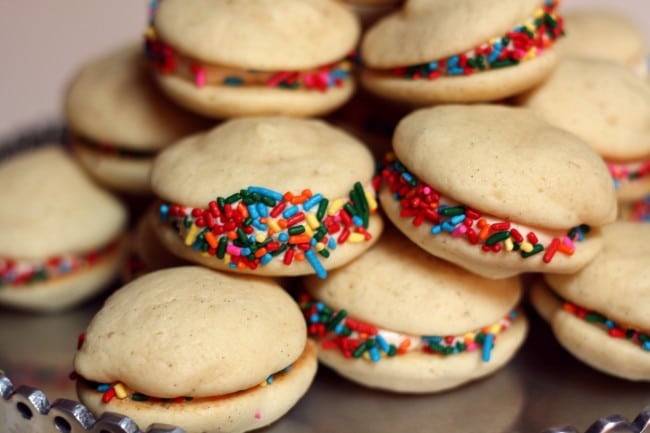 What could be better than childhood dreams to celebrate a birthday?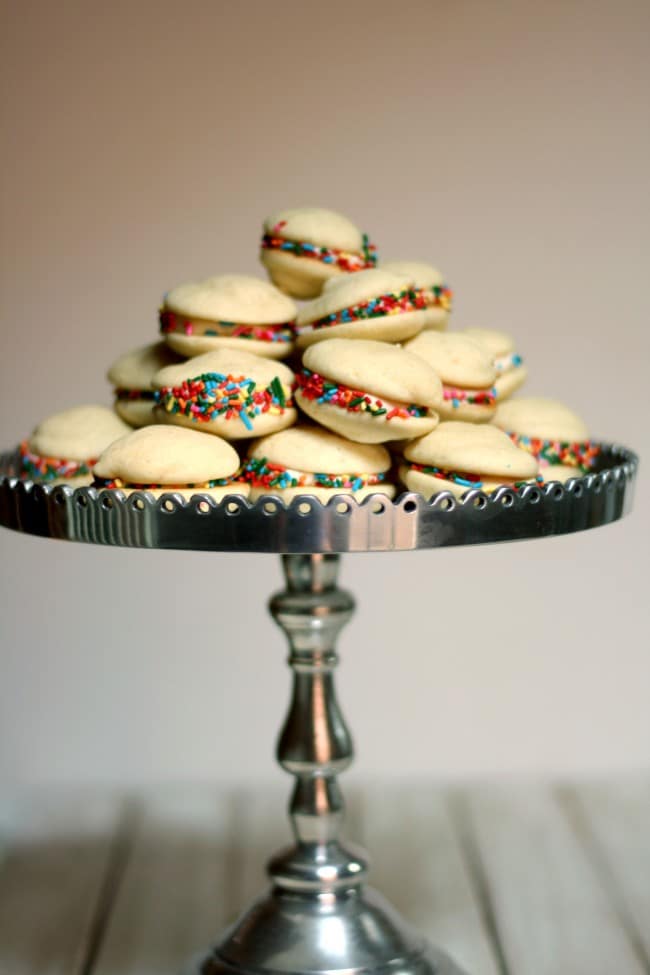 *I used real vanilla beans in this recipe for this special occasion, but if you don't feel like shelling out that much money, feel free to substitute in 1 teaspoon vanilla or vanilla bean paste.*
Print
Bake: Sprinkled Vanilla Bean Whoopie Pies
Ingredients
For the whoopie pies
8 tablespoons butter, room temperature
3/4 cup sugar
1/2 vanilla bean
1 egg, plus 1 egg white
1 teaspoon vanilla
2 1/4 cups flour
1 1/2 teaspoons baking powder
3/4 teaspoon salt
1/2 cup milk
For the filling
1 cup powdered sugar
10 tablespoons butter, room temperature
1/2 vanilla bean, seeds scraped out
1 teaspoon vanilla
3 tablespoons heavy cream, plus more as needed
Sprinkles
Preheat oven to 350 degrees.
Beat butter and sugar in the bowl of an electric mixer until light and fluffy.
Scrape the seeds out of the vanilla bean and add to butter and sugar. Beat until combined.
Add egg and vanilla and beat until combined.
In a separate bowl, combine flour, baking powder, and salt.
Add half of the flour mixture to the butter mixture and beat to combine.
Add in the milk and the flour mixture beating to combine after each addition.
Cut the tip off of a disposable pastry bag or a plastic bag. Put as much of the dough in the bag as you can and pipe 1 1/2 inch circles on a cookie sheet. They should be 2 inches apart.
Bake for 10 minutes or until the dough is set. Allow to cool on cookie sheet.
Prepare the filling by combing the ingredients in a mixing bowl. With the whisk attachment, beat on high until the filling is light and fluffy. If necessary, add some more cream to make it a little more fluffy.
Place the filling in a pastry bag or plastic bag and cut the tip off the end (smaller than before). Put a dollop of filling in the middle of the whoopie pie, match a similar sized whoopie pie, and place on top squeezing together just a bit to have the filling reach the edges.
Place sprinkles in a bowl and roll the edges of the whoopie pie in the sprinkles.
Whoopie pies can be stored in an airtight container in the fridge with layers of wax paper between each layer of whoopie pies.