I can't believe summer vacation will soon be coming to a close. It's been a pretty busy summer, and I'm sure the school year will be even more crazy! Chris and I will be traveling to Louisville quite a bit in the coming months, so I decided I was going to start cooking meals now and freezing them, so when we feel too tired to make dinner we won't have to eat out. I'm calling it "The Freezer Project". *Cough*…I may or may not have a word doc on google drive with a list of things I'm planning on making. Yes…totally dorking out over here. What you see here are two things I can now check off my list. That's right, accompanying the saag is homemade naan (recipe coming soon!).
I've made this recipe before, but felt it was lacking in flavor. I loved the idea of using evaporated milk instead of cream and how simple and easy this dish is to pull off, so I gave it a second chance, changing the spices a bit. I'm so glad I did, because it makes for a wonderful meal, and I imagine it will taste even better tomorrow! It makes a fair amount, about six servings, which is perfect for us. We each had it for lunch today, lunch is taken care of tomorrow, and two servings are waiting for us in the freezer. That's what I call perfection! Stay tuned for my favorite naan recipe!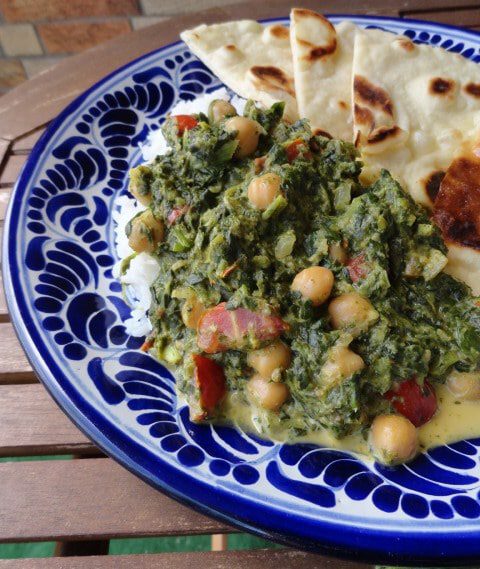 Chana Saag
Ingredients
2 tablespoons olive oil
1 medium onion, finely chopped
3 cloves garlic, minced
2 inches fresh grated ginger
1 teaspoon coriander
1/2 teaspoon tumeric
1/4-1/2 teaspoon ground red pepper (I did a 1/4 tsp. and it wasn't too spicy)
1/2 teaspoon garam masala
3/4 teaspoon salt
1 large tomato, chopped
1 lb. bag frozen chopped spinach*
1 (15 ounce) can chickpeas, drained and rinsed
1 (12 ounce) can evaporated milk
Directions
In a very large skillet, heat oil over medium-low heat. Add onion, garlic, and grated ginger (it's easiest to just grate it right over the pan). Saute for about 5 minutes, or until onion is soft and transparent.
Add coriander, tumeric, red pepper, and garam masala. Stir and cook for about 1 minute. Add the tomato and salt, and continue to cook for another five minutes, or until the tomato starts to lose it's shape.
Add the chickpeas, spinach, and 1/2 cup of water to the skillet, giving it a good stir as to break up the spinach. Bring it to a simmer over medium heat, then continue to let it simmer until the mixture is heated through, about five minutes.
At this point, most of the water should have simmered away. Turn the heat down to medium low, and add the evaporated milk. Depending on how thick you want the sauce, you can just heat it through, or let it simmer until thickened.
Once cooked, take a cup or so of the mixture and add it to a blender, blending until smooth. Add mixture back to the skillet, give it a stir, and serve with rice, naan or both!**
*Be sure the spinach you purchase is chopped, or you'll be stuck with long pieces of stringy spinach.
**This last step is completely optional, but I like the color and added thickness. Leave it as is if you wish!