Guys, I'm obsessed.
Ok, I know that isn't a new thing. I mean I think we all can remember my obsession withAlton Brown, or celery leaves, or baked things, but this obsession is totally new and totally justified and ohmigawd.
I love love love chicken, guys!
Ever since Itried chicken for the first time in over four years, I have been craving it all the time. It's like my body is trying to make up for all the time I spent not eating it and eating beef instead (and while both are meat, chicken really is much better for the healthy mindset in most cases). I've been making myself hold back, as I have vowed to cut back on my meat for environmental reasons, but I have managed to fit in a little recipe testing involving chicken recently.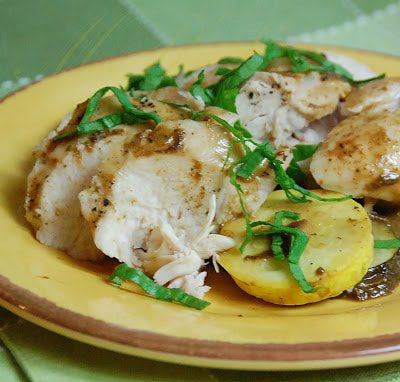 Voila. This Maple-Mustard and Balsamic Chicken and Vegetables recipe is so, so, so good. As in Brad Pitt or Audrey Hepburn good, orSinging in the Rain good, or as in cupcakes-with-sprinkles good.
Look, it's delicious.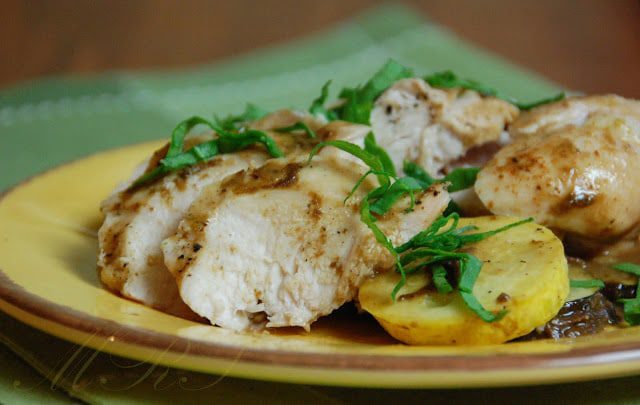 Juicy pieces of chicken are smothered in a sauce full of the warmth of maple and the spicy zing of mustard, then made complex by some balsamic vinegar drizzled in. Served on a bed of tender, fresh yellow squash, this dish is to die for because it isso full of flavor. It satisfies the part of you that wants meat and the part of you that wants a comforting plate full of roasted vegetables.
Maple-Mustard Balsamic Chicken
Serves 4           Serving Size: 1 chicken breast and 1/2c. vegetables          Calories/Serving: 282
Ingredients:
4 (6oz) boneless, skinless chicken breasts
Cooking Spray
1/4tsp salt
1/4tsp black pepper
1/3c. sugar-free maple syrup
3tbl spicy brown mustard
3tbl balsamic vinegar
4 large yellow squash, sliced into 1/2-inch rounds
Instructions
Preheat the oven to 400 degrees.
In a medium-large baking dish coated with cooking spray, lay out squash rounds into a(n) even layer(s). Spray with more cooking spray; season with half the salt and half the pepper.

Lay the chicken breasts on top of the squash rounds, letting each breast have a little room around it (the breasts should not touch each other). Season with the remaining salt and pepper. Bake at 400 degrees for twenty minutes.
Remove pan from oven; flip over chicken breasts. Pour about 3/4 of the sauce evenly over the chicken, allowing it to be fully coated and to drizzle down onto the vegetables. Put back in the oven and cook for another 20 minutes, or until fully cooked through. Serve with remaining sauce and vegetables.