I love finding new cookie recipes. I love it because I love having stashes of them in the freezer. A whole array of them, glistening there like my own personal cookie shop.
It's important to have this all year round but most important during the holiday season.
No one wants to be in the position when a friend pops round unannounced and you have no treats to offer them. Worse yet, stale treats that you baked last weekend. Well actually that's ok now, because these cookies stay surprisingly fresh.
I have baked two unsuccessful things in the past few days; A self-saucing Chocolate Pudding with no sauce and an Autumnal Eton Mess which was more like a miss match of flavours that didn't look very appealing at all. Yes it was supposed to be a 'mess' but I wanted it to be a pretty mess. It was far from that.
Oh faithful cookie, I can always count on you for good results. These cookies hold all of the wintry spices that we love with added welly from the toasty pecans. I am so into orange at the moment, I just want to wrap myself up in its citrus goodness.
These are quick, simple and easy but oh so tasty.
Just what everyone wants from a bake really. It doesn't matter if it's an impressive four tiered cake with frosting frills or the delicious little morsel that is the humble cookie.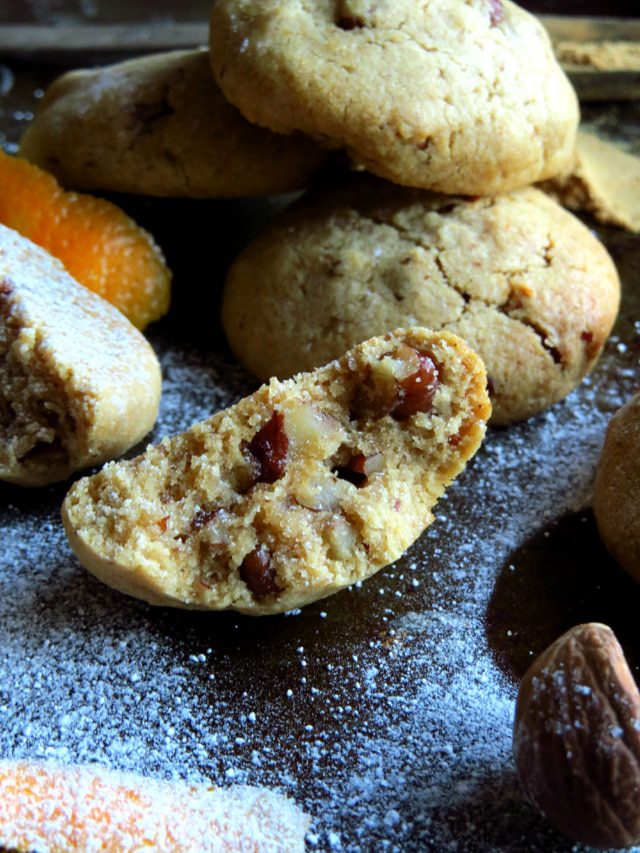 Ingredients – Makes 30 Cookies
225g unsalted butter, room temperature
155g light brown sugar
1 tsp. vanilla extract
1 tsp. salt
zest of 1 orange
2 tsp ginger
1/2 tsp cinnamon
a few grates of nutmeg
1 egg
370g plain flour
150g chopped pecans
Method
Pre-heat your oven to 160C and line two baking trays with baking parchment.
Start by creaming together the soft butter, light brown sugar, vanilla, salt, orange zest, ginger, cinnamon and nutmeg until fluffy. (Don't over cream your butter here as it will make your cookies spread while they bake in the oven.)
Add in the egg and beat until combined. Begin to add in the flour in 3 additions, making sure the mixture is well combined between each addition. Finally, add in the roughly chopped pecans.
Now you can start to divide the cookie dough into balls ready to bake. I like to weigh each one out at 30g for consistent baking and appearance. However, you don't have to do this, you can just do it by eye.
Lay the cookies onto the baking trays, leaving a few cm between them.
Bake for 8-10 minutes until golden brown.
Tip: Bake 15 of these cookies and freeze the rest so that you always have an emergency stash in case of drop in guests or cookie cravings over the christmas period.