L'Shanah Tova, minions. That means Happy New Year for all you unchosen people out there. I'm here to talk to you about Jew food, a topic near and dear to my heart. Growing up, I suffered through seven long years of Sunday school, three horrendous years of Hebrew school, and a Bat Mitzvah that unfortunately did not net me the rumored thousands in gifts. I know, right? Disappointed with my religious coming-of-age, I swore off religion, clinging to the belief that one day I would make my promised Jewish fortune through worshiping at the altar of The Law. And we all know how well that's going.
I'm primarily a cultural Jew, with an emphasis in Food Studies and Holidays with Presents. Much of my love of food and cooking comes from my Jewish heritage and its emphasis on food as a means of celebration, family and knowledge. Growing up, my family often had large holiday meals at my Grandma Mary's house amongst the overpriced porcelain and crystal tchotchkes. Dinner usually consisted of matzo ball soup, gefilte fish, and either chicken or brisket and potatoes. Dessert? Sponge cake, baby. Delicious, delicious sponge cake with strawberry topping. I grew up, of course, with the other usual Jewish fare. I dig bagels with cream cheese; matzo is purchased in bulk during Passover and eaten year-round (toast some cheddar on it or spread with cream cheese);mandelbrodt and rugelach are the best cookies ever; corned beef on rye is to die for; jelly donuts make Hanukkah awesome; knishes, blintzes and other stuffed things are always welcome on my plate; and latkes are pretty damn delicious (even if no one can replicate my Grandma's). The list is endless, and as long as it doesn't contain ground up fish or liver, I'm down.
Now that I've made you hungry, let's talk about the two Jew foods I have chosen to feature from my holiday cooking:challah and kugel. You should all know what challah is, and if you don't, please go find your local Jew(s) and ask for a tutorial. Every holiday meal begins with the blessing of two loaves, their shape and design symbolizing the feast's purpose and origin. During Rosh Hashanah, challah is typically formed into a round shape to represent the cycle of the year, hence the shape of my challah. More important than shape is taste and texture. Challah is not challah unless it is rich, chewy, moist, dense yet tender, and slightly sweet. Challah is never to be sliced—it is to be pulled apart. To do otherwise is blasphemous (exceptions will be made for French toast and sandwiches). I am completely serious.
Moving on, people tend to be more familiar with potato kugel, but my family exclusively eats noodle kugel. Think of it as a Jewish bread pudding: noodles surrounded by a thick custard. It can be sweet with either apples or raisins, but like my mom, I strongly believe that raisins should be limited to the realm of oatmeal cookies. My dad's kugel falls into the space between sweet and savory—it is creamy and slightly sweet, with cinnamon and rich egg noodles, but is decidedlynot a dessert. It's also really delicious cold. And for some reason it meshes well with poultry, meaning we always have it during Thanksgiving. It's definitely a year round kind of dish.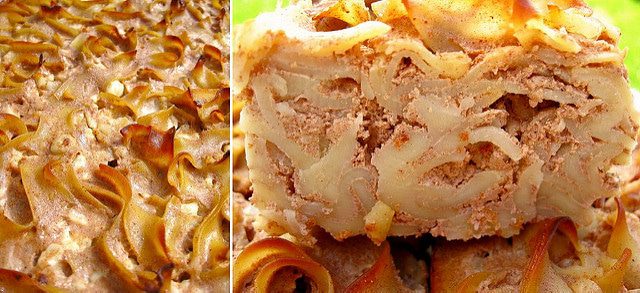 So, if you want to impress your friendly neighborhood Jew(s) or someone special with some uh,ethnic, cooking, make challah or kugel. I promise you'll get rave reviews.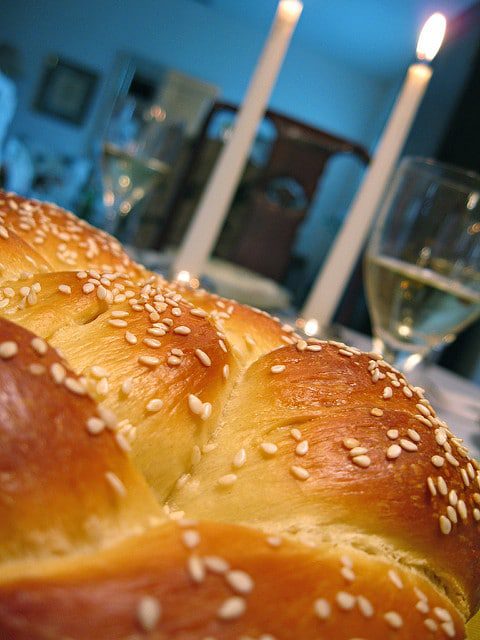 Challah Tips
Recipe brought to you by Fine Cooking.
Add ingredients in amounts and order instructed or you will end up with tiny little flour pebbles in your challah. If you can't braid 6 strands, braid 3. Or shape it into a loaf and use it as sandwich bread. This is also a great recipe for new bread bakers. It requires you to knead until it is very difficult to further do so, meaning you do not need to evaluate whether the gluten is developed or not. However, you donot want your dough to be dry. It should be a little tacky to the touch, but not wet. This is also the truest challah recipe I have made, so it will also be featured on my table this upcoming week for Yom Kippur.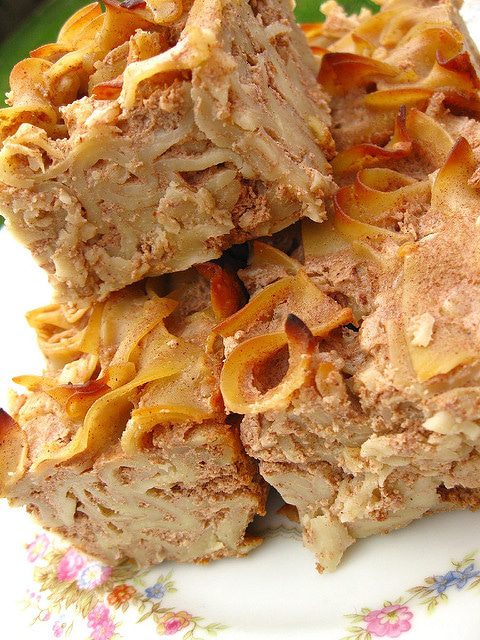 Savory Noodle Kugel
1 lb. extra wide egg noodles
3 cups 2% cottage cheese
1 cup sour cream
6 eggs
1 stick salted butter
3/4 cup sugar
3 Tbsp. cinnamon
Preheat oven 350F.
1. Soften butter. Place all ingredients except the noodles in your mixer bowl and mix for 3-4 minutes until thoroughly combined. You can do this by hand, but use a whisk and do so thoroughly–it changes the texture of the kugel.
2. Cook noodles until they are almost done. Most packages will tell you how long to cook if using in a casserole, usually 7-8 minutes. Drain thoroughly.
3. While still warm, add noodles to cottage cheese mixture. Turn mixer on low and mix until well combined. Heat from the noodles will melt any chunks of butter. Taste a noodle and determine if you'd like it sweeter or with more cinnamon.
4. Bake for 45 minutes to an hour until top is brown. Kugel will bubble in a few places, but will mostly be settled. It will set completely when cool.
5. Cool slightly and serve. Kugel can be rewarmed or served cold the next day. Also freezes well in pre-cut squares.