My favorite chocolate chip cookie recipe by far is Cook's Illustrated Perfect Chocolate Chip Cookie. I don't know if it's the browned butter, the elaborate mixing of the eggs, or the soft interior, crispy exterior that gets me every time.
And while I could eat the whole batch by my lonesome, I shouldn't… no one should.  But I wanted to create a cookie recipe that still felt like a treat, but was a little healthier.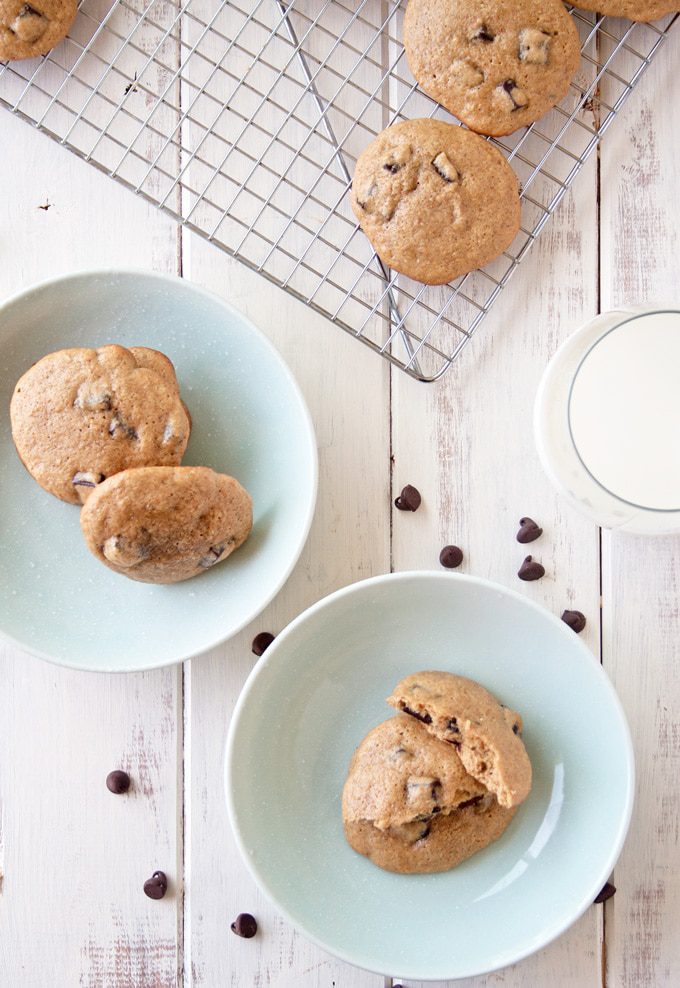 Of course, there are tons of healthy "cookie" recipes.  Yes – I'm air quoting cookie as I write this.  It's not a cookie if there's no sugar.  If you want me to believe apple sauce tastes like dark brown sugar – you are nuts and we will not be friends. And please don't try to sell me on these no-bake ones either.  It is mush and I don't want it.
But what if I substitute a few items to make a really delicious soft-bake cookie that still tastes like a treat but is also packed with fiber, whole wheat, and protein?  And what if I take all that browned butter (yes – it's gone, tear) and replace it with coconut oil?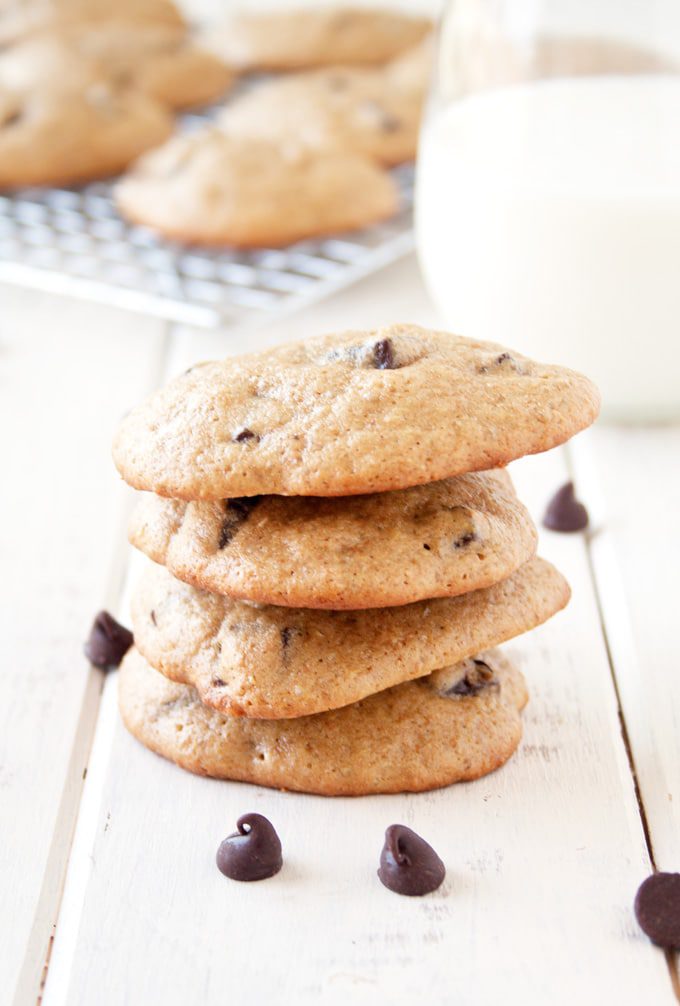 Well I did it, and they are amazing.  These soft-bake quinoa chocolate chip cookies are delish!  And believe me I wouldn't lie to you about that.  The texture of the cookie is super soft from the coconut oil, with bits of crunchy quinoa and dotted throughout are dark chocolate chunks.  I subbed half of the AP flour with whole wheat flour and you seriously can't tell the difference.  This could also be made gluten free by using all coconut flour.
Really, all this was done so I don't feel so bad about having cookies for breakfast.
ingredients
¾ cup coconut oil
1 cup brown sugar
½ cup granulated sugar
2 eggs
1 teaspoon vanilla
1¼ cup all purpose flour
1 cup whole wheat flour
1 teaspoon baking powder
1 teaspoon salt
1 cup quinoa, cooked
1 cup dark chocolate chips
instructions
Preheat oven to 350 degree and line baking sheets with parchment paper.
Beat together coconut oil and both sugars until mixture is light and fluffy.
Add eggs, one at a time, beating well after each addition. Mix in vanilla.
Combine both flours, baking soda and salt in a small bowl. Whisk together to mix and slowly add flour mixture to wet mixture.
Add cooked quinoa and stir well.
Add chocolate chips and stir until dispersed evenly.
Scoop heaping a tablespoon size rounds onto the parchment lined baking sheet. Bake for 10-12 minutes.
Remove cookies from oven and place on a wire rack to cool. Enjoy!
Cookies are best stored in an airtight container.