Roasted Pear Salad uses the classic fall flavors apples, cinnamon, nutmeg, and cranberries to support the star of this refreshing salad: roasted spiced pears.
Recipe number 2 of my Thanksgiving feature is coming at ya today, you know just like the Rush Hour Renegades. Children of the late 80s and early 90s, you get that right?
I so just dated myself.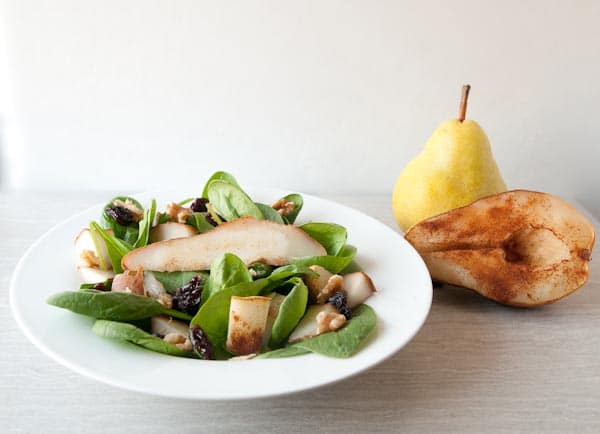 Anywho… back to the recipe- Roasted Spiced Pear Salad. This is another recipe like my Roasted Gingered Butternut Squash Soup that would make an excellent starter for Thanksgiving dinner. I must admit though, this salad has been my lunch of choice a lot lately because it's warm. Salad for me generally isn't a cold weather food unless I can find some way to make it toasty. Like this one.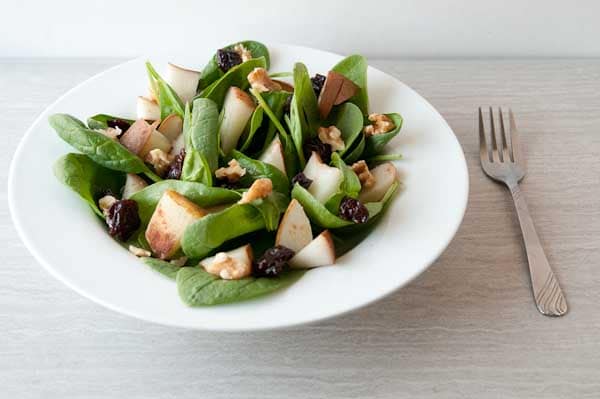 The greens are all served room temperature or so. I just take the spinach out of the fridge while I am preparing my pear and let it sit on my counter. Then, I halve my pear, sprinkle it with cinnamon and ginger and pop it into a 400 degree oven for ten minutes or so. And presto, WARM, roasted pear to sit on top of the salad and provide comfort during lunch time.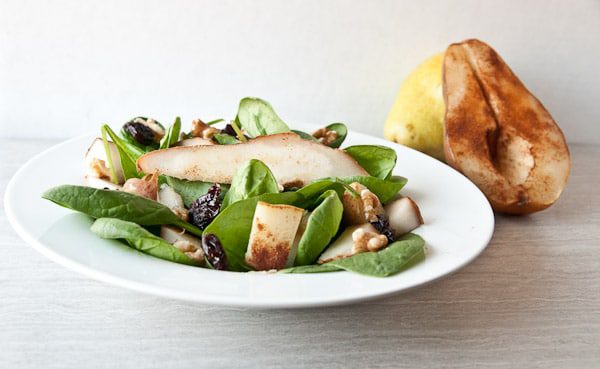 For me, this salad provides an extra degree of comfort aside from the warmth of the spiced roasted pear. It's inspired by a restaurant that my hubs and I went to for date nights when we were in college and first married. Sadly, the cute little cafe that we used to go to on our favorite local historic main street has closed, but I have many fond memories of sitting in the window seat watch Christmas carolers stroll by or coming in for a late lunch after class. This little cafe used to serve this spiced apple salad during the fall that was one of my favorites.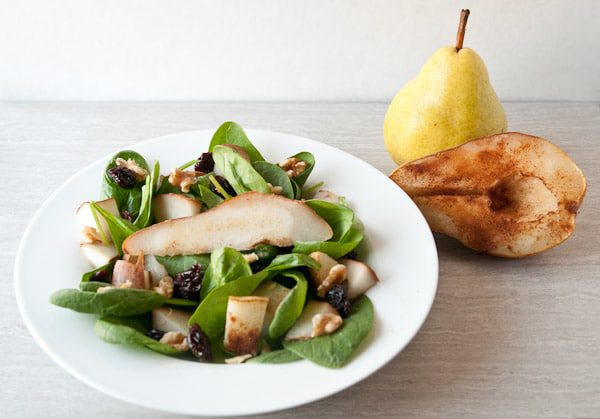 Since that cafe is a thing of the past, I decided to make my own version of the salad. I did a pretty good job, if I do say so myself. Good enough to eat this salad for lunch at least 4 days a week and good enough to consider having as a Thanksgiving appetizer. The ginger and cinnamon on the warm, roasted pears elevates this salad and makes it holiday worthy. In fact, it feels a sinful as a salad can feel, but it's actually healthy. You can't go wrong.
Roasted Spiced Pear Salad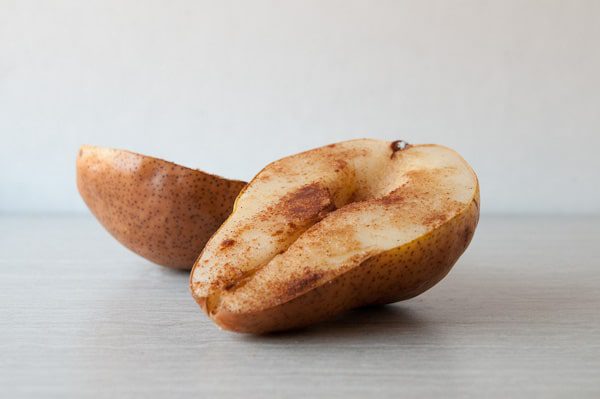 Ingredients (makes 1 entree sized salad or 2 appetizer servings; recipe is easily doubled or tripled)
1 pear
1 teaspoon of ginger
1/2 teaspoon of cinnamon
3 cups of spinach
2 heaping tablespoons of walnuts, coarsely chopped
2 heaping tablespoons of dried cranberries
1/8 cup of balsamic vinegar
How to Make:
For best results, soak two heaping tablespoons of dried cranberries in 1/8 cup of balsamic vinegar overnight covered in the fridge. However, if this is a day of decision to make, soak the cranberries in an 1/8 cup of balsamic vinegar when you preheat the oven. Pull the greens out of the fridge now to take the chill off.
Preheat the oven 400.
Wash the pear and slice it half length wise. Scoop the seeds and core of the pear out with a spoon. Sprinkle the flesh of the pear with the ginger and the cinnamon.
Roast the pear cut side down for 10 minutes or until the skin turns golden.
Remove the pear from the oven and slice or cube. Serve over 3 cups of spinach. Toss with walnuts and the balsamic cranberries. Top with additional balsamic vinegar if desired. Enjoy while warm.
Another Healthy Thanksgiving Recipe You May Like: Roasted Gingered Butternut Squash Soup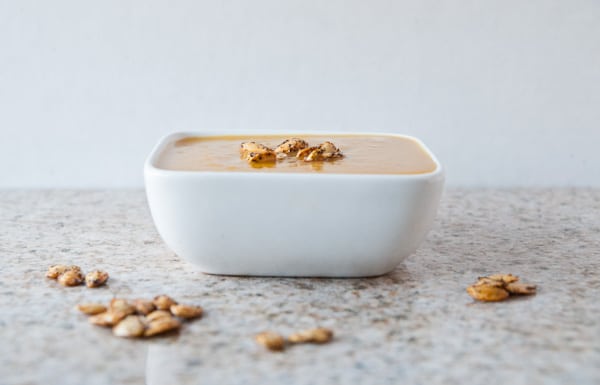 Thanksgiving Desserts You May Like: Pumpkin Cheesecake