I tend to be one of those super-exact cooks. I level cups of flour and cocoa powder, I measure quarter-teaspoons of salt, and I always measure my water for cooking grains. Although this is totally a personality thing, it's also what you need to do as a recipe developer. Publishing a recipe with real measurements is pretty much required if you want anyone to be able to recreate it at home.
And that's why it's taken me so long to share these golden skillet potatoes with you: Because even though I make them all the time, I never measured the oil. I never timed the cooking. And I always ate them too quickly to get a good photo. Because, you know, potatoes and I are like THIS.
This batch, though — it's for you guys.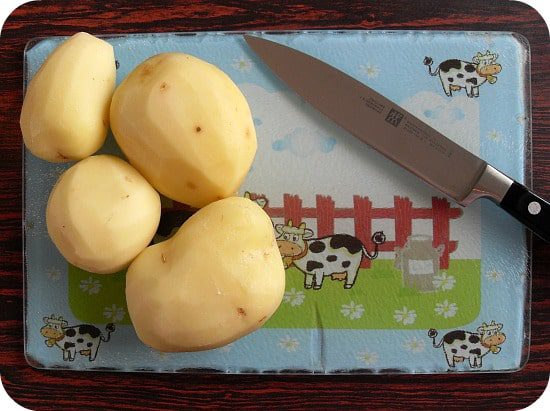 The number of potatoes to use will depend on the size of your pan. You want the pieces to sit in a single layer so they cook evenly. For my 10-inch nonstick skillet, I use four small potatoes.
Chop them up, aiming for pieces of about the same size. That's important for even cooking, too.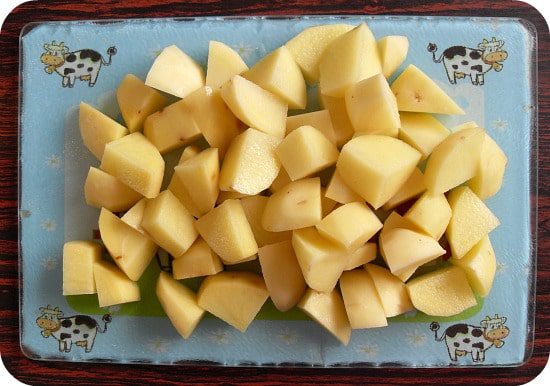 Heat some oil in the pan and listen. Once it starts making noise, add the potatoes and enjoy the vigorous sizzle. Give them a good stir so they get coated with the oil and wait patiently.
And I do mean patiently. It will take about 35 minutes for the magic to happen. So go answer some emails, make a phone call, do your nails. I'm sure you can think of something. The only thing to keep in mind is that you'll need to come back several times during cooking to give the batch a solid stirring. They'll soften and crisp and brown, going from this…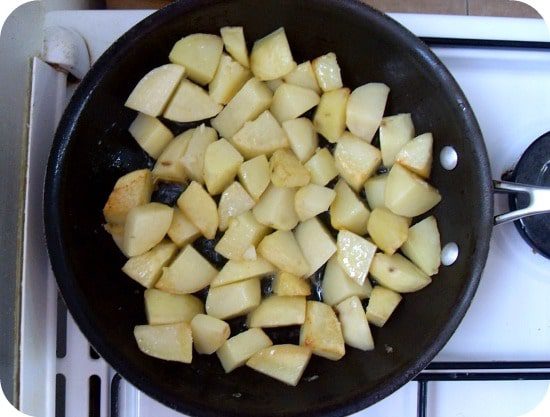 to this…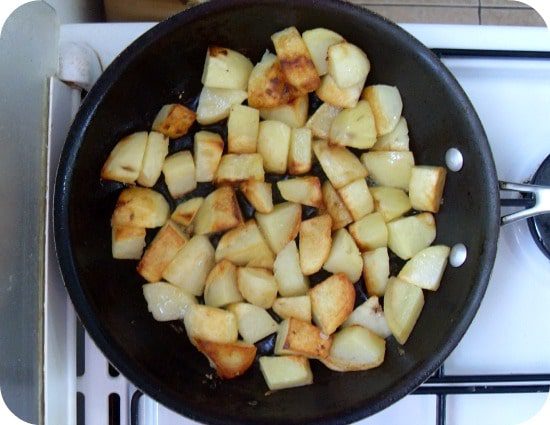 and then this!
Once they reach that point, I usually let them go another five minutes, just to make sure the insides are fully cooked. Scoop them out of the pan right away (so they don't sit in the extra oil) and sprinkle with salt. Be generous…it's okay.
They're perfect just like that — all pretty and crisp on the outside, wonderfully soft on the inside. It doesn't get much better in the world of potatoes.
Unless you feel the way I do about crispy bites of potato and creamy cottage cheese.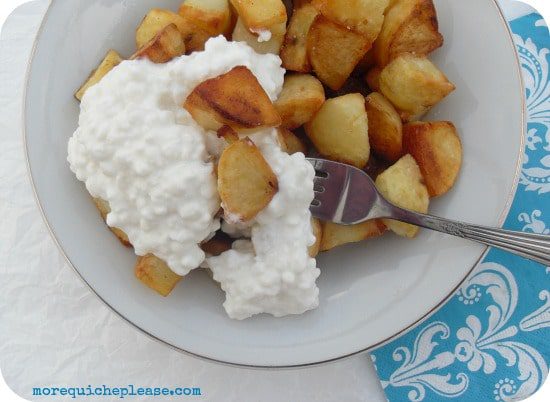 No? I'll take your cottage cheese.
Golden skillet potatoes
Adapted from Quick & Kosher: Meals in Minutes


Yield: Serves 1-2 as a main dish (think lunch), 3-4 as a side
Ingredients
4 small potatoes, peeled
7 Tbsp canola oil
salt, to taste
Directions
1. Heat 4 Tbsp oil in a nonstick skillet for 3 minutes, or until it starts to make a gentle sizzling sound.
2. Carefully place one potato piece in the pan to test the oil temperature. If the sizzling becomes enthusiastic, you're ready to go. Transfer the rest of the potatoes to the pan (I do this in batches, one large spatula's worth at a time) and stir to coat with oil.
3. Cook potatoes over low heat for 5 minutes and stir. Cook for 10 more minutes and stir again. Add 1 Tbsp oil.
4. Raise the heat slightly, cook for 10 more minutes, and stir yet again. At this point, they should have a golden brown crust. Add the last tablespoon of oil, then cook 10 minutes more, stirring once mid-way. Use a slotted spoon to transfer potatoes to a serving bowl. Sprinkle with salt and inhale.
Did you lose track of the cooking time in all of that? The potatoes should cook for 35 minutes, and you'll need to stir them several times during that period. I suggest the 5-, 15-, 25-, and 35-minute marks, but it doesn't have to be an exact science. Play around!