I love a good cheesy pasta. Who cares about waistlines when you have a plate of hot pasta slathered in seductive creamy sauce?
The most memorable cheesy pasta I have ever eaten was one cooked with Gorgonzola. It was smooth, luscious and velvety rich.You know you are getting filled up with all that thick, gooey sauce. And you know you're gonna feel slightly queasy after that meal. But you can't stop shovelling those oodles of creamy noodles into your mouth. And then, lick the plate clean (in as elegant a way as you can, in a fine dining Italian restaurant). Ahem.
Anyway, I was loading up on my cheeses at the supermarket today because heaven forbid, there will bemayhem at home if I ever run out of cheese. And I saw these gorgeous Gorgonzola slices.
With their lovely, royal blue veins.
Staring back at me.
"Hello, gorgeous!"
Simply irresistible.
Look at what food can do 😉 I grabbed a small slice and cooked it for my pasta lunch today. It was so good I am still thinking about it as I type!
Recipe
(adapted from here)
Serves 2
– 1 clove garlic, minced
– 1 small slice of Gorgonzola Dolcelatte (about 40 to 60g), broken into chunks
– 2 to 3 tbsp grated Parmesan
– 1 knob unsalted butter
– 1/4 cup cream (less if you want the sauce thicker, and vice versa)
– Salt and freshly milled pepper
– Spaghetti (or any pasta of your choice), quantity depends on how hungry you are!
1. Start heating a large pot of salted water for the pasta. Cook the pasta.
2. Meanwhile, set a large bowl with the garlic, cheese, butter, and cream over the pot. As the water heats, the butter and cheese will soften. Don't worry about lumps of cheese-the heat of the pasta will smooth everything out.
3. When the water comes to a boil, remove the bowl and salt the water. Add the pasta and cook the pasta until done. Drain, add it to the cheese, and toss everything with a fork and spoon until the pasta is coated with the sauce. Taste for salt, season with pepper, and serve on warmed pasta plates.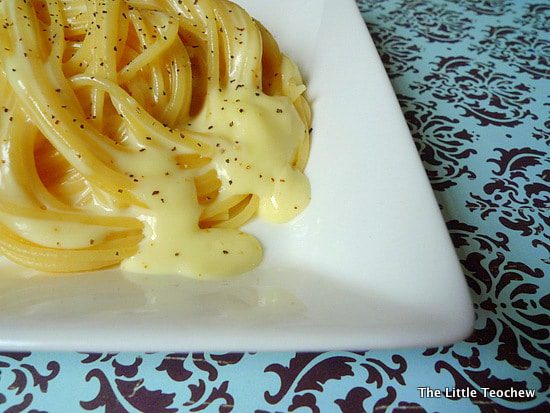 Notes from The Little Teochew:
I didn't need any salt because the grated Parmesan made it salty enough for me.
I strained the cheesy sauce over a wire sieve to remove any lumps and garlic bits to get a smooth creamy sauce.
As you can see from the photos, my pasta was speckled with a generous sprinkling of black pepper. That added the ooomph 😉
Buon appetito!
PS: The lovely Monique atLa Table De Nana just made some divine Sweet Pepper and Gorgonzola Bruschetta. If you have extra Gorgonzola, why not give her recipe a try? 🙂