I am usually always late on trends. I thought capri pants were the stupidest thing when they were the hot item to wear back in junior high. Part of that could've been because I lived in Colorado then, like the mountains of Colorado, so there weren't many days that were over 70 and wanted to wear all of my pants… not just the upper half.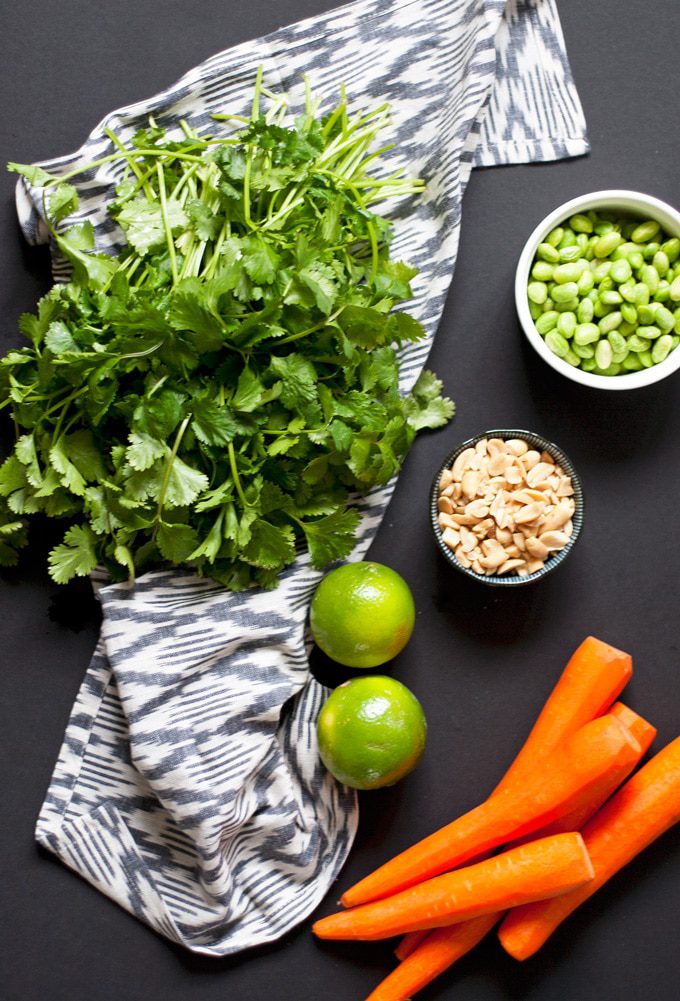 So like usual, I am totally late on the spiraling of vegetables. I forced my boyfriend into buying me a vegetable spiralizer – well, we were out buying his sister one for Christmas and I just grabbed two instead of one. I wasn't sure how much I'd like switching out my pasta for vegetables, but I thought if all else fails I could make some delicious curly fries.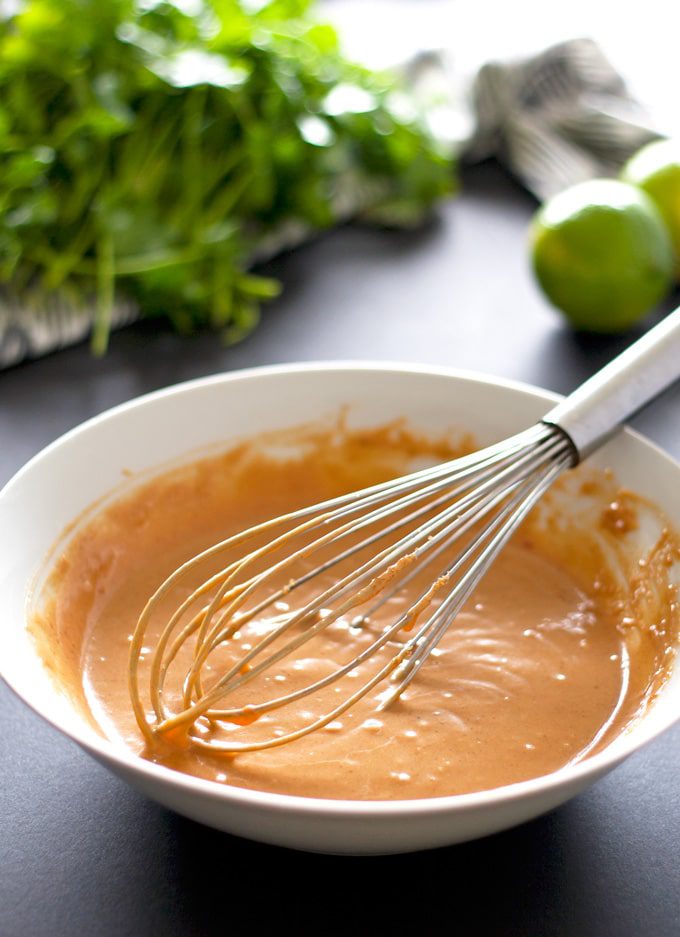 Well, we found out with the zucchini noodles and bolognese that I am totally sold and now I'm spiralizing everything. My dog was super surprised when I spiralized her dog food. I joke! – but I wouldn't be surprised if that's the road we're going down.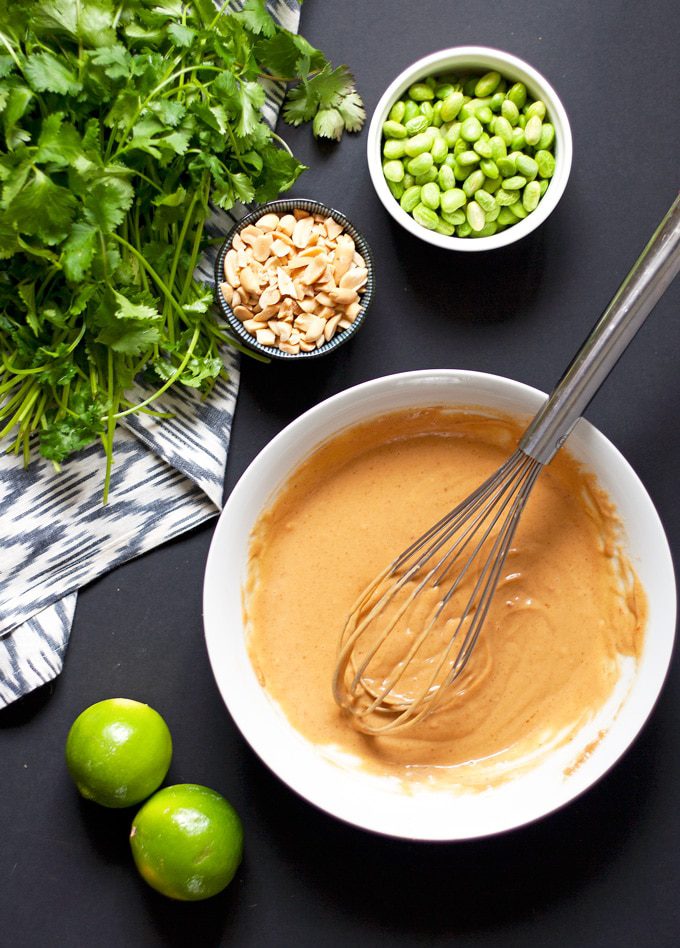 So I'm shoving all kinds of thing in the spiralizer… zucchinis and potatoes, cucumbers and yams, oh and these carrots… for this amazing asian carrot salad with peanut dressing.
Not only is it just carrots, but crisp edamame and super fragrant cilantro, tossed in this super delicious peanuty-sauce. It's so quick and easy to whip up, plus the fresh crunch of the carrots give the salad such a great bite.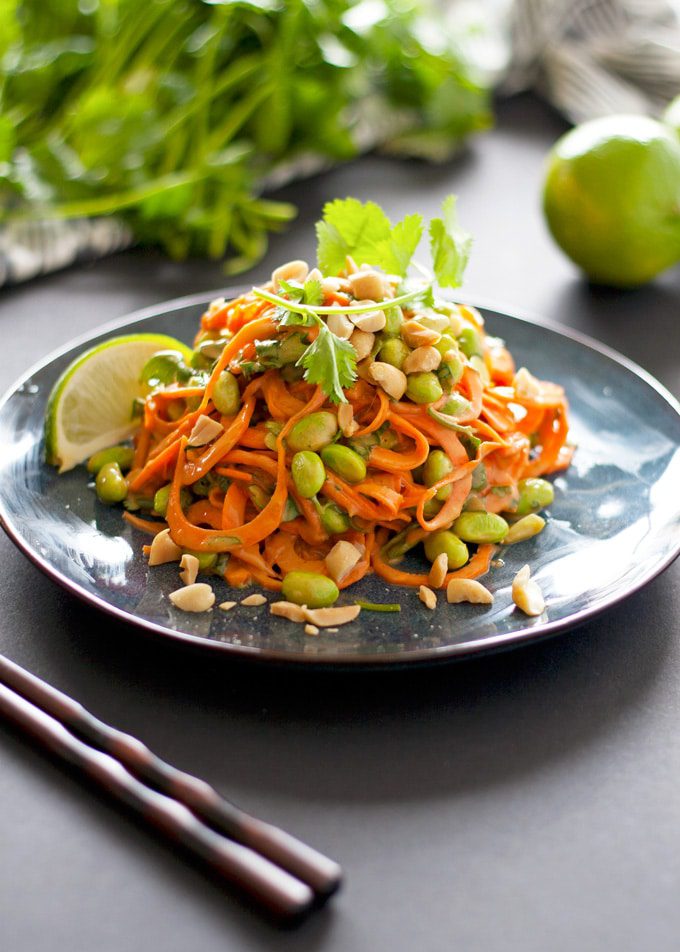 This is my new go-to, eat for every meal, meal. Probably because it's so easy and after the holidays and all the cooking and baking, I've been totally boycotting the kitchen. And this meal doesn't require me to turn on any kitchen appliance, so I'll be making it a lot. Oh, that and because it's super delicious, packed with tons of flavor, and pretty darn healthy.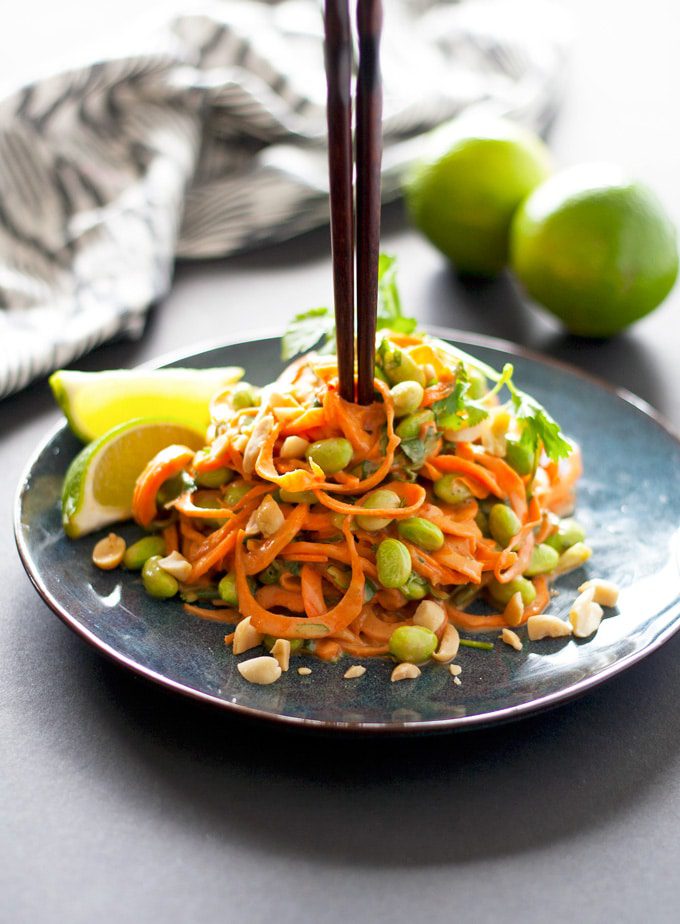 That should've been my new years resolution, to be pretty darn healthy.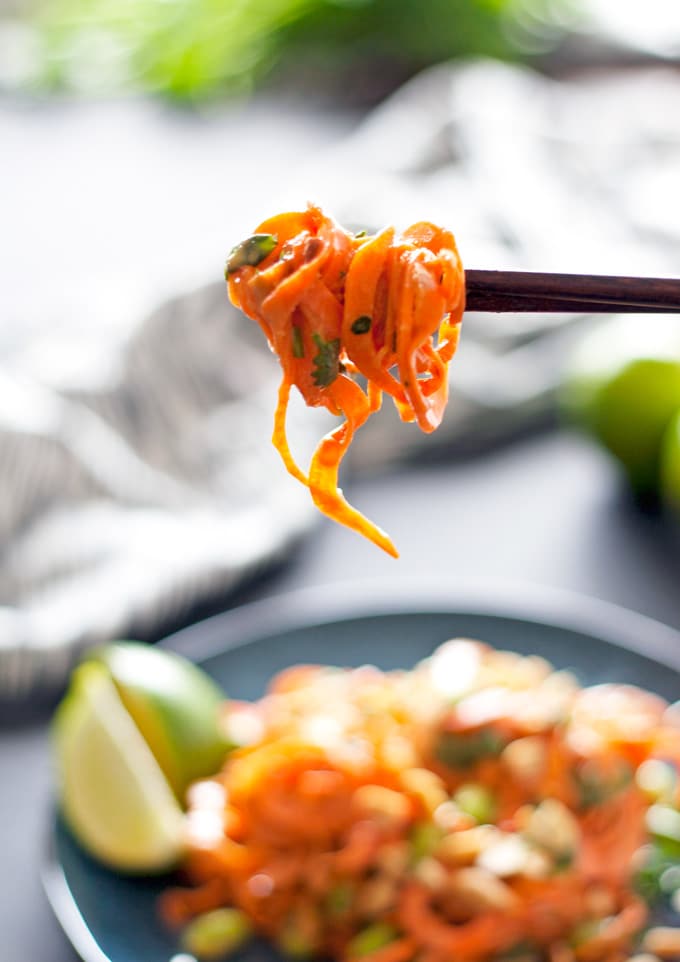 ingredients
½ cup creamy peanut butter
2 tablespoons rice wine vinegar
1 tablespoon fresh lime juice
2 tablespoon fish sauce
1 tablespoon hoisin
1 tablespoon brown sugar
1 tablespoon chili garlic hot sauce
2-4 tablespoons hot water
1-pound carrots, washed, peeled and spiral cut
1 cup shelled edamame
½ cup cilantro, chopped
chopped peanuts, for garnish

instructions

In a bowl, combine peanut butter, rice wine vinegar, lime juice, fish sauce, hoisin, brown sugar and chili garlic hot sauce. Whisk to combine. Once combined, add 2-4 tablespoons hot water, depending on your desired consistency. Set aside.
In a large bowl, combine spiral cut carrots, shelled edamame and cilantro. Toss to combine.
Add dressing, starting with a little bit and toss. Continue adding more dressing as desired. I had some additional dressing leftover.
Top with peanuts and a sprig of cilantro and serve immediately.