Are you ready for fall?
I am MORE than ready!  It's the season of baking!  And when I'm not composing salads or eating my fruits and veggies, I LOVE TO BAKE!
I decided to make some moist, sweet pumpkin muffin tops.  They are warmly spiced with cinnamon, nutmeg & cloves.  And these tops have their own tops of sweet, crunchy pepitas!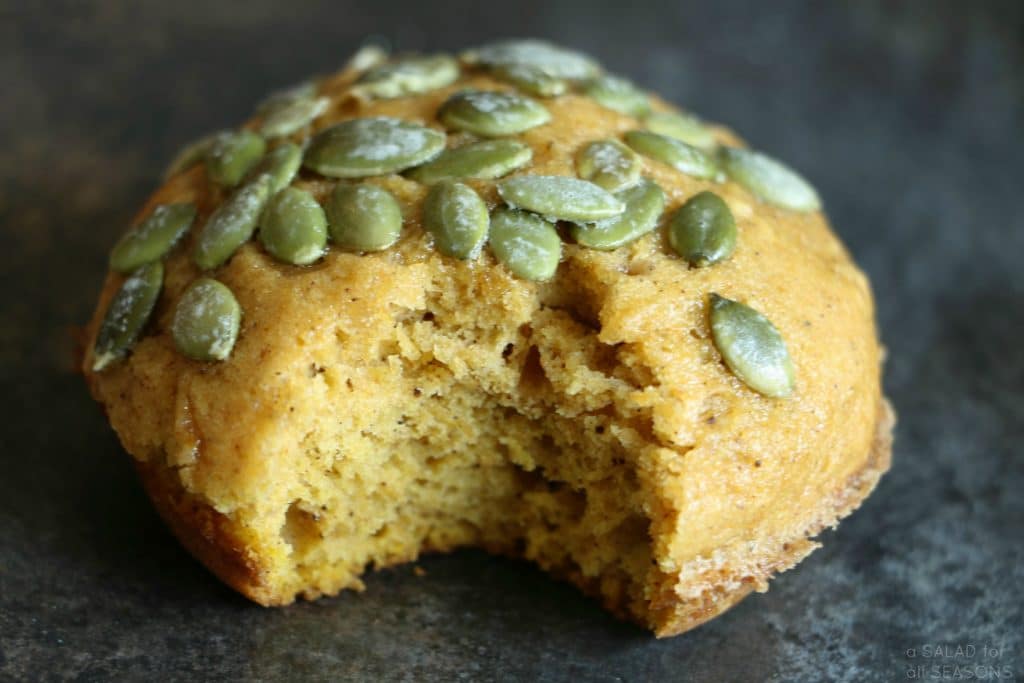 Admittedly, these may be a little thicker than most muffin tops.  Not having a muffin top pan, I used a whoopie pie pan.  But they are the perfect size for me!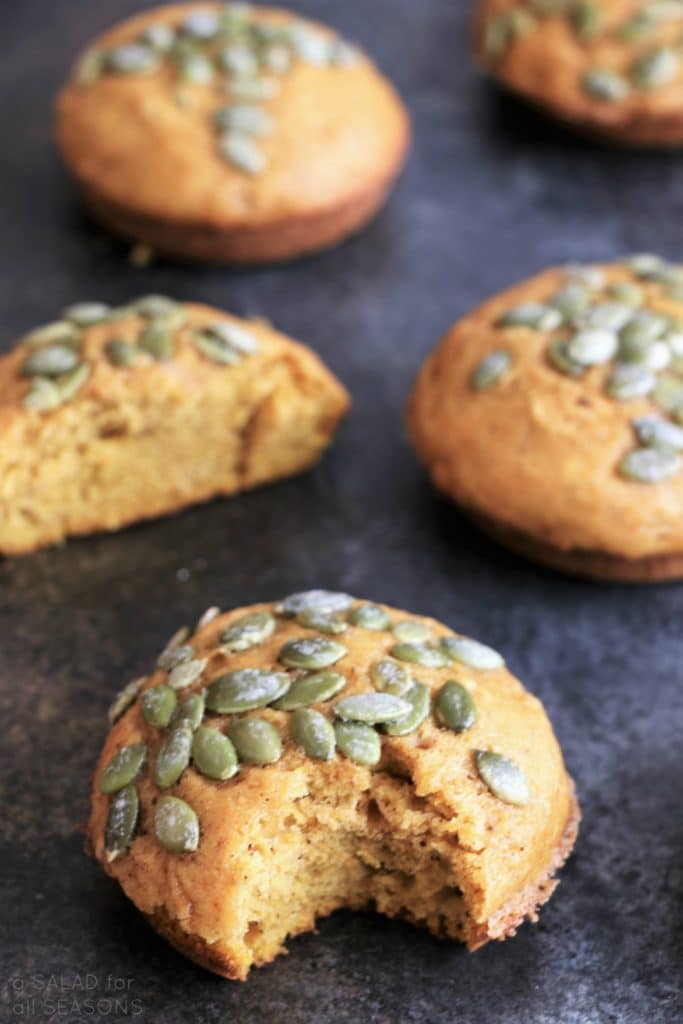 I always say that if your batter tastes good, so will your baked good.  This batter was delicious.  I used a small ice cream scoop to portion out my muffin tops.
Here's a tasty little trick to keep your nuts from falling in or off of your muffins.  I mixed a little concoction of seeds, castor sugar, vanilla extract and milk.  It makes for a sweet little crust that holds those pepitas in place!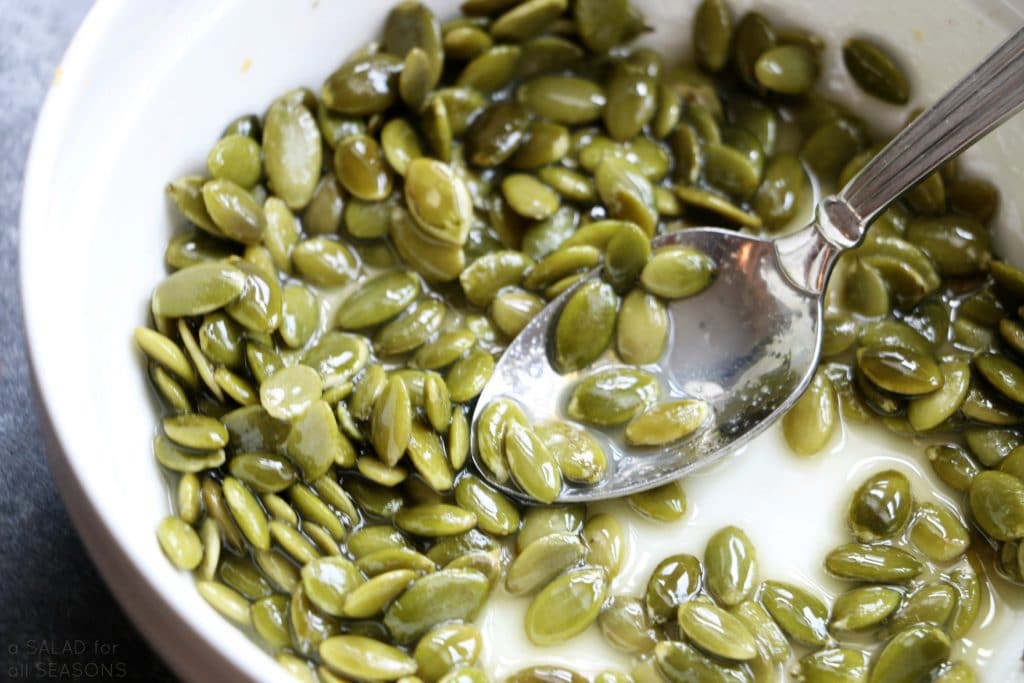 Top your batter and press them down gently.  The top may look a little watery, but that sweet sugar bakes into the muffin top, holding your pumpkin seeds in place, and creating a lovely little crunchy top.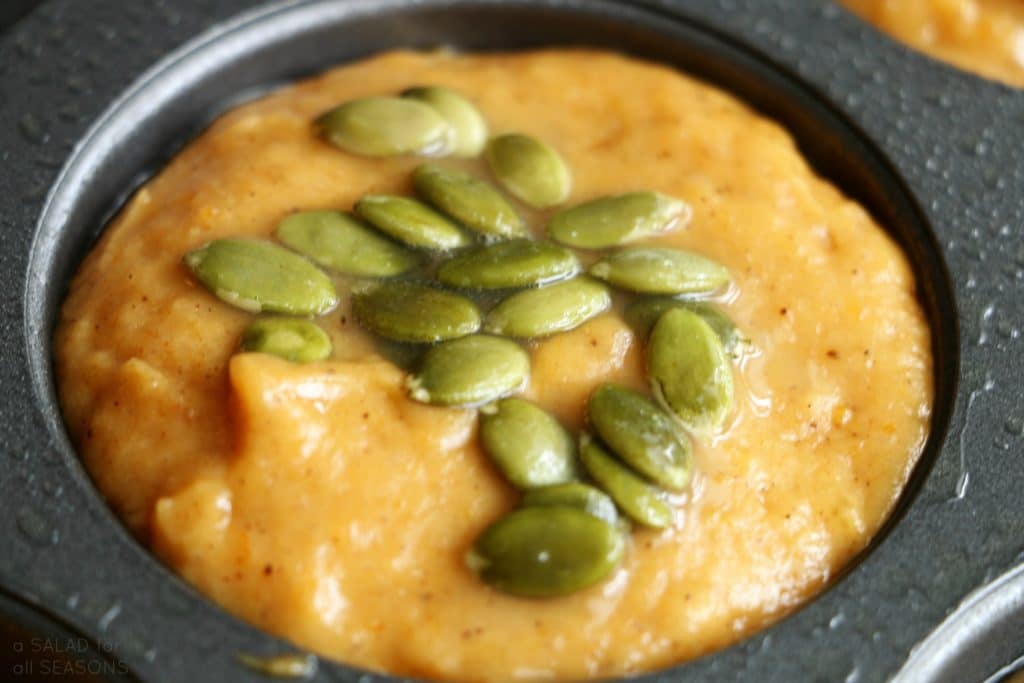 Sweet and moist with the perfect crunchy top; these pumpkin muffin tops are a great alternative to a full size muffin.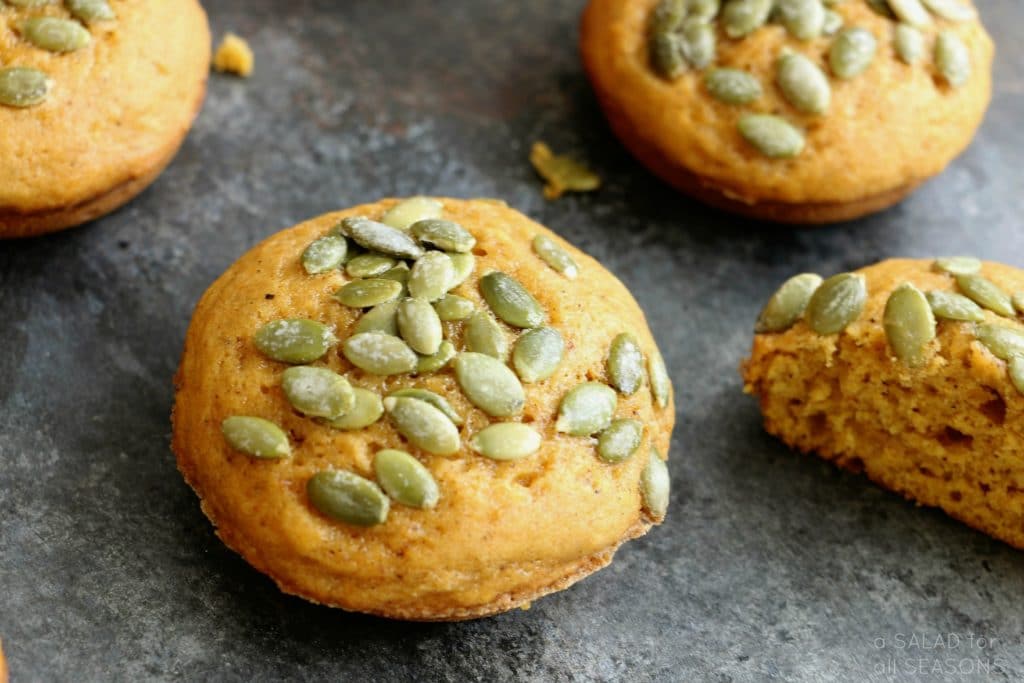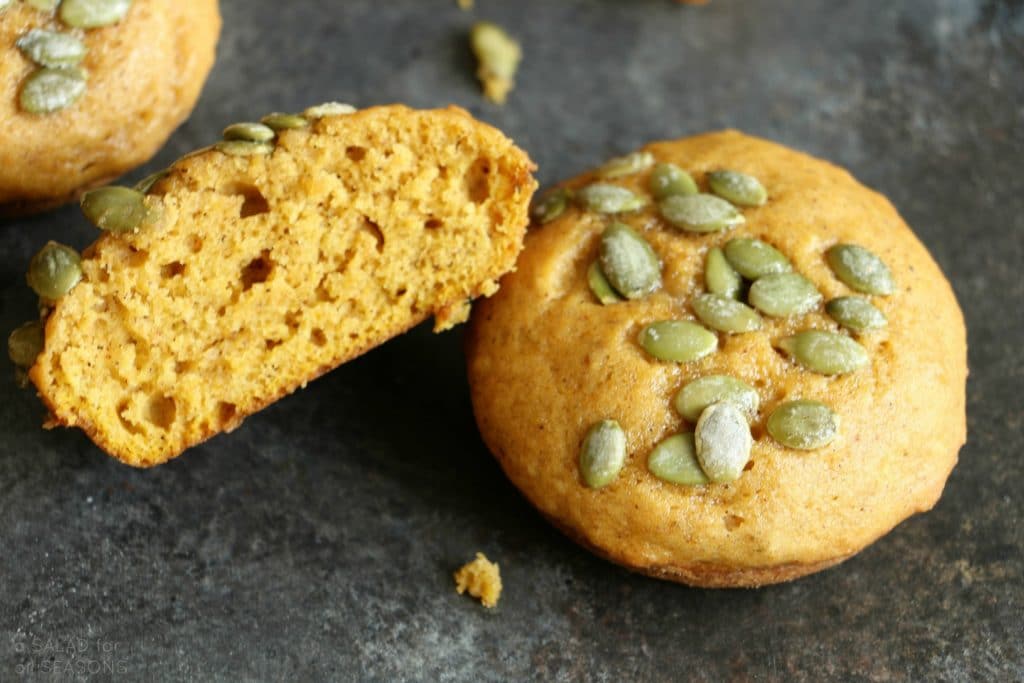 This recipe makes 2 dozen soft, amazing muffin tops.  Though I could easily eat three at a time, I'll show restraint, and just remind you that they freeze very well.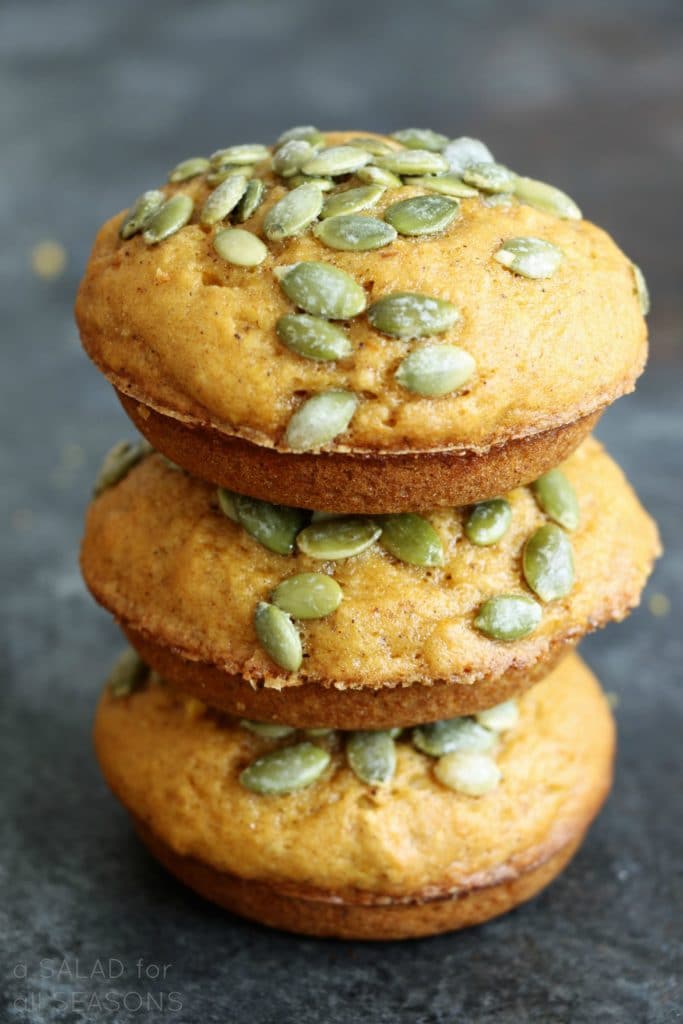 So as you are baking with pumpkin this season, give these a taste.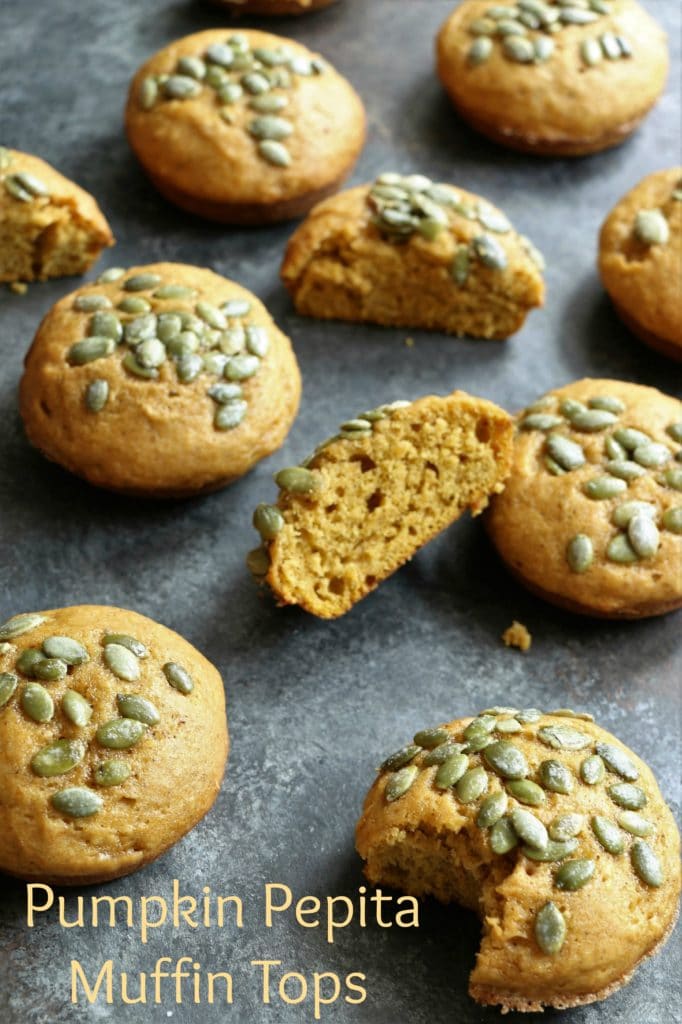 "The miracle is this – the more we share, the more we have."  Leonard Nimoy
Pumpkin Pepita Muffin Tops
Author: Anne from A Salad For All Seasons
Serves: 2 dozen
Sweet pumpkin muffin tops warmly spiced with cinnamon, cloves and nutmeg and topped with crunchy pumpkin seeds.
Instructions
Preheat your oven to 350 degrees F.
Spray a 12 cup whoopee pie pan or muffin top pan with cooking spray.
In a large bowl, stir together the sugar, oil, eggs, pumpkin and water.
In a separate bowl, whisk together the flour, baking powder, baking soda, salt and spices.
Add the dry ingredients to the wet ingredients.
Stir until moistened.
Let the batter stand for 20 minutes at room temperature.
Prepare the topping:
Mix together the pumpkin seeds, superfine sugar, milk and vanilla.
Fill each muffin tin to the top and use an offset spatula to smooth the tops.
Drop a large clump of the pepita topping onto the batter and gently press into place.
Bake for 15-18 minutes or until the tops are golden and a toothpick inserted into the center comes out clean.
Cool 10-15 minutes.