I'm a little over-excited about this soup.
It's so good that I don't even know how to tell you how good it is. Yes, that good (!!!).
This soup is quite possibly the BEST — best! — soup I have ever tasted. Ever! Tasted! In all my 25 years of soup-eating!
It might be the browned butter, which makes sauteed onions and garlic so insanely good.
It might be the fresh pumpkin puree, which I have been putting in everything from chummus to lattes to mini muffins.
Or maybe it's the balsamic vinegar, added at the end almost as an afterthought.
The point is, you need to make this soup.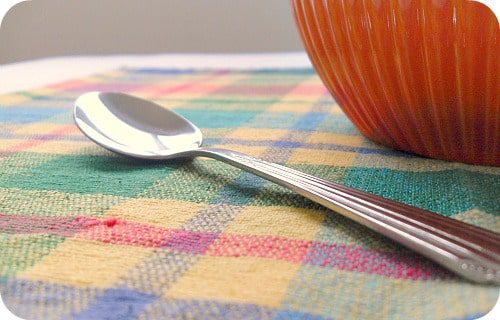 I tasted it for the first time after I took these photos. I just could not believe how good it was. I mean, I've made lots of good soups before. But this, this one is in its own category.
I fished the pot out of the fridge later that afternoon to take "just one spoonful." That turned into 12. Yeah.
When we sat down to dinner, I decided not to spoil the surprise. Instead of telling my husband he was about to taste the best soup in the universe, I'd see what he thought without my prompting.
He took a spoonful. I watched his eyebrows shoot up in delight.
His first bowl of soup was gone in about a minute.
And the entire pot was gone by the end of the meal.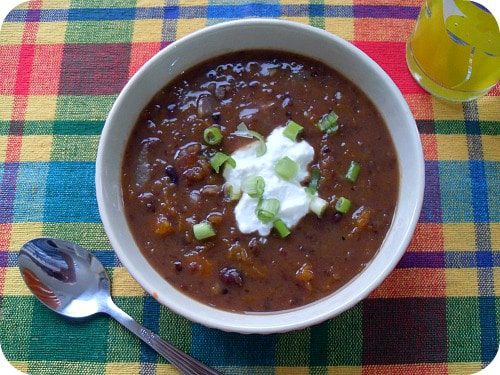 Pumpkin black bean soup
Ingredients
2 Tbsp butter
1 large onion, chopped
4 cloves garlic, minced
1 tsp salt
Freshly ground black pepper, to taste
4 cups water
3 (15-oz.) cans black beans, drained and rinsed (or 4½ cups cooked, from 1½ cups dried beans)
4 tomatoes, skinned, cored, seeded, and chopped
1½ cups fresh pumpkin puree (see recipe portion of this post)
2 Tbsp balsamic vinegar
Sour cream and chopped scallions, to garnish
Directions
Updated July 3, 2019: I recently made this without the soup mix and found that I didn't miss it at all, so the recipe is now updated to reflect that change. I also simplified the directions to eliminate the need to use a blender/food processor.
1. Brown butter in a large soup pot over medium-low heat. (Is it your first time browning butter? Try this for step-by-step photos.) Add the onion and garlic, season lightly with salt and pepper, and let cook (stirring often) for a few minutes until soft and unbelievably fragrant.
2. Add water, about 2/3 of the beans, and the tomatoes. Turn off the heat. Using an immersion blender, puree the soup until smooth.
3. Add the remaining beans, pumpkin puree, and balsamic vinegar. Mix well and bring to a boil, then reduce heat to low and simmer for 20 minutes. Serve hot, garnished with sour cream and scallions.
To make this soup pareve: Although sauteing the onions and garlic in browned butter is a fantastic touch, you can use olive oil instead and still get a great soup. Skip sour cream topping (or use a pareve version if you like), and you're good to go.