Wet, penurious, snusless Januaries can do funny things to
your head (that or, people) and with a little career advice from this volatile
entity called hope, plus good books with a nice cover and a worryingly long list of flight confirmations, your mind also hands in
a resignation letter, and moves on to a more senior position in this fictitious place and
time where no one objects if all you do is stroll down the Rye and on through
pretty streets, and stop for vegan chocolate and then on again to parks and
cemeteries, and take photos; and where soya condensed milk hasn't disappeared
from the face of the earth; and also where wool jumpers are a mandatory part of
the dress code; and in this place and time you would hang out with yourlad friends and they would always have
your back because never mind the hair bows and pink outfits, they know you're
secretly one of them. But jobs at pharmaceutical firms aside, and
even though your dressed-up self still hangs out on twelfth floors of corporate buildings with a view, and vegan condensed milk takes five years on the hob to
make, and there's no chocolate adventures in sight for right now, private lad parties are sometimes still included
in your job description, and you better be ready to make celebratory fruity
cream tartlets for the occasion, just in case someone opts for a free-from cake diet, and in fact it could well be a wet, penurious and snusless day, but there's birthday treats; and I wouldn't change my mind in a thousand
years: berries & cream tartlet treats bright up the darkest day.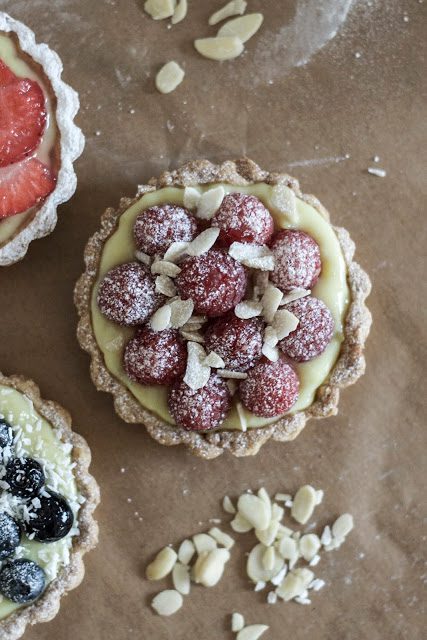 Cream filling:
300ml (1 cup + 3 tablespoons) vanilla flavoured soya milk
1 tablespoon cake flour
2 teaspoons cornflour
1/8 teaspoon turmeric, for colour
20g (1 heaped tablespoon) margarine
50g (1/4 cup) unrefined sugar
Pastry:
250g (2 cups) plain flour
80g (1/3 cup) unrefined sugar
110g (1/2 cup) margarine
2-3 tablespoons vanilla flavoured soya milk
250g (8.8oz) fresh berries
icing sugar/chopped nuts/desiccated coconut/…
Start by making the cream filling, as the cream will need to
be completely cool before you use it. In a mixing bowl combine 1/3 of the milk
(100ml) with cake flour, cornflour and turmeric and mix well until there are no
lumps. In a small pan over low heat melt the margarine in the remaining milk,
then add the sugar. When it starts simmering, pour in the milk and flour
mixture. Cook for about 3 minutes, whisking constantly. Transfer to a bowl,
cover with cling film and let cool.
Combine flour and sugar together, then add the diced
margarine and knead together, gradually adding the milk. Knead for a minute or
so, then wrap in cling film and place in the fridge for 30 minutes.
In the meantime preheat the oven to 180°C (350°F) and
lightly grease your tartlet tins. Once the dough has chilled, roll it out thinly
onto a floured surface and fit it into the tins, pressing firmly into the
bottom and sides. Sweep the rolling pin over the top of the tartlet tins to
crimp the excess dough, then pierce the bottom of the crusts a few times with a
fork. Place in the oven and bake for 15-20 minutes, until golden brown. Let cool completely.
Fill each tartlet with the cream. Top with fresh berries,
coconut and/or your preferred toppings, dust with icing sugar if you like and
you're ready to partay.