is it pie?
nope.
is it quiche?
nope.
is it crumble?
nope.
it's baked oatmeal and it will change your life (if you are an oatmeal hater).  don't get me wrong..i wouldn't classify myself as an oatmeal hater…i am just sometimes fickle towards the oats.  i get all excited, make a huge pot of steel cuts, eat it for once breakfast and then the rest goes to pot (haha…pot pun).  i am determined to become like this lovely lady that literally excites at the thought of having oats the next day for breakfast.  they are chalk full of fibre, calcium, amino acids and really good carbs, and have been known to regulate blood sugar, lower cholesterol, increase bowel function and stave off cancer.  they are just plain good for you, and really, there is no reason why i shouldn't be eating them at least 3 times during the work week.  but let's be honest…all on their own…they're just boring.  they need some jazzing up. and this recipe does just that.  this recipe also replaces that gloppy, goupy texture that traditional oatmeal has and replaces it with an almost cake or muffin-like texture.
by the way,  i would probably classify the chef as an oatmeal disdainer (hate is such a strong word).  she was hesitant to be my guinea pig this time and is now hooked as it pretty much tastes like a glorified oatmeal cookie.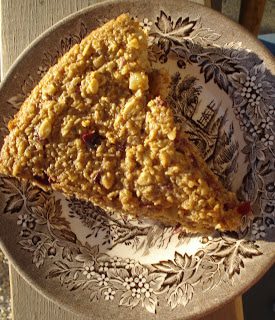 now, feel free to modify this recipe as you see fit.  but do not..i repeatdo not substitute rolled oats in place of the called for quick oats.  i've tried and it just will not be the same.  i'll include my version of the recipe below, as i felt that the original called for too much sugar, and not enough fixins (and who really wants a raisin when you can have a craisin instead?).  you can see the original recipe here.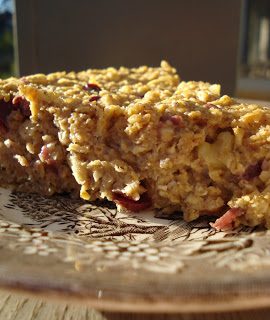 baked oatmeal
makes 2 servings
(ps:  i halved the recipe, as i wasn't feeding a crowd, or myself for a full week even)
1 cup quick cooking oats
1/3 cup brown sugar (not packed)
1/3 cup dried cranberries
1/4 cupped chopped toasted walnuts
1/2 teaspoon baking powder
1 teaspoon cinnamon
1 tablespoon chia seeds
2 tablespoons ground flax (i used toasted flax mmmm)
3/4 cup milk
1/4 cup applesauce
1 tablespoon butter, melted
1/2 egg, lightly beaten
butter or coconut oil to grease pan
1.  preheat oven to 375 degrees fahrenheit & grease 8″ baking dish (i used a glass pie plate)
2.  combine first 8 ingredients in large bowl
3.  whisk milk, applesauce, butter, and egg and pour into dry ingredients
4.  mix until well combined and pour into greased baking dish
5.  bake for 20 minutes
note:  serve warm (i even poured a little half and half over it for extra decadence).  you can have half of this pie plate for about 300 calories (give or take) and it reheats really well in the microwave.