About 20 years ago my two younger brothers decided to become vegetarians. They were teenagers. And my mother took them seriously. She never said it was a phase, something that would pass, a teenage rebellion thing. No, she attended vegetarian cooking courses so that she could be sure that her boys were getting all the vitamins, minerals etc. they needed to grown strong and healthy. Ready-made veggie burgers rarely entered our house. My mother took it all in her stride and educated herself on what vegetarianism was all about. She also proved that it wasn't that hard to cook vegetarian meals on a daily basis. The hard thing is to change your mindset. If before, you were a meat-potato-veg person, stepping away from that can sometimes require a bit of creativity and effort.
My brothers made the step to a meat free life in the 90's and they tell me things have really moved on since then. More and more people are aware and more and more shops and restaurants recognise the growing number of people choosing this way of life. Living in Berlin I have really been exposed to the possibilities of eating vegetarian. More recently, I have found myself curious at the concept of a vegan lifestyle. I don't plan to become 100% vegetarian or vegan, but I realised that our little family does eat this way more often than not for different reasons.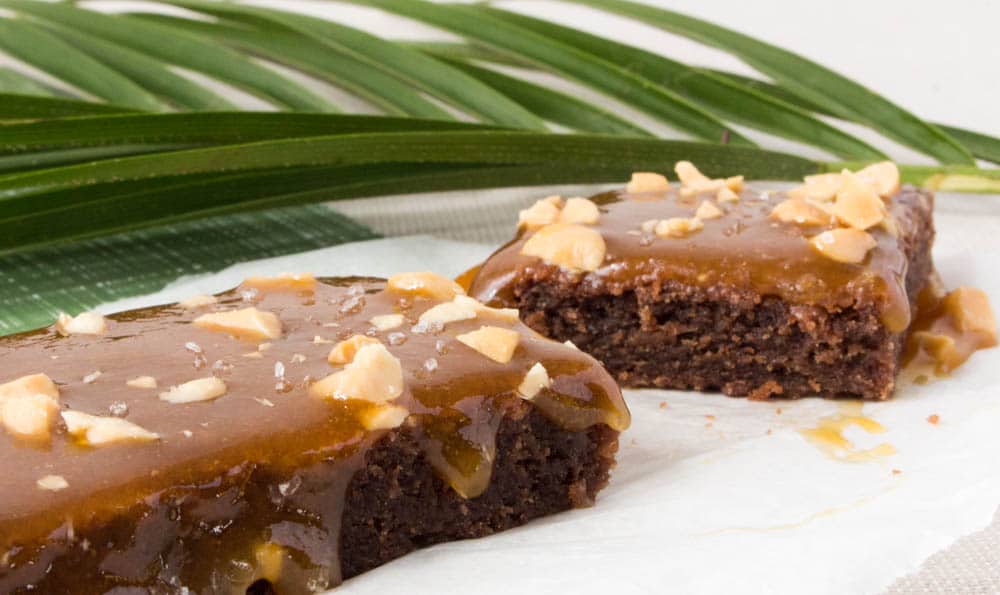 This shortbread with salted caramel is my first attempt at creating a vegan baking recipe. I had to do quite a bit of research which I really enjoyed. Anything for a challenge! The recipe is by no means perfect but I think it is a good first attempt. Let me know what you think about it.
Vegan chocolate shortbread with salted caramel and nuts
Ingredients for the shortbread:
100g room temperature coconut oil
50g sugar
150g flour
3 tbsp raw cacao
5 tbsp almond milk
Ingredients for the salted caramel with nuts:
220g sugar
60ml water
120ml coconut cream
1/2 tsp fleur de sel
50g unsalted peanuts, chopped
Method:
1. Line a 20×26 tin with baking paper. You could also use a round tin with 21cm diameter.
2. Preheat the oven to 180 degrees C.
3. Using a hand mixer, cream the coconut oil and sugar for a couple of minutes.
4. Add the flour, cacao and almond milk and mix with a wooden spoon. You can also use your hands.
5. Press the dough into the tin and bake for 20 minutes.
6. Allow to cool in the tin.
Make the caramel:
1. In a clean saucepan, add water then sugar. Put the pan on medium heat and leave it. Don't be temped to stir or swirl the mixture.
2. Let the mixture boil until it goes a dark golden colour. I let my caramel heat up to 195 degrees C on a digital kitchen thermometer. Be careful not to burn the caramel.
CARAMEL GETS EXTREMELY HOT, DONT TOUCH IT!
3. Take the caramel off the heat and carefully add the coconut cream. The mixture will splatter so be careful not to get burned. Mix the coconut cream into the caramel with a wooden spoon.
4. Carefully pour the caramel onto the shortbread.
5. Sprinkle the chopped peanuts and the fleur de sel onto te caramel.
6. Let the caramel cool and set. You can put it in the fridge if you want to speed up the process.
7. Cut into pieces and store in a cool place so the caramel doesn't melt. I find it keeps well, covered in the fridge.
ENJOY!