Remember that squash we roasted the other day? Well, this is one of the recipes we made with it. Roasted butternut squash chop salad may seem elegant but it comes together in minutes.  It's such a poised dish, with just the right amount of crunchy and creamy textures and sweet and savory flavors. Creamy chunks of butternut squash really transform this entire salad, give it a distinct fall flavor. Walnuts and chopped celery give that necessary bit of crunch. Red grapes and diced pears add a faint, lingering sweetness while aged feta compliments the squash perfectly and gives the salad a nice mature quality. (And, all the colors together are so ridiculously fallish!!) Pair it with a nice balsamic vinaigrette or a honey mustard dressing and you're in business.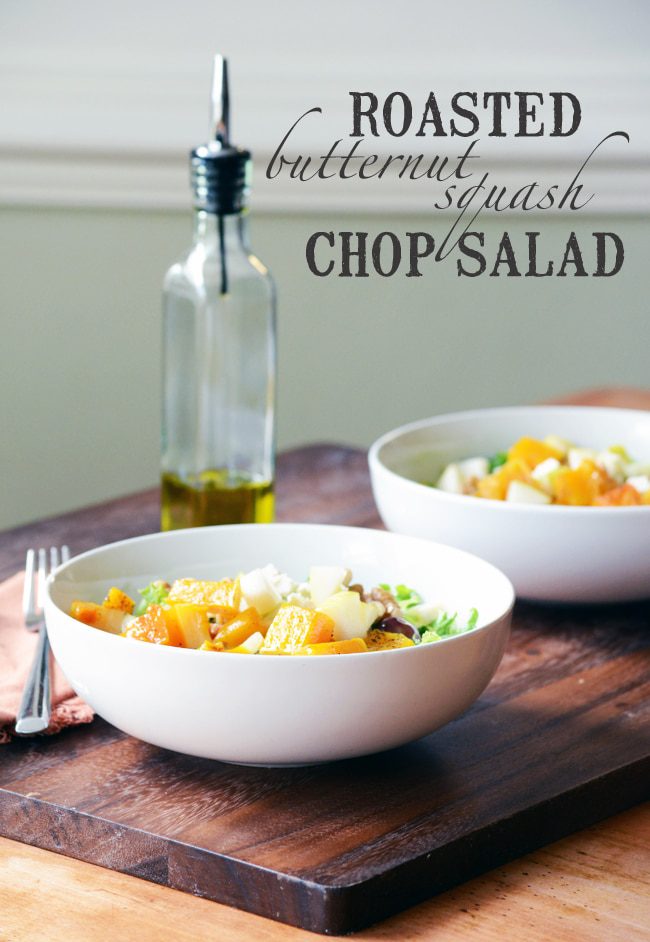 Roasted Butternut Squash Chop Salad
Click here for a printable recipe!
Ingredients:
3-4 leaves romaine lettuce, torn into bite-sized pieces
1/2 cup baby kale
1/2 cup chard
1/2 cup baby spinach
1 cup butternut squash, diced and roasted
1/2 cup celery, chopped
1/2 cup pear, diced
1/2 cup red grapes, halves
1/2 cup raw walnuts
1/4 cup feta (optional)
Prep Time: 5 minutes
Yields: 2 servings
Method:
Place greens on a dinner plate and blend.  Top with remaining ingredients and toss.  Serve with your favorite salad dressing!