It was in 2005, I had to deliver a workshop at Nagpur and that's when I first savoured this lip-smacking dish at the Pride hotel. Fortunately for me, there were several occasions when I had to keep coming back to Nagpur and every time I made it a point to request the banquets to serve this dish for lunch.
9 years later, on a foodies group called Experimental Cuisines I saw the recipe for Saoji Masala posted by Shilpi Sanyal. Shilpi very kindly obliged me with an online tutorial and what followed is here.
Pungent. Earthy. Robust. Piquant. These are some of the words that come close but don't really do justice to this dish.
Ingredients:
Mutton – from the hind leg 1 kg, medium pieces
Mustard oil (about 1 cup)
Onions 300 gms sliced
Saoji masala 3 Tbsp
Spinach 6 -8 leaves
Ginger garlic paste 2 Tbsp
Turmeric powder 1/2 tsp
Deghi Mirch 2 Tbsp
3 medium potatoes quartered
Salt to taste
Saoji Masala:
10-12 dry red chillies
2 bay leaves
8-10 cloves
2-3 black cardamom
3 tbsp coriander seeds
1 tsp cumin seeds
1/2 tsp nutmeg powder
1/2 tsp mace (javitri)
2 tbsp fennel (sauf)
1 tsp caraway seeds (shahijeera)
2 tsp poppy seeds (khus khus)
1 tsp black pepper corns
Dry roast the poppy seeds first and then add the rest of the spices and roast them on a low flame till they're lightly browned. Grind and after setting aside 3 Tbsp for the curry, save the rest in an airtight container for future use.The original masala calls for 2 tsp of jowar atta (that's pearl millet flour). Shilpi says that it adds nutty edge to the masala. I didn't have it, but the next time around, I'll make sure it's around.
Method
1) Marinate the mutton pieces with 1/4 tsp of turmeric, salt and some mustard oil. Cover and set aside in the refrigerator.
2) Fry the sliced onions till they're a rich brown and set aside to cool.
3) Grind the 3 Tbsp of the Saoji masala with the friend onions and a little bit of water to a fine paste.The original recipe calls for grinding the spinach leaves along with the onions and the masala. Again, I skipped this as it was nowhere in sight.
4) Transfer the ground paste to a non-stick pan. Add 500 ml of water and simmer on a medium to low flame till the masala thickens and turns a rich brown colour.
5) Heat the rest of the mustard oil and fry the quartered potatoes till they're golden in colour.
6) Add the 2 Tbsp ginger garlic paste, 1/4 tsp turmeric and 2 Tbsp of Delhi Mirch to the oil and potatoes. Mix well.
7) When the masala's aren't sticking to the sides of the sauce pan, add the marinated mutton pieces and cook on medium- low till well done (meat falls aft the bone consistency). Alternately, cook in a pressure cooker till well done. If needed a little water can be added while cooking.
This is what it should look like when it's done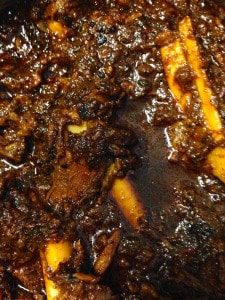 Like I said before, pungent, earthy, robust & piquant. These are some of the words that come close but don't really do justice to this dish. Paired well with some dry chapati's and am sure it would be awesome with a fresh crusty loaf as well.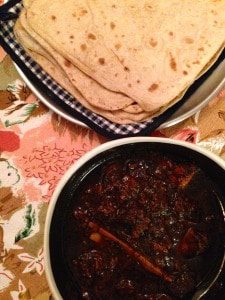 LearningsThe original recipe called for 6 to 8 Spinach leaves to be ground along with fried onions and the dry masala (step 3 above). I skipped this as I didn't think it was worth stepping out just for a bunch of spinach leaves. I was dead wrong. In hindsight, I do think it could have added a greater depth of flavour.