It's December so that means I can break out the eggnog and candy canes officially right??  I am hoping so, because that's what I'm doing today!!  Last month, when I made the Cinnamon Cream Puffs with Pumpkin Pie Filling, I was thrilled at how well they came out.
That first foray into the cream puff pastry world sparked dreams of making cream puffs with any flavor combination!  And, so, when it came time to decide what dish I would send to Hodgson Mill's Have a Grain Holiday contest, I went back to my lovable cream puffs.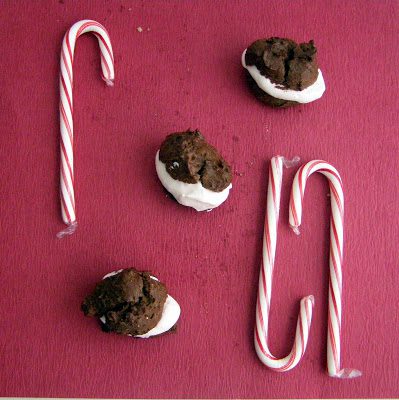 You can make each section the day before.  Store the puffs in an airtight container and store the cream in the fridge.  You can put them together a few hours beforehand and put them in the fridge; whisk them out to the delight of everyone.  Great and easy way to impress your guests!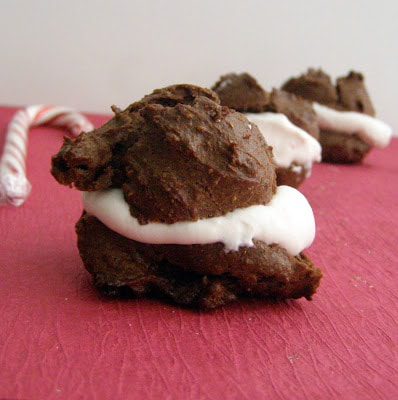 Chocolate Candy Cane Cream Puffs (adapted from my Pumpkin Cream Puffs)
Serves:  16 (48 mini puffs)
Choux Pastry (Puffs):
1 cup Hodgson Mill's Pastry flour
1 teaspoon sugar
1/2 teaspoon salt
1/4 cup cocoa powder
1/2 cup butter, cut in pieces
1 cup water
4 eggs, lightly beaten

Filling:
1 1/2 cup heavy whipping cream
1/2 cup white sugar
1 cup marscapone cheese
1/2 cup crushed candy canes
Make the Choux Pastry:  Whisk together Hodgson Mill's Pastry flour, sugar, salt, and cocoa powder in a small bowl.  In a saucepan, melt butter over low heat.  Add water and turn the heat to medium-high and wait for the mixture to boil.  When the mixture starts a rolling boil, remove it from the heat and stir in the flour mixture.  Return it to low heat and continue to cook until the mixture is a big dough ball.  Remove from the heat.   Beat the mixture with an electric mixture on a low setting for a minute, until it is no longer hot to the touch.  Beat in the eggs until fully combined.
Preheat the oven to 400 degrees.  Spray two 13×9 cooking sheets with cooking spray.  Then, spoon out** the pastry into small bite-sized spheres (I made mine about 1 1/2 inches to 2 inches in diameter), keeping the dough about 2 inches apart so they don't rise into one another.  Bake for 15 minutes at 400 degrees and then decrease the temperature to 350 degrees.  Allow them to cook for another 20 – 25 minutes (when you touch the tops they should be hard, and make no indents).  Then, shut off the oven and open the oven door, letting the puffs cool slowly.  While they are cooling, make the filling.
For the filling, beat together the heavy whipping cream and sugar until hard peaks form.  In a separate bowl, fold together marscapone cheese and crushed candy canes.  Gently fold the marscapone mixture into the whipping cream, careful to only just incorporate.
Cut the puffs in half (they will be hollow inside so this takes a good knife and a careful hand).  Fill the bottom of the puff with candy cane cream filling and place the puff top back on.  Serve immediately, or, place them in the fridge for a few hours where they will soften up (this way they taste more like the frozen ones you can buy…and I like them better this way!  They melt in your mouth!).
**You can also pipe out the dough but, I am bad with a pastry bag…just trust me on this. Plus spoon?  Way easier!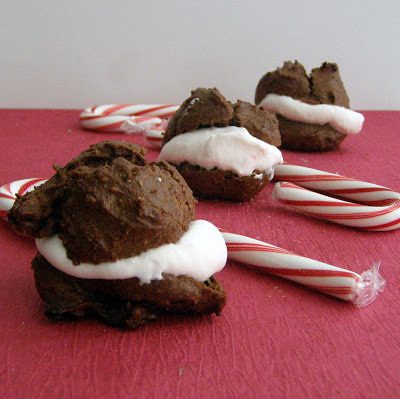 Until the next time my oven is on…