To graduate college, I only had to take one science.  Of all the options presented, chemistry, marine biology, physics… I chose to study rocks.  Yes, rocks.  I had no interest in rocks… or physics or biology for that matter… but I talked to a friend and she said Intro to Geology was an easy A.  Wanting to devote most of my time to lit classes, rocks seemed like a great GPA booster.  Surrounded by future life science teachers and archaeologists , I spent two semesters talking about soil, sediment, and lots of rocks (there are a lot of different kinds of rocks…), and ultimately made an A with almost no effort.
These enchiladas are an easy A.  They take about ten minutes to make, they make a ton of food, and they happen to be delicious.  They are a perfect, last-minute meal.
Effortless Chicken Enchiladas
3 chicken breasts, boiled and shredded
1/4 cup yellow onion, chopped
1 teaspoon garlic powder
1 16 ounce can of chile beans (red kidney beans in chile sauce… o yum)
1 8 ounce can of green chiles
1  16 ounce can of mild Rotel tomatoes
1/2 cup sour cream
1 cup red enchilada sauce 
12 corn tortillas
2 cups colby-jack cheese
1 tomato, chopped
1/2 cup lettuce, shredded
1 avocado, cut into chunks
Extra sour cream for topping
Prep Time: 15 minutes
Yields: 8 hearty servings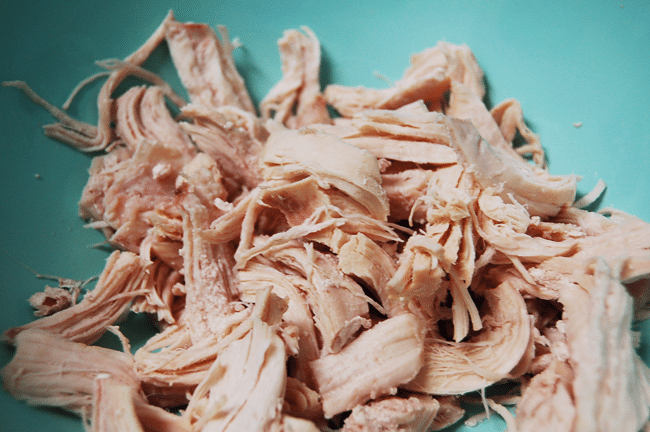 Start by boiling three chicken breasts.  I just tossed some frozen chicken breast in a pot and they were ready in about 15 minutes. Then, place the chicken in a large bowl and shred with a fork.   Then, preheat oven to 425°F.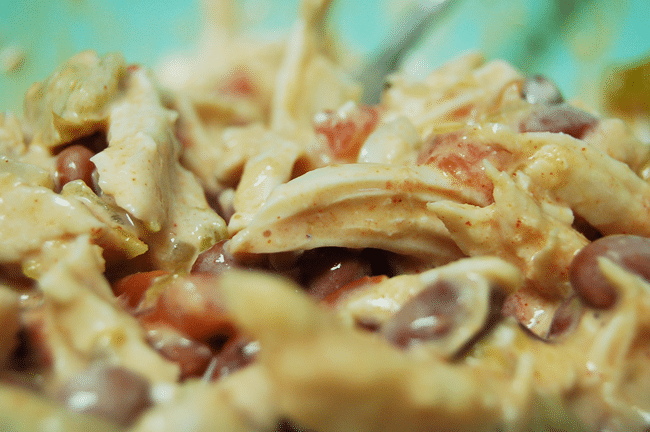 Add onion, garlic powder, chile beans, green chiles, Rotel tomatoes, and sour cream. Stir thoroughly.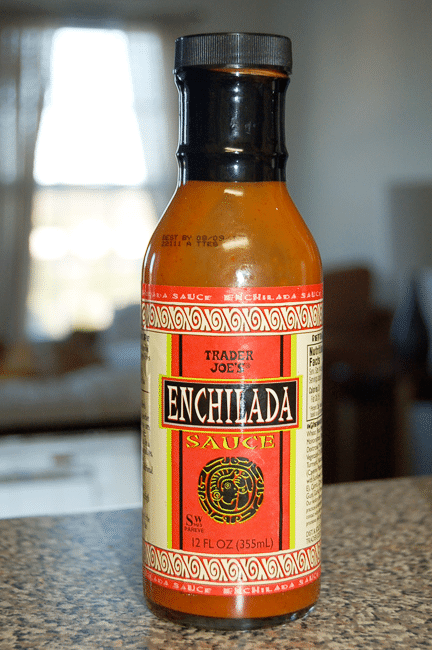 I love this sauce.  It actually sometimes sold out at our Trader Joe's. You can use canned sauce, but if you can get to a Trader Joe's this stuff makes the enchiladas. Pour about 1/4 cup sauce in the bottom of a large casserole dish.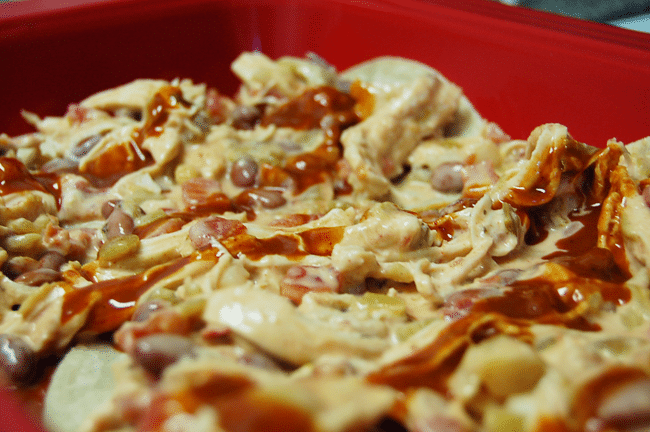 Place a layer of tortillas in the bottom of the dish, followed by a layer of filling.  Drizzle sauce over filling and repeat until casserole dish is brimming with enchilada goodness.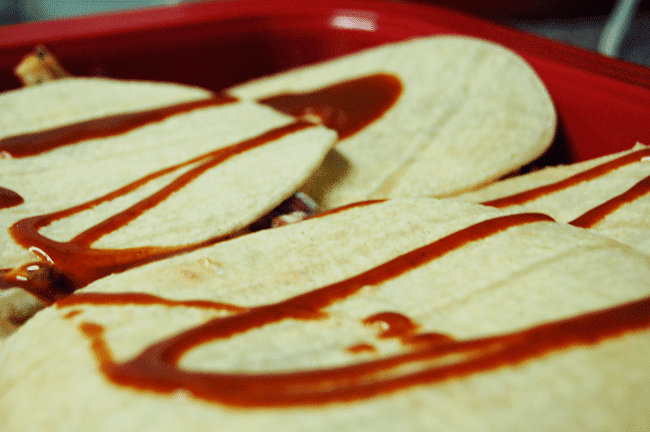 Top with another layer of tortillas and add just a bit more sauce.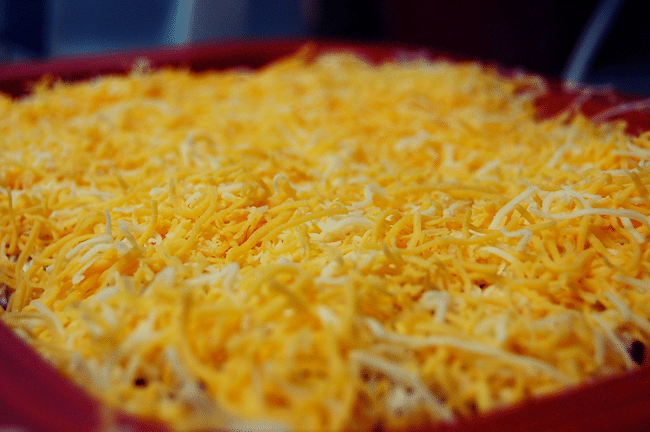 Top with cheese and bake for 25 minutes or until cheese is all bubbly and golden brown.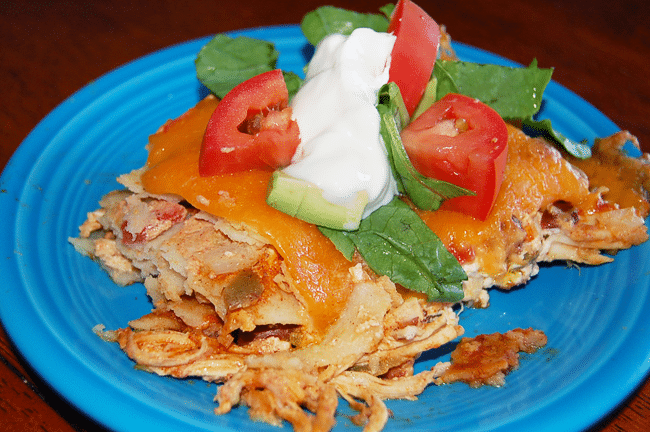 Yum!  Serve your enchiladas with tomatoes, lettuce, avocados, and sour cream on top!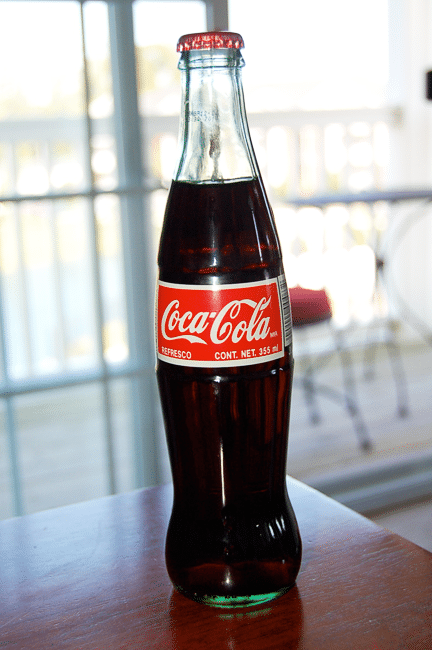 We complimented this dish with Mexican Cola-Cola.  That's right, Mexican Cola-Cola.  If you have ever been south of the border, you know that Mexican Coke is some of the best ever.  Made with real sugar, rather than high fructose corn syrup like US Coke, this stuff is pretty much amazing.  We found an entire crate of it at Sam's Club and spent the last of our grocery budget on it. 🙂