Even though we're still in the heart of summer and all the wonderful fruits abound, chocolate is never out of season.  The last week few weeks have been a little bit hectic–though not entirely in a bad way.  But being able to stop to catch my breath would be nice, and what better way to take some time out than with chocolate.  I had the pate sucree from the strawberry tart I made two weeks ago in my freezer, and used it for this chocolate tart (keeping pate sucree dough on hand in the freezer is always a good idea).  Miette's chocolate ganache recipe is a little different from the simple chocolate ganache recipe I normally use for frosting, which only requires semi-sweet or bittersweet chocolate and heavy cream, though still easy enough (unlike many of their other recipes!).  Miette's recipe also includes egg yolks and butter for extra smoothness and silkiness.  Taking a bite out of this decadent chocolate tart can make you forget, at least for a moment, the craziness of the day.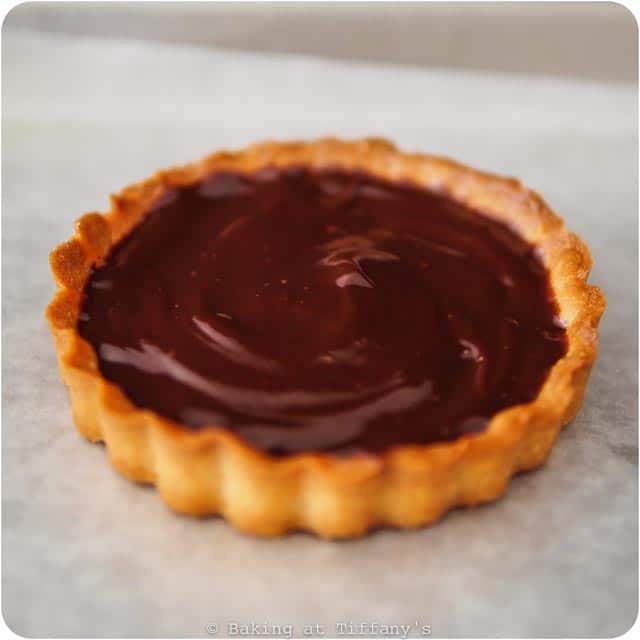 Recipe notes: As I mentioned above, I used the pate sucree recipe here.  The recipe below is for the chocolate ganache from Miette.  I used Guittard's bittersweet chocolate 72% cacao disc wafers, though Miette's recipe calls for 62% cacao chocolate.  I think the percentage is a matter of personal taste and I prefer darker chocolate, which is more complex and robust.  I also found that using a bain-marie (water bath) was not necessary to melt the chocolate after pouring the hot heavy cream over the chocolate.  You may use it if the chocolate does not melt completely.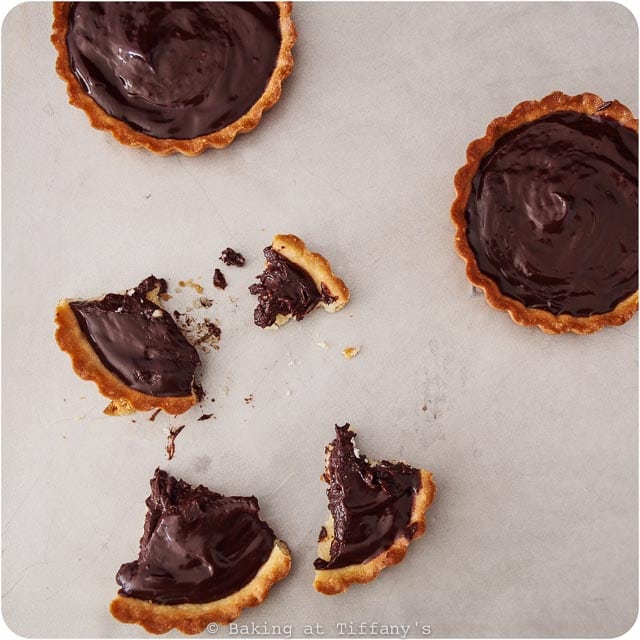 To assemble the tart: After preparing the tart shell and allowing it to cool completely, fill the tart shell(s) with the chocolate ganache filling and refrigerate for at least an hour.  Remove from the refrigerator about 30 minutes prior to serving.
Ingredients
10 oz. semi-sweet or bittersweet chocolate, chopped
2/3 cup powdered sugar
3/4 cup + 1 T. heavy cream
2 large egg yolks, at room temperature
3 T. unsalted butter, at room temperature
Preparation
Put chocolate and powdered sugar in a medium heat-proof bowl.
Simmer heavy cream in a heavy saucepan over low to medium heat.
Pour the cream over the chocolate and allow to rest for about 30 seconds. Whisk until chocolate is completely melted and mixture is smooth. If the chocolate does not melt completely, place bowl over a pot of simmering water (a bain marie) and continue whisking.
Whisk egg yolks in a separate heat proof bowl. Whisk about 1/2 cup of the chocolate mixture into the egg yolks, then pour the egg yolk mixture back into the chocolate mixture and continue whisking.
Add butter and whisk until mixture is completely combined and smooth.
If the ganache is still a little grainy or lumpy, pour it through a fine mesh sieve.
The ganache may be used immediately or stored for up to 2 weeks.