First of all I am so sorry about the picture today. While we were making Baked Chicken Rice, the power went off for almost an hour. It's good that chicken was cooked before blacked out. Baked chicken with chicken flavoured fluffy rice with hot and sweet sauce worked wonderful for a candle light dinner
Baked Chicken Rice
Ingredients: (4 servings + leftover)
1 Whole chicken (about 1.5 kg) wash and clean
3 tbsp light soy sauce
1/2 tsp salt
8 cloves Garlic- minced
2 inches long ginger- minced
1 tsp ground white pepper
Mix soy sauce, salt, garlic, ginner and white pepper together and apply to the chicken.
Use foil paper to wrap legs and wings to prevent burning.
Preheat the oven at 380 degree F.
Bake the chicken for 25-30 minutes or until the chicken is cooked and tender.
Reserve the juice from baking the chicken.
Rice
1 1/2 cup Rice
2 1/2 cup of water
Reserved liquid form baking chicken
1/2 tsp salt
Cook rice in 2 1/2 cup of water with salt and liquid from baking chicken in medium- low heat until rice is cooked and all liquid is absorbed.
Hot and Sweet Sauce
3 tbsp vinegar
3 tbsp sugar
1 tbsp water
1 tsp salt
2 tsp chili flakes
1 scallion- finely chopped
1 tbsp chopped ginger
Heat vinegar, sugar, water and salt and reduce to a semi- thick consistency.
Remove from the flame and add chili flake and scallion.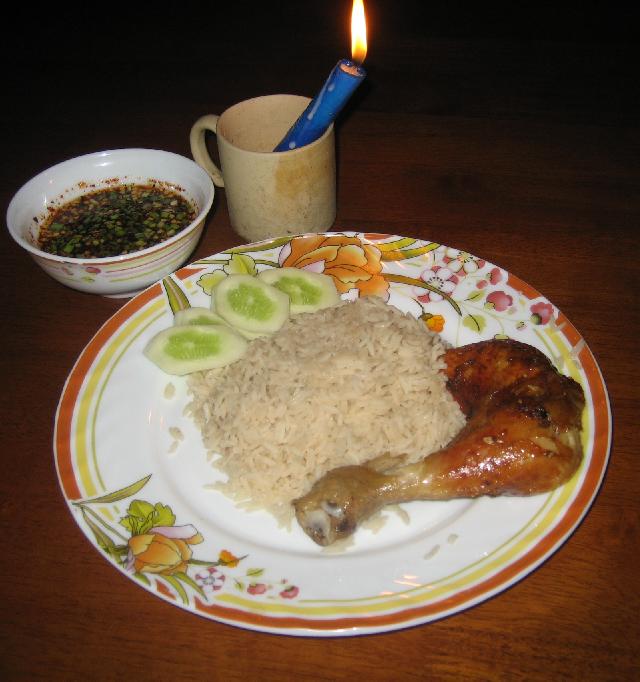 Assemble:
Add some rice in the serving plate.
Add some baked chicken and some sliced cucumber.
Serve with Hot and sweet sauce.
It's a great experience to eat in the dark with a candle light… it's so romantic. While we were eating the light has come back. I suggested we turned it off for a few hours! I loved when the house was filled with the warmed light of aromatic candle and when we could talk and spend more time together while TV and other things was off.
Have you ever tried dinning in dark theme restaurant where people eating in the dark without any light source? It sounds so much fun. Will you consider trying it?
Have a beautiful day,