A few years ago, in an effort to be a little healthier, I lost 30 pounds over the span of a year. I knew that I would never be able to stop eating sugary deliciousness, so I went the calorie counting route as opposed to the "eating healthy foods" route. It worked out for me, and I've kept most of the weight off since.
Most of it.
I tend to occasionally bounce around 5-6 pounds heavier than my lightest from time to time.
It's actually a relatively accurate measure of my current life stress level.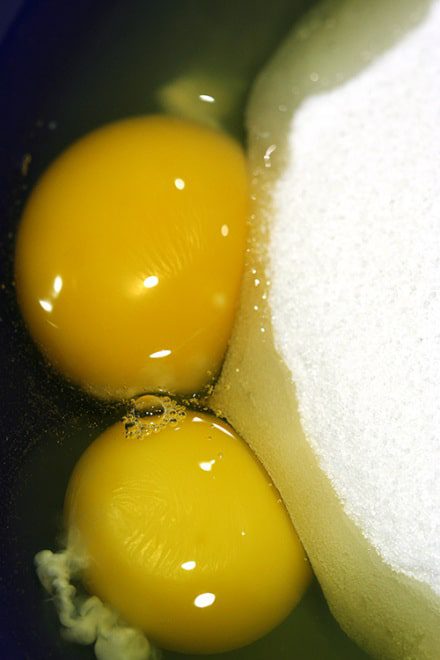 I'm a stress eater. Not even because it necessarily makes me feel better, but because I'm one of those people that, after a long day, I readily declare that I deserve large amounts of delicious fatty foods in my mouth. I EARNED that double scoop of Stumptown coffee ice cream in a waffle cone. Earned it with my SWEAT and TEARS.
A sweaty, crying lady downing a double scoop cone.. now there's an attractive mental picture.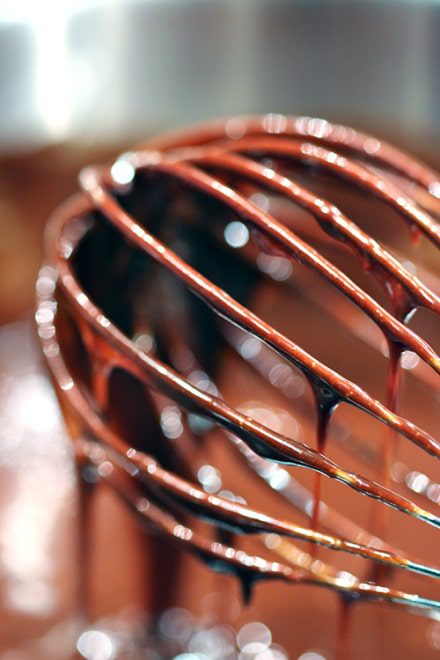 With my house closing on the horizon (1.5 weeks waaat?) and things recently going a little bit bananas at work, it's been a 5+ pounds sort of week.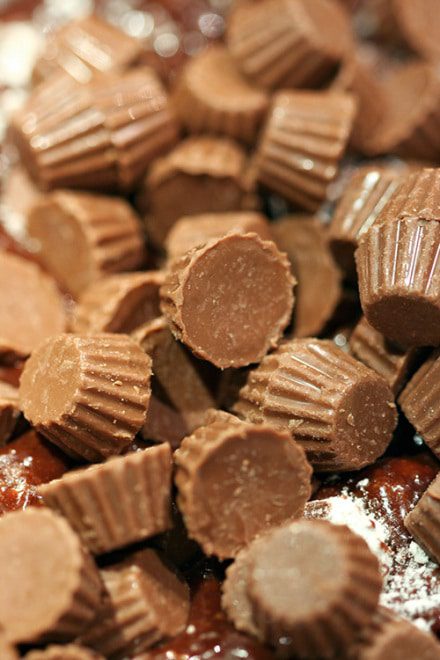 I may have been in the supermarket today, in the bakery section, contemplating the decision of "what do I eat for dinner?".
I may have gone home with a $4 molten chocolate cake the size of my palm.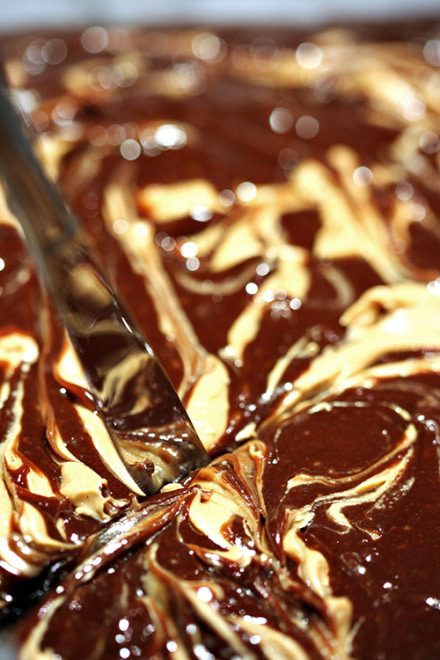 I'll never admit it.
Except maybe indirectly to a bunch of internet strangers in a way that makes it obvious that I totally did do it.
Or didn't.
/mysterious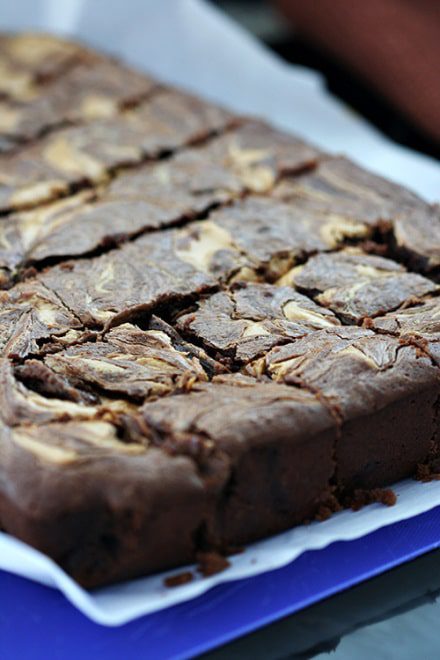 The molten cake (fine I actually admit that was me) was in fact not very good and was actually just a subpar, not-so-chocolatey chocolate cake with microwave instructions on the side of it to make it molten.
It also wasn't actually "molten" it just had a pool of ganache on TOP of it to make it appear somewhat molten when microwaved.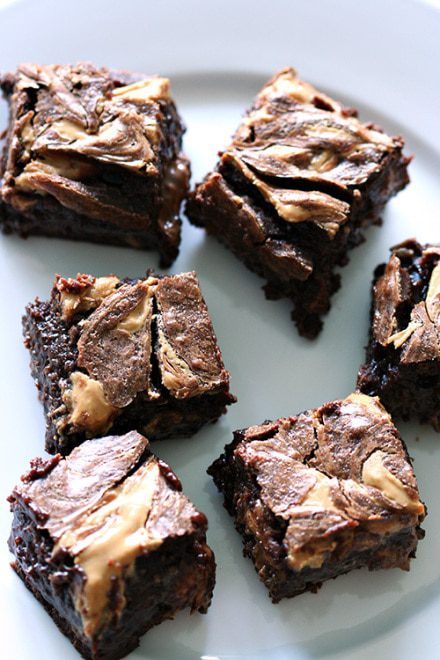 I ate the whole thing anyway. For dinner. With ice cream.
I would much rather have one of these brownies which I made up mostly because I wanted to will my problems away by coating them in thick oozing brownie batter and peanut butter. It worked for the short amount of time it took me to eat three of them in a row.
It worked considerably less well when I descended into a churning stomach ache.
I know that my problems aren't real problems and are very much "first world problems".
"My gorgeous brand new hooouse requires half of my tiiiiiiiiiiime and it's taking time away from my incredibly busy, but stable joooob"
I am a very fortunate person and I am able to step back and realize that I should and do love my life.
But sometimes, you just need to stew angrily amongst gooey brownies and bad $4 chocolate cake.
Besides, how can I not when I'm so good at it.
Reese's Peanut Butter Brownies
Base of Brownie Recipe adapted from Julia Child
Ingredients
1 1/4 cups all-purpose flour
1 teaspoon salt
1 cup (2 sticks/8 oz.) unsalted butter
4 oz. unsweetened chocolate, chopped
2 oz. bittersweet chocolate, chopped
1 ½ cups granulated sugar
1 teaspoon vanilla extract
4 large eggs
1 8oz. bag of Reese's minis
1/2 cup smooth peanut butter
Directions
Place a rack in the center of the oven and preheat to 350 degrees Fahrenheit. Line an 8×8-inch metal pan with parchment paper such that there is at least a one inch overhang on 2 opposite sides of the pan.
In a small bowl, whisk together the flour and salt; set aside.
Melt the butter and the chocolate together in the top of a double boiler or in a metal bowl over a saucepan of simmering water (make sure the bowl doesn't touch the surface of the water), stirring frequently. When the chocolate and butter are both melted and smooth, add 3/4 cup of the sugar to the mixture and stir for 30 seconds then remove the mixture from the heat, and stir in the vanilla extract. Put to the side to cool slightly.
Put the remaining 3/4 cup sugar and the eggs into a medium bowl, and whisk by hand to combine. Little by little, pour half of the sugar and eggs into the chocolate mixture, stirring gently but constantly with a whisk or rubber spatula so that the eggs don't scramble from the heat. Beat the remaining sugar and eggs on medium speed until they are thick, pale, and doubled in volume, about 3 minutes. Using the rubber spatula, gently fold the whipped eggs and sugar into the chocolate mixture. When the eggs are almost completely incorporated, gently fold in the dry ingredients and the Reese's minis.
Pour and scrape the batter into the prepared 8×8-inch pan. Dollop peanut butter evenly over the surface then swirl by dragging a small knife through batter and each dollop a few times.
Bake the brownies for 25-28 minutes, during which time they will rise a bit and the top will turn dry and a bit crackly. After 23 minutes, stick a knife or toothpick into the center to see how they are progressing. When they are ready, they should be just barely set—not too raw, but still fairly gooey (the toothpick should have loose brownie dough stuck to it, but not a thick, goopy amount).
Cool the brownies in the pan on a rack. When they're completely cool, use the parchment sling to remove them from the pan then cut them into rectangular bars to serve.
Note: To serve a crowd, the recipe doubles into a 9×13-inch pan. They may need a couple extra minutes of baking, depending on your oven.