The difficult part of everyday cooking is in figuring out what to cook more than the process of cooking. We are 4 members in our family and each person have their preference. If my daughter likes her cooked rice with grains apart, my son likes rice to be mushy, and my dear hubby doesn't like neither and wants it in between. Of course I can't cook three kinds of cooked rice in the same pressure cooker so I declare whoever is lucky gets their pick and I'll cook just once. When I started to make dinner today, my daughter came running asking me to make Italian dish and my son who prefers Indian dishes especially curd rice raised his hand up, closed his eyes and started rallying against making anything Italian and wanted rotis. However amused I was seeing two strong personalities in my kids voicing their needs, I felt I'm always put in a spot. So to satisfy both of them I said I'll make surprise Italian rotis and both of them left the kitchen scratching their heads trying to figure out what was I going to make. Now how the heck should I know whats an Italian roti that just popped up in my mind to calm them down. So as I was brainstorming for ideas I opened the fridge to see the pesto sauce bottle right in front of me. So with on the go ideas with no clue about the end result, I started out by using some pesto sauce(a blend of basil, pine nuts, and cheese) to make the atta and made pesto rotis. The rotis had a pizza flavor similar to pesto pizza and were so soft with amazing taste. My kids beaming with pride thinking each of them won their choice enjoyed the rotis very much with turnip kootu. Phew!!! Next time I'm writing my menu down and posting it on the fridge, no room for any negotiations….
Ingredients:
Pesto Sauce — 4 Tbsp
Whole Wheat Flour –2 cups
Salt — to taste
Method:
1. In a bowl, combine whole wheat flour, pesto sauce, and salt. Knead them well for about 5 minutes in to a soft dough. (Note: Use water only if needed). Cover and set aside for at least 10-15 minutes.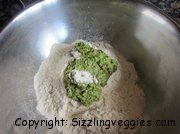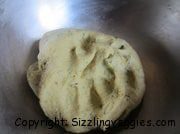 2. Divide the dough in to small balls. Roll each ball in to thin circles. Heat a flat griddle and when hot, carefully transfer the rotis to the griddle. Cook till brown spots appear on the bottom side of the roti. Flip and cook evenly on both sides. Remove and brush with ghee. Serve hot with your choice of gravy. I served these rotis with South Indian style Turnip Kootu (coconut gravy). Enjoy!!!