I am always up for anything that involves chocolate, mint, or coffee. I developed these cupcakes to satisfy all of these desires. They are rich, moist chocolate cakes with mint filling and espresso frosting. You can of course, make any variations to them that you desire, like changing the flavor of the filling or the frosting by simply using a different extract. Feel free to customize them however you like! This flavor profile was just what I personally was seeking…
Ingredientology:
The cake recipe is sure to be extra moist as it has hot coffee, buttermilk, white and brown sugar and  vegetable oil in it. The hot coffee and the vanilla extract serve to compliment the chocolate flavor. I used dutch-process cocoa powder, to ensure a dark and strong chocolate flavor. The grasshopper filling compliments the chocolate flavor as well, using peppermint extract and a dash of green food coloring. Finally, the espresso frosting balances out all the sweetness from the cake and the peppermint filling, and adds a dark, roasted flavor to the cupcake.
Makes 18 cupcakes.
The Ingredients:
for the cake:
1&3/4 cup all-purpose flour
1 cup sugar
1 cup brown sugar
3/4 cup dutch-process cocoa
2 teaspoons baking soda
1 teaspoon baking powder
1 teaspoon salt
1 cup buttermilk
1/2 cup vegetable oil
2 large eggs at room temperature
1 teaspoon vanilla extract (or paste)
1 cup freshly brewed hot coffee
for the filling:
1/2 cup (1 stick) butter, softened
3 cups powdered sugar
3 tablespoons milk
1 teaspoon peppermint extract
3 drops green food coloring
for the frosting:
3/4 cup (1.5 sticks) butter, softened
5 cups powdered sugar
4 tablespoons milk
1.5 tablespoons espresso powder (or instant coffee crystals)
1 teaspoon vanilla extract
OPTIONAL:
Mint leaves and melted chocolate for garnish
The Method:
Preheat oven to 350 degrees. Line cupcake tin with cupcake papers
Sift together flour, sugars, cocoa, baking soda, baking powder, and salt.
In a separate bowl, mix together buttermilk, vegetable oil, eggs, and vanilla extract
Mix wet into dry mixture
Slowly pour coffee into mixture until combined
Spoon batter into cupcake tin (each cup should be about 2/3 full)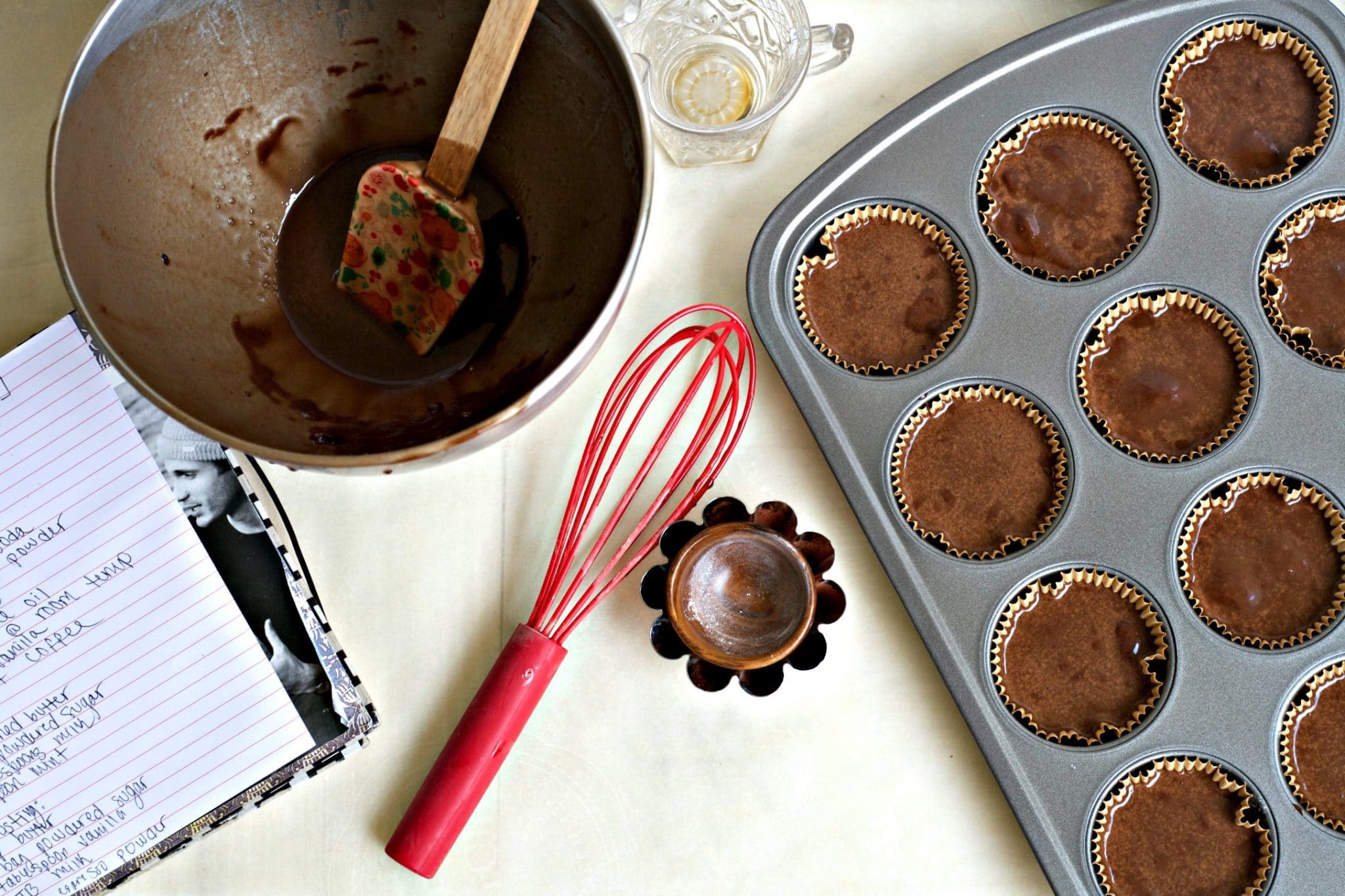 Bake for 17-20 minutes, or until a toothpick inserted in the center comes out clean
Remove from oven and allow to cool on a cooling rack
To make the filling, use a standing mixer with the wire whisk attachment
Whip together the butter, peppermint extract, slowly adding the powdered sugar. Add milk until combined, and then add food coloring until desired shade of green is achieved
Place filling into pastry bag, with long round decorating tip, such as the Wilton #230
Once cupcakes are cooled, insert tip of pastry bag into center of cupcake, pushing down about 2/3 into the cupcake then squeezing the bag until the filling starts to come out the top. Video directions can be viewed here
To make the frosting, again use the wire whisk attachment and mix together the butter, espresso powder, and vanilla extract. Slowly add the powdered sugar and then the milk until combined.
Place frosting into pastry bag, using whatever tip you like to decorate cupcakes
If you want to make mint leaf garnishes, melt dark chocolate in microwave, then dip edges of leaves in the chocolate. Place in freezer until hardened.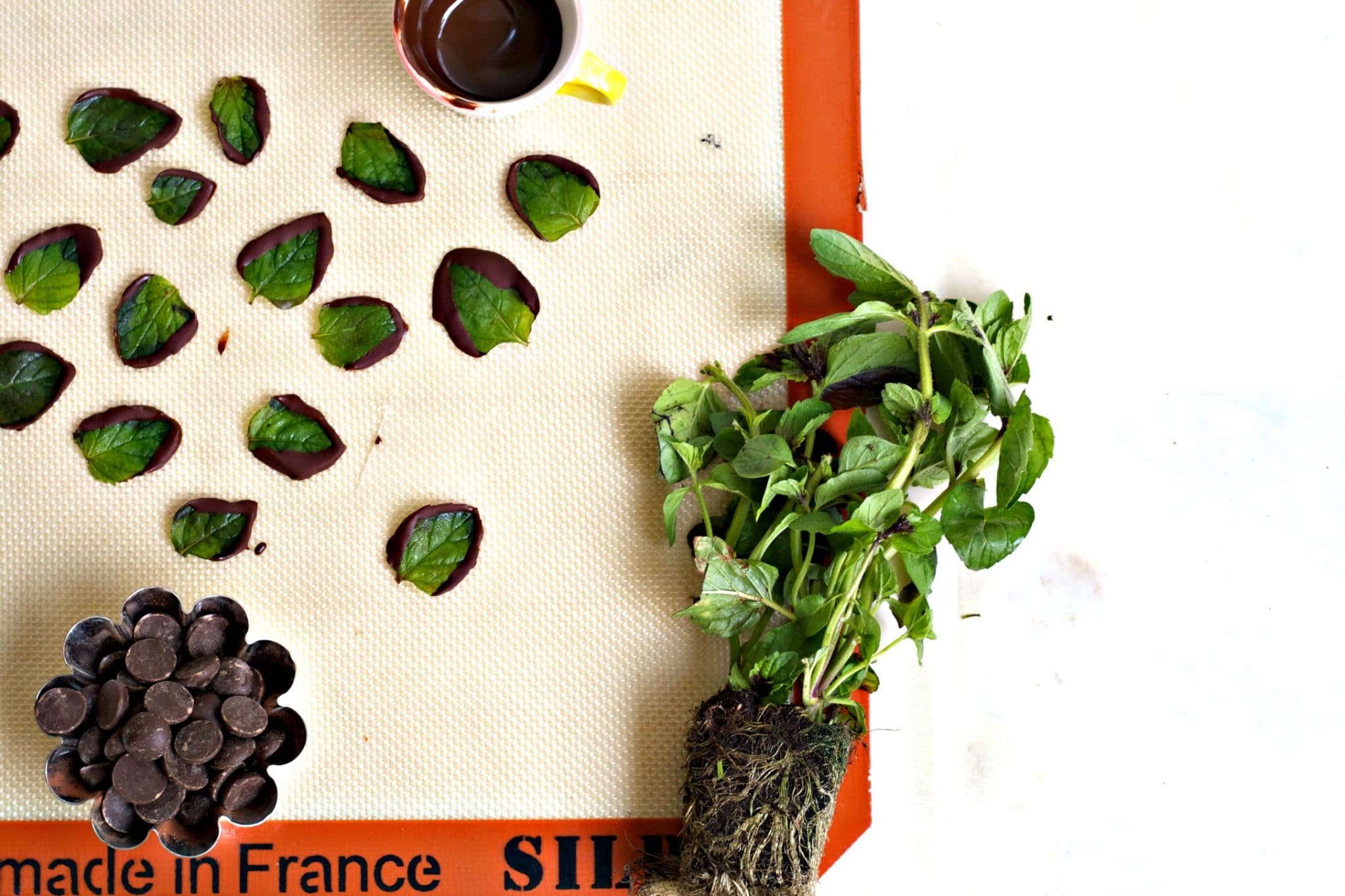 I placed toothpicks into the frosted cupcakes to prop up the mint leaves.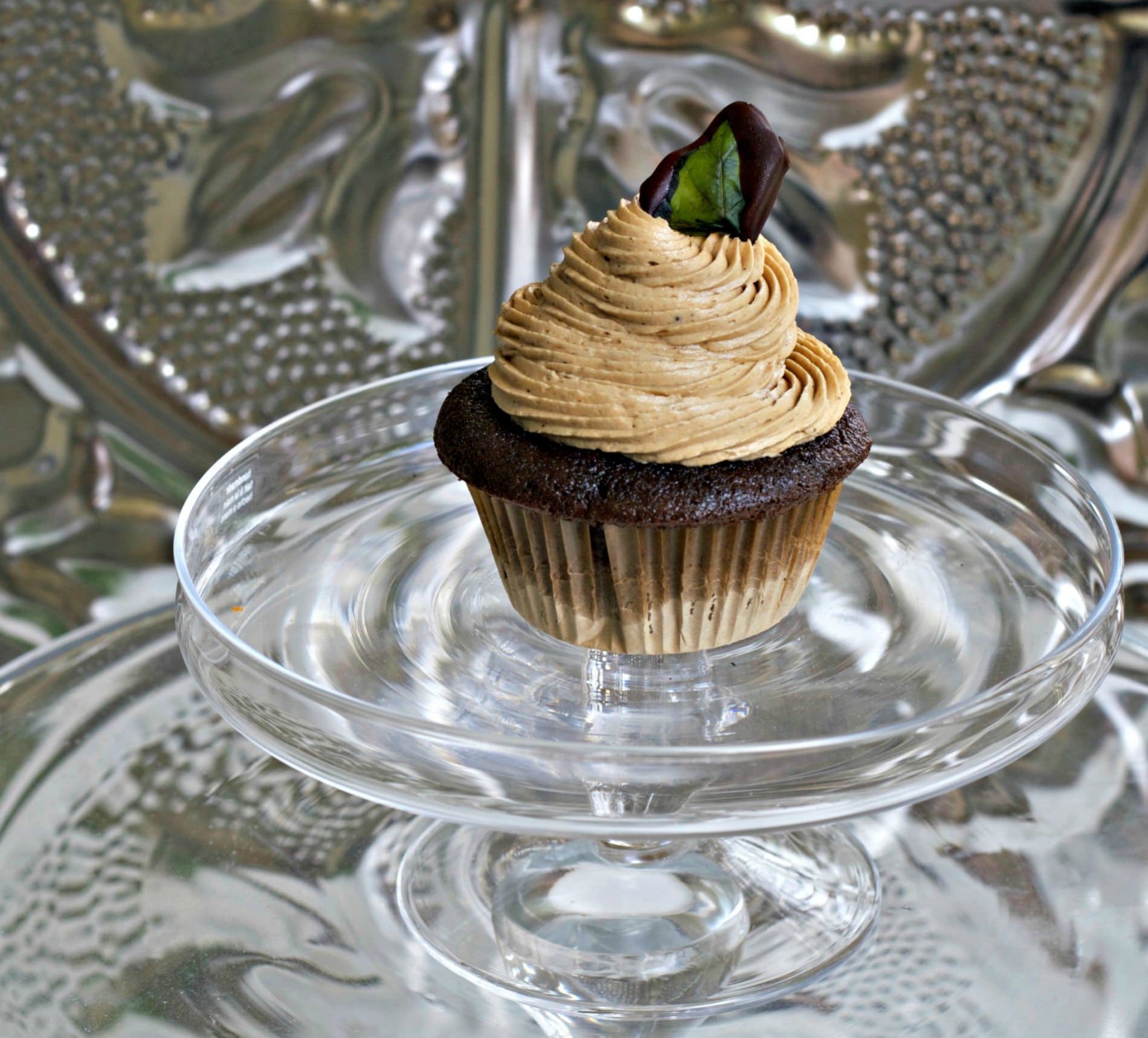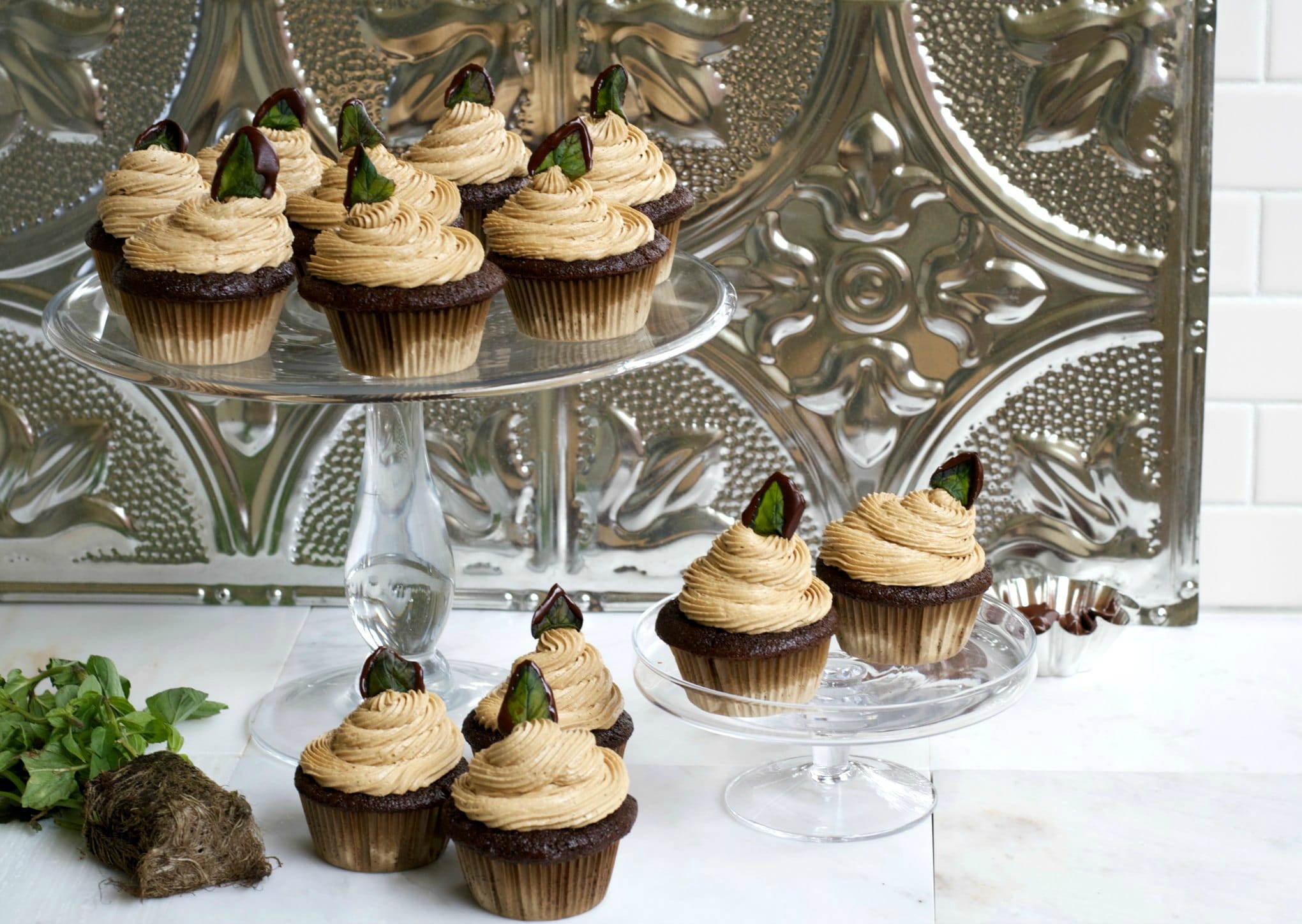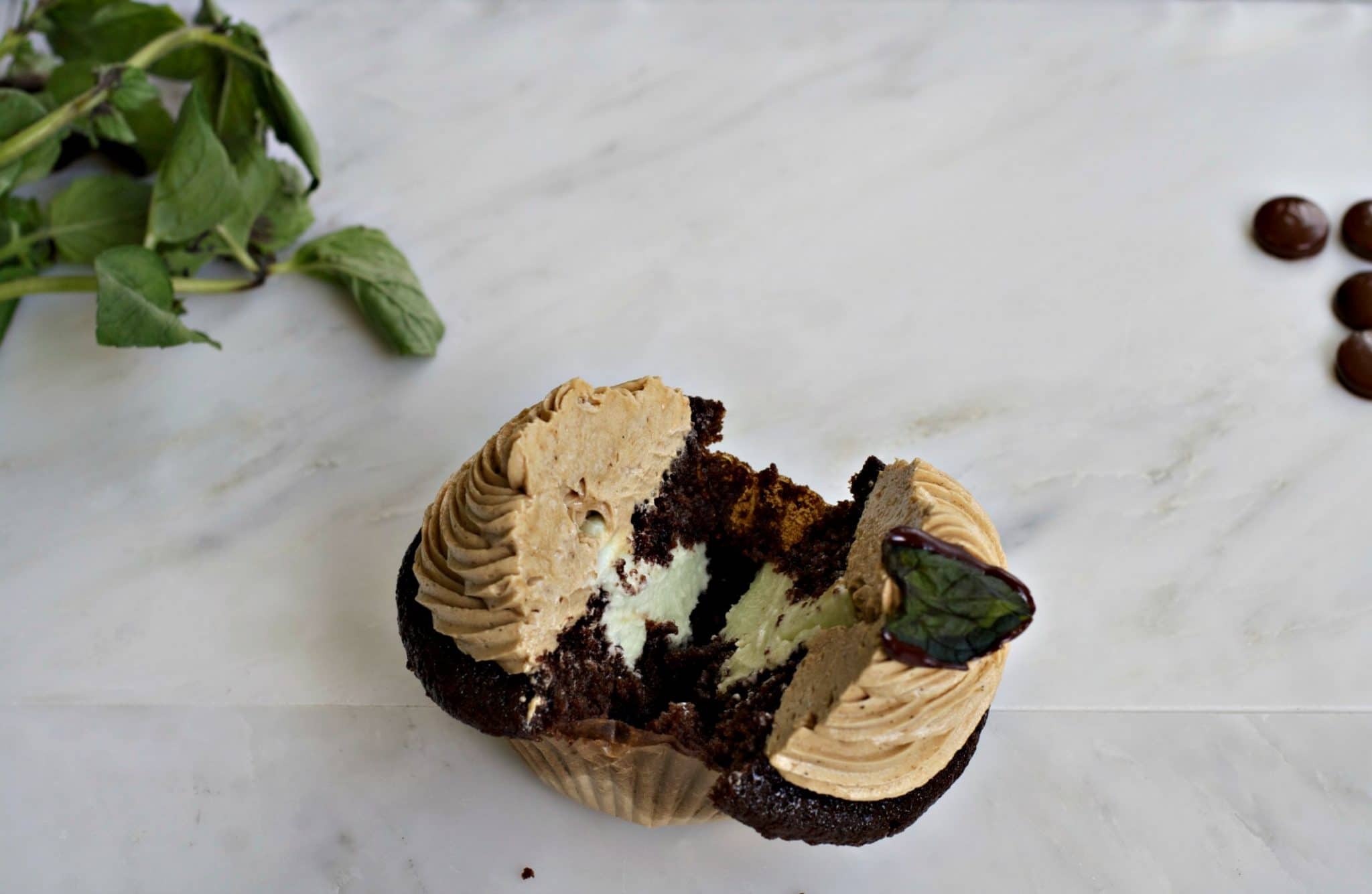 Look at that filling! Thanks for visiting!