Juuust in case you over-indulge during Thanksgiving dinner on Thursday, this Quinoa Breakfast Cereal is my favorite "morning-after" meal to get right back on track with healthy eating.
Quinoa is a killer plant-based protein. It's also a great source of fiber, phosphorus, magnesium, iron, and calcium. Basically, it's the boss in the nutritional world! Paired with all the fruit in this recipe, there's copious amounts of fiber that will…well…help unclog your overloaded pipes.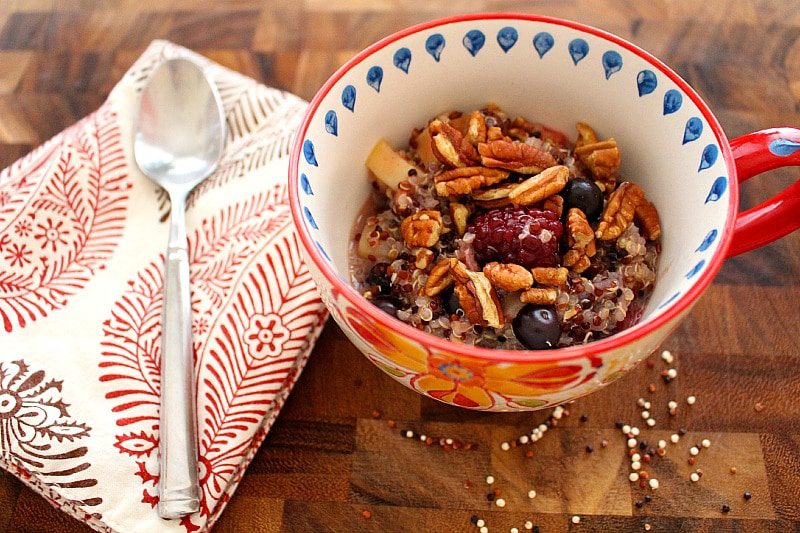 This recipe was inspired by one in Roberto Martin's cookbook, Vegan Cooking for Carnivores.

Quinoa Breakfast Cereal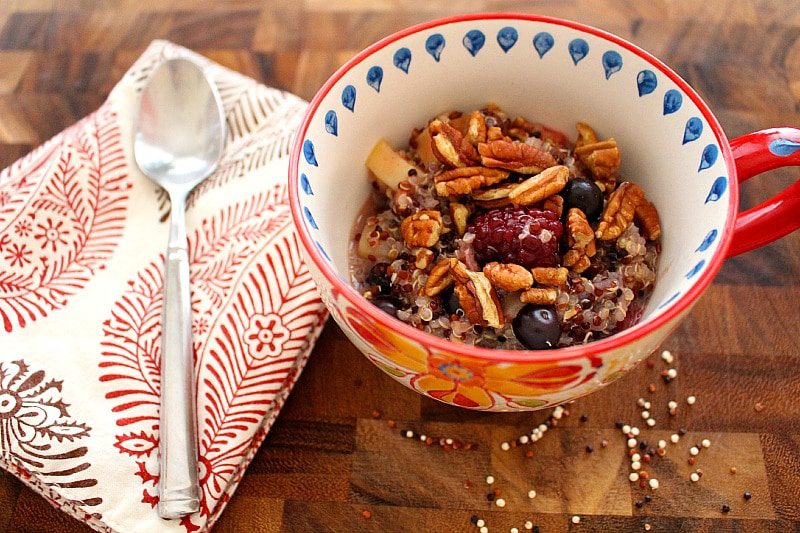 Serves 4
Quinoa isn't just for savory dishes. Try this sweet, hearty, fruit-filled quinoa breakfast cereal when you need a break from oatmeal.
1 c quinoa
1 c unsweetened almond milk (I use Blue Diamond Unsweetened Vanilla)
1 c water
1 tsp ground cinnamon
1/2 tsp vanilla extract
1/3 c raisins and/or unsweetened dried cranberries
1 apple, diced
2 c mixed blueberries, blackberries, and raspberries
1 1/2 Tbs agave nectar
1/4 cup pecans, chopped (optional for garnish)
1/4 cup walnuts, chopped (optional for garnish)
Instructions
Rinse the quinoa.
Combine the quinoa, almond milk, water, cinnamon and raisins/cranberries in a large pot over medium heat. Cook, stirring, until the mixture comes to a simmer.
Add the apple. Cover, reduce the heat to low, and cook the quinoa until the liquid has been absorbed, 10-15 minutes.
Stir in the remaining berries and agave nectar, and let the cereal rest 5 minutes.
Serve warm and top with chopped pecans and additional almond milk, if you'd like.
I've never had as much for which to be thankful as I do this year: my family, my new husband, my dog, my home, my work, my health, and of course my soon-to-be-born baby boy. Life is so, SO good! Happy Thanksgiving, everyone!