A while back my mom and I did something fun with our coffee; we decided to video the simple process of brewing espresso using Moka on the stove top. Pretty easy feat on the coffee, not so much on the video production of it. That is why it has taken me months to finally edit the short clip! Despite owning 2 coffee machines I always prefer to brew my morning coffee on the stove top. The whole process is very calming and the simplicity of it is what hooked me on.
If we were to talk about the actual process of brewing coffee, perhaps I should really mention about choosing the coffee beans, roasting them to perfection at home before using it for filter or machine. There is also a lot of discussions on the ethics of coffee business, especially on fair-trade scheme, choosing the pure form of coffee and acidity content of the beans. I am not an expert on those fields, although I do love my coffee! I went through a phase of even grinding the coffee beans each week, but these days due to time constraint I stick to pre-ground espresso powder. When it comes to acid content of coffee beans, the dark roasted ones are less acidic and better for the stomach than the light roasted versions or instant granules.
Which coffee is the best? I suppose this is all down to personal choice. I love my Lavazza or Illy, and the strength of the cuppa is really determined on which final choice you are after: cappuccino, flat white, latte or machiato? The downside of using Moka is of course there is no attachment for milk frother. The size of Moka goes by the cups, with bigger Moka to accommodate bigger batch of brewing. There are all kinds of Moka out there in the market, but try to get an authentic Italian make which will last much longer in your kitchen.
I hope that the simple video above will encourage you to brew more coffee the authentic ( healthier?) way, and enjoy your Cup of Joe today.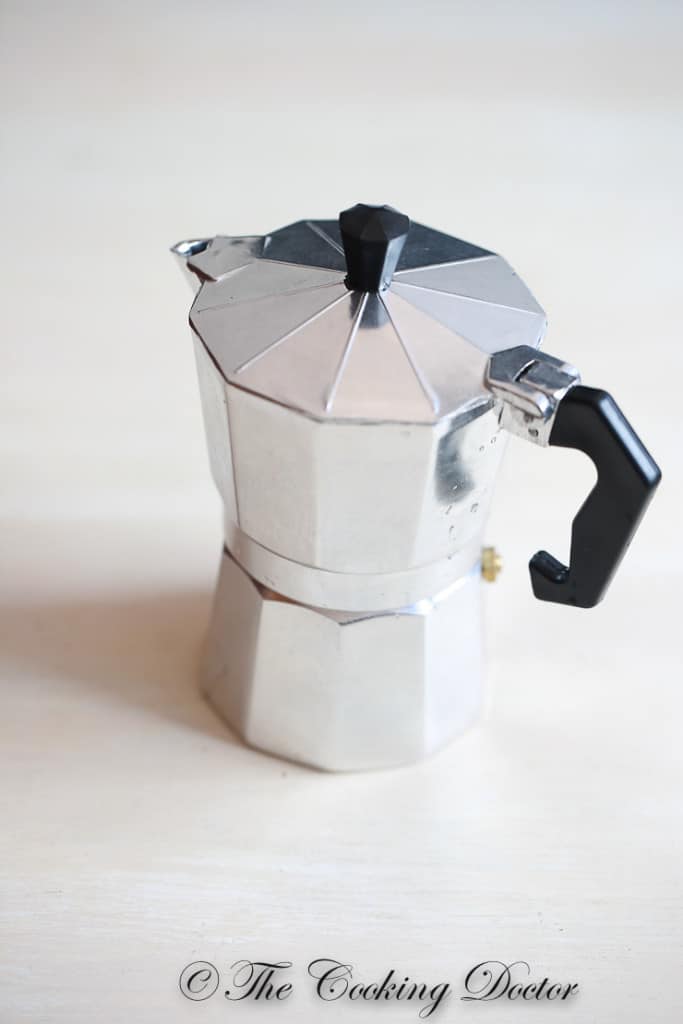 5 mins
Cook time
5 mins
Total time
10 mins
A video recipe on making espresso using Moka on the stove top.
Serves: 2 cups
Ingredients
2 tbsp espresso powder
1 cup water
Moka for 2 cups
Instructions
Clean the Moka and dismantle the assembly of the pieces.
Fill the base chamber with water up to the level of the valve.
Fill up the filter with coffee powder and pack it lightly so the rim is clean from coffee.
Screw the filter onto the base chamber and place on stovetop, over low medium heat.
About a couple of minutes later, open the lid to see the jet of coffee coming through.
Switch off the flame and pour the espresso into cups.
Feel free to top up with whipped cream or milk.