I know the salmon looks like the star, but it is really the spuds I want to focus on in this post 🙂
I still remember the last time my husband and I went to Italy … theAutogrill pitstops would be the highlight of our days spent travelling on the road. We would order some hot food and invariably, this Panfried Potatoes With Rosemary would show up at every single meal. It was our favourite item on the menu, hands down.
Since that trip, I have made this dish again and again. I use less rosemary leaves when I make it for my kids, and more when I make it for the adults. It's so easy – potatoes, olive oil, rosemary and salt. And it is so good. So good.
Every time I eat this, I will think of our glorious time spent in Bella Italia. Italy will always have a special place in my heart, for I brought home a permanent souvenir the last time I visited. She is 10 years old now and she looks a lot like me 😉 Perhaps that is why she loves all things beautiful and Italian.
Recipe
– Potatoes, peeled and cut into cubes
– Olive oil
– Rosemary (fresh is better but dried is fine too)
– Salt
1. In a skillet, fry the potatoes and rosemary in plenty of olive oil. Fry over a low flame until the potatoes turn slightly crisp and golden around the edges.
2. Sprinkle with salt before serving.
That's it!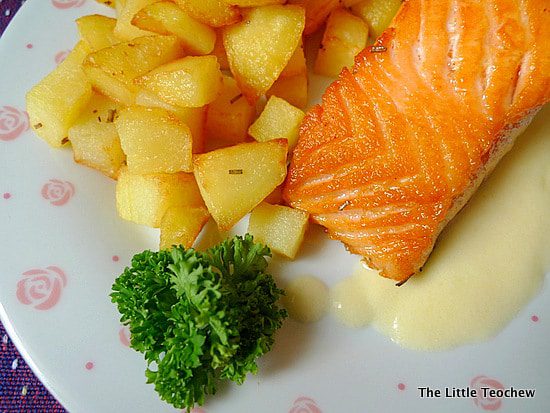 I made this for my daughter's lunch. It was a Friday, and the last day of her exams 🙂 I knew she would enjoy a nice, hearty lunch to celebrate. These potatoes were perfect with a simple pan seared salmon, along with a creamy butter sauce … everything in 30mins.