I don't usually get emotional about things
(she says, then cries her heart out watchingThe Muppets Christmas Carol. Why did you have to die, Tiny Tim, although
you don't actually die). However lately I've been in this funny mystical mood as
a result of which I am quite at peace with the universe and most its
inhabitants. Officially surviving the winter (only JUST) has helped, and so has
the prospect of squatting in lovely new one-bedroom flats in Bermondsey, thanks
Alex I love you too.
But let's get to the cake part shall we.
Well it so happens that this introspective state I am in has led me to fond
memories of the best trip ever to America last year, and to this rainy day in
Cambridge, Massachusetts after a gourmet dinner of watery salad (don't ask). Adam
who is known for being a part-time guardian angel promptly saved me from
everlasting grumpiness and took me toVeggie Galaxy where I had this massive slice of Boston cream pie.
So here's me sharing the recipe for a mini
version of it (I'm only small), and celebrating that one day and today and
everything in-between. Like trips with people I care loads about, andbeing upset about turning a quarter of a century old, and the longest darkest winters;
almost running away from everything; people sticking with me even though I
can't possibly figure out why, the view of Tower Bridge from the bus in the morning, going to work only to make friends, nice songs, lunch breaks, ideas, little white
fluffy dogs and the calming verse from the
age of break – 'something good will come from nothing'.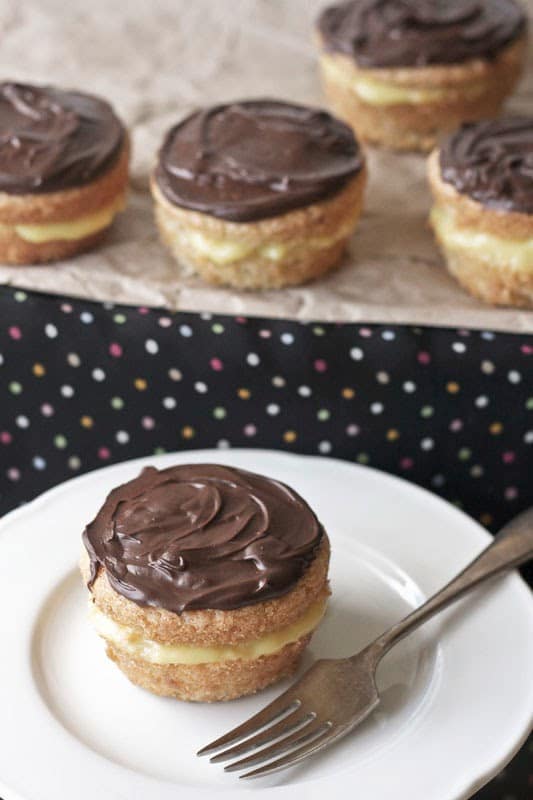 200ml (3/4 cup + 1 tablespoon) vanilla
flavoured soya milk
1 tablespoon + 1 teaspoon cider vinegar
200g (1 ¾ cups) self-raising flour
200g (1 cup) sugar
¼ teaspoon baking powder
¼ teaspoon bicarbonate of soda
¼ teaspoon salt
80ml (1/3 cup) sunflower oil or other
flavourless oil
Cream filling:
Adapted fromLa cucina etica dolce
300ml (1 cup + 3 tablespoons) vanilla
flavoured soya milk
1 tablespoon cake flour
2 teaspoons cornflour
1/8 teaspoon turmeric, for colour
20g (1 heaped tablespoon) margarine
40g (3 tablespoons) sugar
Chocolate ganache:
100g (1/2 cup) dark chocolate chips
2 tablespoons margarine
Start by making the cream filling, as the
cream will need to cool completely before you use it. In a mixing bowl combine
1/3 of the milk (100ml) with cake flour, cornflour and turmeric and mix well
until there are no lumps. In a small pan over low heat melt the margarine in
the remaining milk, then add the sugar. When it starts simmering, pour in the
milk and flour mixture. Cook for about 3 minutes, whisking constantly. Transfer
to a bowl, cover with cling film and let cool.
Next preheat the oven to 180°C (360°F) and
lightly grease two muffin tins. In a mixing bowl, combine soya milk and cider
vinegar and set aside for a few minutes to curdle. In a large bowl, mix
together flour, sugar, baking powder, bicarbonate of soda and salt. Pour the
curdled soya milk and oil into the flour mixture and quickly mix everything
together with a spoon until just combined. Pour the batter into the prepared
tins and bake for 15 minutes or until a toothpick inserted into the centre of
the mini pies comes out clean. Transfer to a rack to cool.
For the chocolate ganache, simply melt
chocolate and margarine in a pan over low heat, stirringly continuously until
combined.