These days, Seoul is a sight to behold. Ginkgo leaves have turned a shade of yellow worthy of their own name, and persimmon trees have started to bear shocks of orange fruit. Gone are the dusty grapes and melons of summer. Persimmon season is here, and we're elated.

We used two kinds of common persimmon varieties in this recipe: dan-gam are the seedy, squat fruit that can be eaten while still firm (shown above) and daebong-gam are the oblong shaped, vermillion colored fruit that should be completely soft, almost mushy, before cooked or eated (shown below). Pureed daebong-gam makes a soft, wet pancake that's crispy at the edges; the addition of ginger and cinnamon play up the mild sweetness of persimmon. This quick syrup is spiced with fresh ginger, and would also be delicious over ice cream, stirred into yogurt or oatmeal, or chilled and drowned in sparkling wine.

Do you have any favorite persimmon recipes or ways to enjoy the late autumn fruit? We'd love to know!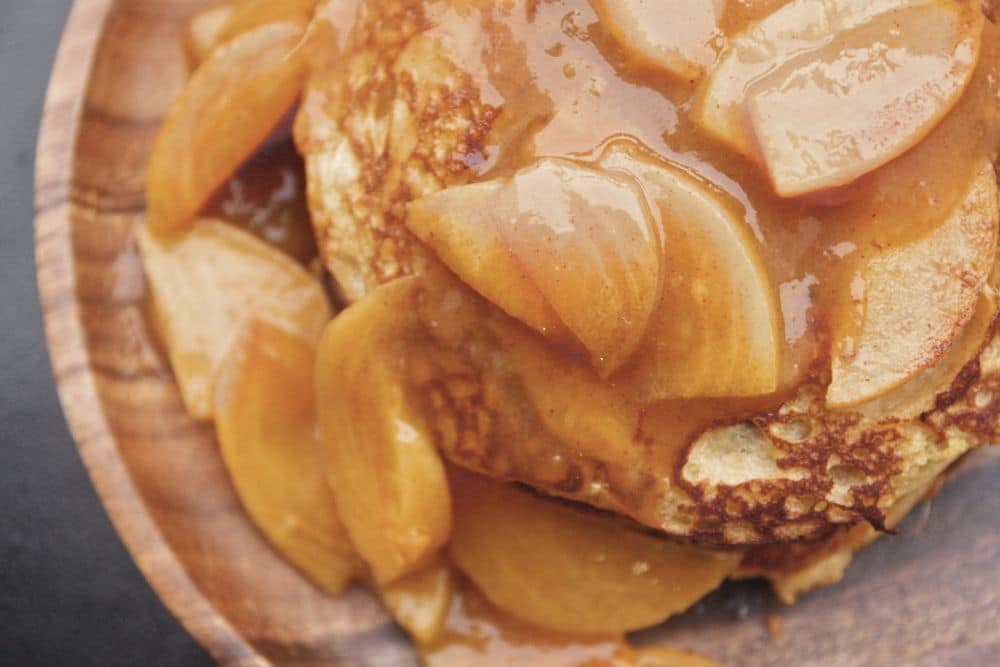 Persimmon Buttermilk Pancakes
makes 6
1 cup flour
1 tablespoon sugar
1/4 teaspoon salt
1 teaspoon baking powder
1/2 teaspoon baking soda
1 cup buttermilk (or 1 cup milk mixed with 1 tablespoon fresh lemon juice)
1 egg
2 tablespoons + 2 tablespoons butter, separated, melted, and cooled to warm or room temperature (hot butter will scramble the egg)
1/2 teaspoon dried ginger
1/4 teaspoon cinnamon
1/2 cup pureed daebong-gam*
1) Mix dry ingredients.
2) In a separate bowl, whisk 2 tablespoons of melted butter with egg, then add buttermilk and pureed daebong-gam.
3) Combine wet ingredients into dry ingredients, and stir until just mixed.
4) Heat a pan or griddle, and brush with melted butter.
5) Pour batter into the hot pan, and let it cook until bubbles appear on the surface.
6) Flip when underside is splotched golden brown, and the surface is covered in bubbles. Takes about 2 minutes to finish cooking once flipped. Keep brushing pan with melted butter between pancakes.
7) Meanwhile, let persimmon syrup simmer on the stove.
*Peel the daebong-gam and scoop the flesh out, discarding the peel, white center and all seeds. Puree the fruit flesh in a blender until smooth.
Quick Persimmon Syrup
makes about 2 1/2 cups
2 dan-gam, peeled, seeded, and sliced into quarter-inch thick wedges (about 2 1/2 cups)
1/4 cup pureed daebong-gam
1/2 teaspoon grated fresh ginger
2 tablespoons raw sugar
1/2 teaspoon cinnamon
1/4 cup water
Combine all ingredients in a sauce pot. Simmer until the sugar dissolves, the fruit softens, and the sauce thickens. Takes about ten minutes.