Can you believe it's already Monday?!  It's unfair how fast the weekend goes and really unfair about the amount of things I DIDN'T get accomplished!
I had my dreaded dentist appointment Thursday and the medication they've had me on since then has made me want to sleep ALL.THE.TIME!  Seriously, I happily went to bed at 8 pm Thursday night.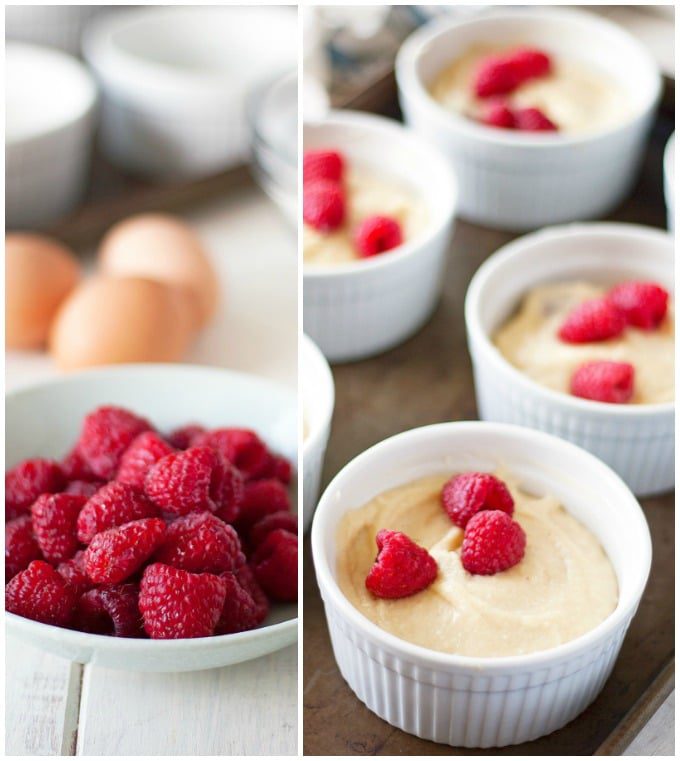 That means I have been an early riser and had plenty of time to bake up these raspberry ricotta mini cakes.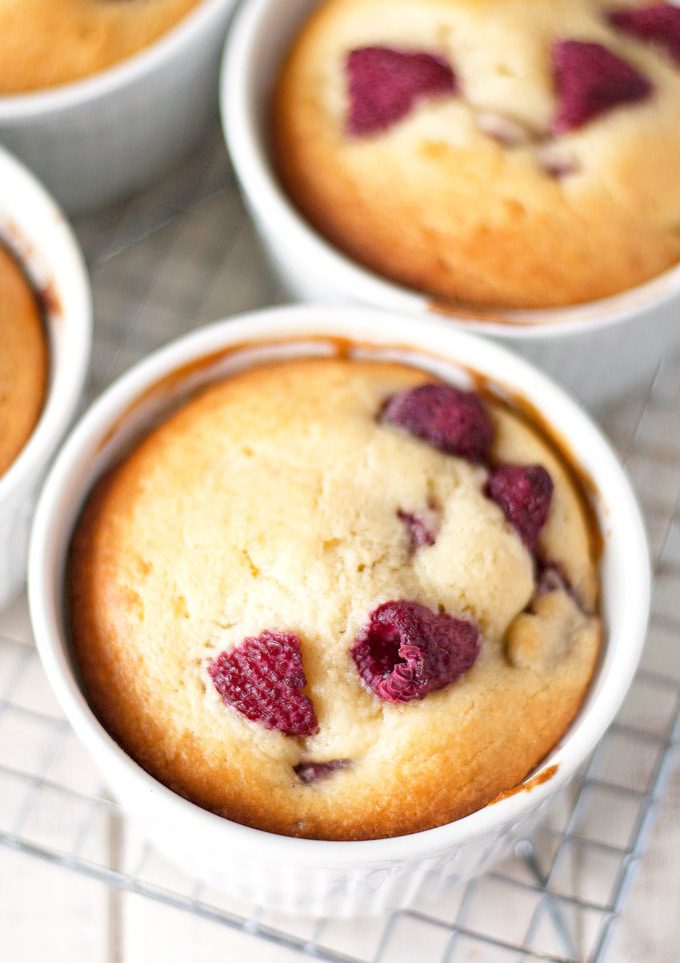 I initially saw this recipe in my Bon Appetit magazine but it was made as one large cake.  I added a few additional twists, like increasing the vanilla substantially (seriously, what is 1/2 of a teaspoon of vanilla going to do) and giving a good pinch of salt (which really enhances the flavor of all baked goods).
I also threw them in small ramekins because I love creating little personal treats.  This would work wonderfully for an Easter brunch or would look beautiful as dessert after a meal.
The ricotta really adds a creaminess to the cake and the bright punch of raspberries really sets it over the top.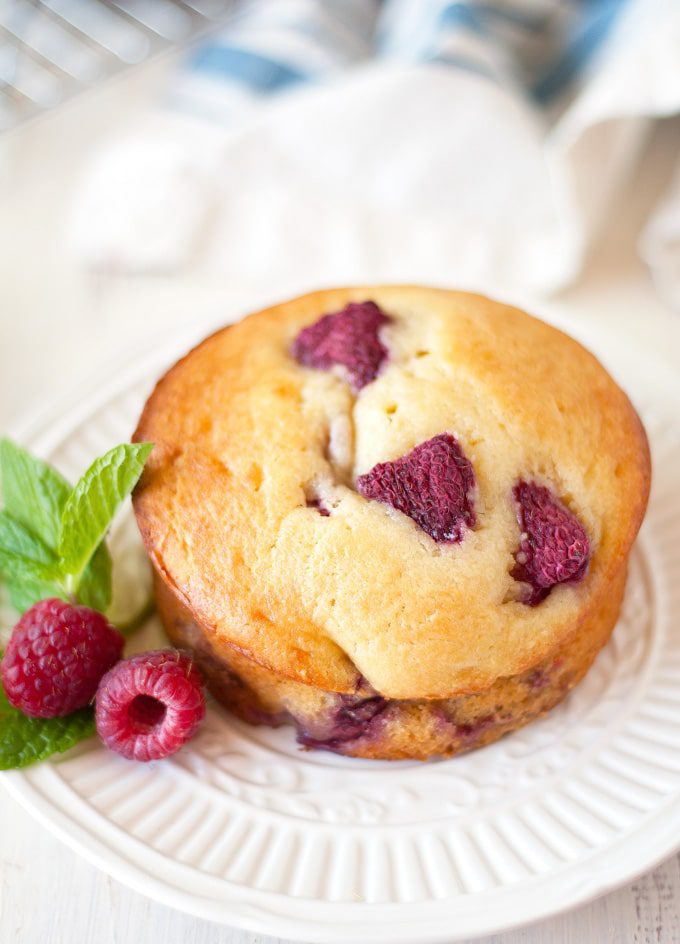 I served mine with a sprig of mint and a dollop of fresh whipped cream, but you could easily do a scoop of ice cream or a drizzle of dark chocolate.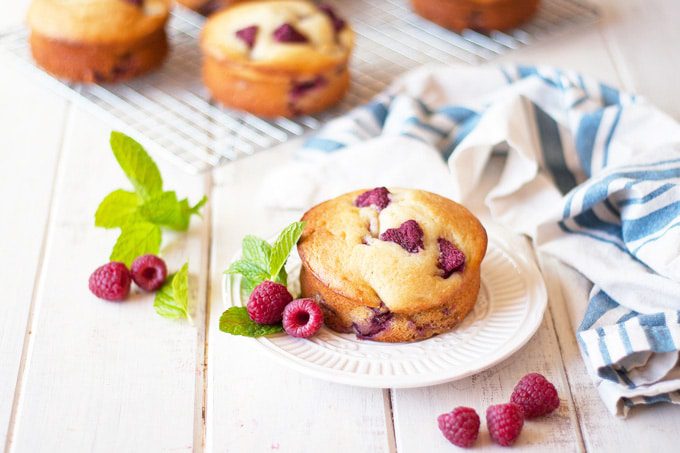 I found raspberries in my local grocery store that were ripe (and surprisingly on sale) but feel free to use frozen or swap for whatever is in season in your area.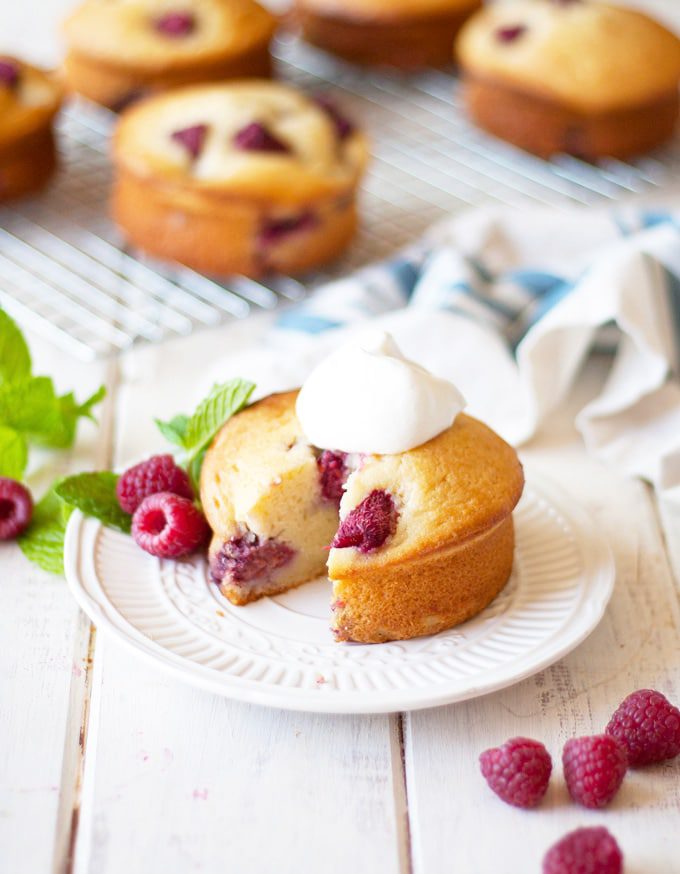 ingredients
1½ cups all-purpose flour
1 cup sugar
1 tablespoon baking powder
1 teaspoon kosher salt
3 large eggs
1½ cups ricotta
1 tablespoon vanilla
½ cup (1 stick) unsalted butter, melted (plus more for greasing ramekins)
1¼ cup fresh raspberries, divided
Instructions
Preheat oven to 350 degrees. Butter 6 – 10 ounce ramekins and line the bottoms with parchment paper.
In a medium bowl, whisk together flour, sugar, baking powder and salt.
In a large bowl, whisk together eggs, ricotta, and vanilla until smooth.
Gently fold in dry ingredients, stirring together just until mixture is blended and there are no visible four patches.
Next, fold in the butter, stirring just to combine.
Carefully mix in 1 cup of the raspberries, being careful not to break or crush the berries.
Portion the batter evenly into the six prepared ramekins (it was about ½ cup for each ramekin).
Scatter the remaining ¼ cup raspberries over the top of the cakes, about 3-4 per cake.
Bake cakes until golden brown and a tester inserted into the center comes out clean, about 35-45 minutes.
Let cakes cool on a wire rack for 20 minutes before unmolding.
To unmold, gentle run a knife around the edges of the cakes and invert ramekin.
Serve with fresh raspberries, whipped cream, ice cream, or anything you like.