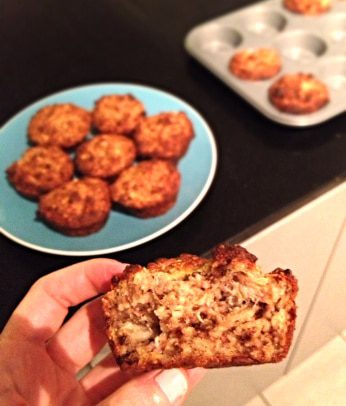 Muffins are one of my favorite breakfast items, because they are portable! I often keep some in the freezer so that if I'm running late in the morning (which is most days), I can grab one and microwave it when I get to work.  This one is a basic oat and banana muffin.
Ingredients:
1 ¼ cup rolled oats
1 ½ cup flour (almond flour, whole wheat flour, or oat)
½ cup plain yogurt (low-fat or non-fat)
½ cup low-fat or non-fat milk
¼ cup honey
¼ cup applesauce
2 large ripe bananas
2 tsp baking powder
1 tsp baking soda
1 egg, lightly beaten
½ tsp nutmeg
1 tsp cinnamon
½ tsp salt
¼ walnuts, raisins, or other nuts/dried fruit
Method:
Preheat oven to 205°C/400°F and grease a muffin tin.
Mix rolled oats, yogurt, and milk together in a bowl.  Let stand for 10 minutes.
Combine flour, salt, sugar, spices, baking powder, and baking soda in a separate bowl.
Mash the bananas and add to the rolled oat mixture, along with the egg and applesauce.
Add the dry mixture to this mixture and stir until just incorporated. Do not overmix.
Fill greased muffin tin and bake for 18-20 minutes.  Let cool in the tin for 5-10 minutes, remove, and enjoy!