I did it!  I'm posting a recipe and pictures of something I made today!  I think I can do this.  Blogging on the weekends is going to be crucial, otherwise it probably won't happen.  Hopefully I can work up to more than one recipe a week, though.
This is going to be interesting posting recipes that I've just made.  Usually I just post recipes that I've made way ahead of time.  This will be fun: I'll post recipes of whatever I'm craving each week.  Teehee.
This week I was craving fresh strawberries, Nutella, and chocolate.
I wanted to make muffins because I've been researching muffins at work, and I wanted to test some things I've been thinking about.  Like, how much can you stir the batter to develop the gluten enough to where the muffin isn't crumbly, but not tough.  Does that make sense?  I think I mixed these too much because they were a little chewy.  Do not overmix, people!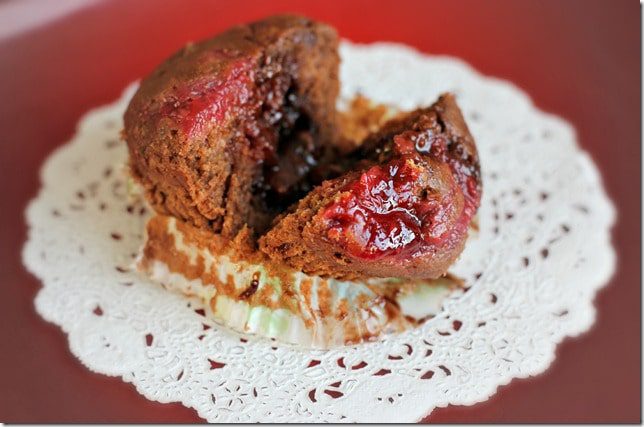 They also needed a little more fat so I adjusted that in the recipe.  Otherwise, these were good muffins.  I think they'd be even better with a Dutch processed cocoa powder.
These would be ordinary if it wasn't for the filling.  I put a teaspoon of Nutella into the centers, and a teaspoon of strawberry jam.  Well, half strawberry jam/half strawberry sauce.  I made it using fresh strawberries, sugar, cornstarch and water.
I know it's a little early, but wouldn't this make the perfect Valentine's Day breakfast?  I think so.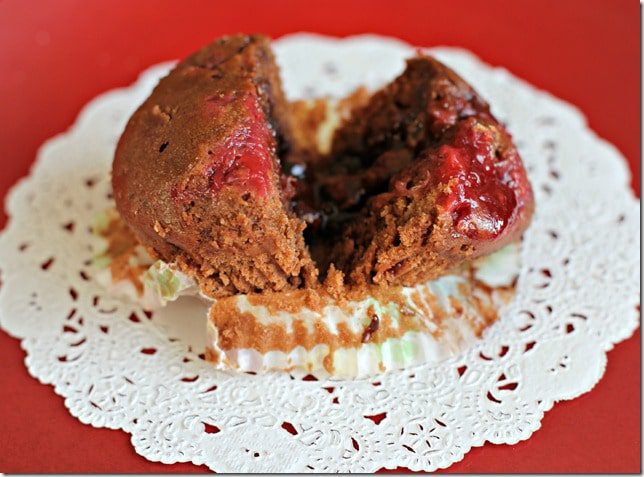 There are nooriginal recipes left, it seems.  I thought this was a pretty original recipe but it turns out there are hundred (thousands) of people who have made strawberry Nutella muffins before.  Hmph.
I'm going to try and make my recipe instructions more detailed from now on.  I'll have accurate flour measurements – this is really important in recipes.   I'm trying to decide if I should weigh the other ingredients.  Would that be helpful?  I think most people in the U.S. probably feel more comfortable using measuring cups and spoons.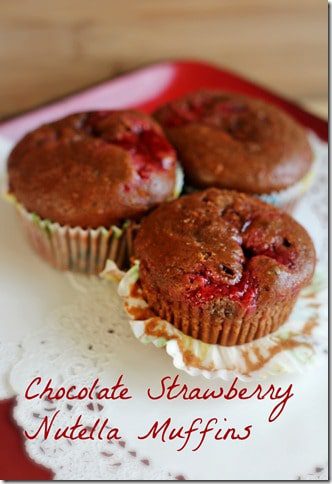 Chocolate Strawberry Nutella Muffins
Ingredients:
2 cups all purpose flour (225 grams)
1/4 cup unsweetened cocoa powder
2 1/4 teaspoons baking powder
1/4 teaspoon salt
3/4 cup granulated sugar
2 cups buttermilk
4 tablespoons unsalted butter, melted
2 large eggs
Strawberry Filling
1/2 cup coarsely chopped fresh strawberry
2 tablespoons granulated sugar
1 tablespoon water
1 teaspoon cornstarch
12 teaspoons Nutella
Directions:
Heat oven to 350 degrees F.  Line 12 muffin cups with paper liners.
In a medium bowl, sift together flour, cocoa powder, baking powder and salt; whisk in sugar until combined.  In a large mixing bowl, whisk together buttermilk, butter and eggs until well combined.  Whisk in dry ingredients until just combined.
To make the strawberry filling, stir together strawberries and sugar in a small saucepan over medium heat; bring to a boil, mashing and stirring strawberries.  Stir together water and cornstarch in a small bowl until combined.  Stir into strawberry mixture; bring to a boil.  Cook and stir mixture for 4-5 minutes or until thickened.  Divide chocolate muffin batter into cups.  Place a spoonful of strawberry mixture and a spoonful of Nutella mixture into the center of each muffin; lightly swirl with a toothpick.  Bake 14-16 minutes or until well risen and cake springs back when lightly touched in the center.  Transfer to a wire rack.
Makes 12 muffins
*Notes: I chilled my strawberry filling in the freezer for a while to cool it down to room temperature.  I also rested the muffin batter for about 30 minutes in the refrigerator while I cleaned up the kitchen.