They surveyed the dish in front of them with caution. "It's like your usual salmon, but in little patties," I explained. Each of them took a piece and hesitatingly took a bite. Then another, and another. No one said a word until all the Salmon Cakes were gone.
My older son, a little man of few words, wiped his mouth with the back of his hand, then slid off his chair and went off to play, satiated. The younger boy, with a mutilated-looking patty in his grubby hands, gnawed at it with his four tiny teeth, grinning whenever I looked at him.
My daughter, in between the few last bites, declared, "This stuff is gooood!"
And so, a new family favourite was born. Easy Salmon Cakes, made with whatever I had on hand. Sometimes, we get lucky 🙂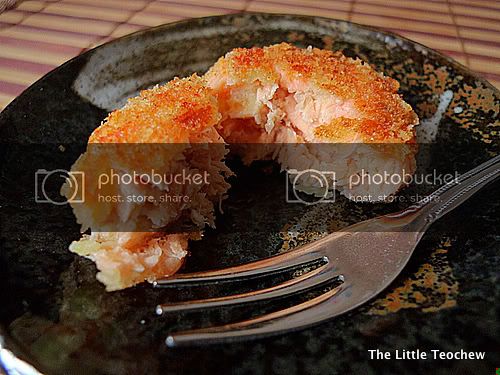 Crispy on the outside, flaky and moist on the inside. Held together by mashed potatoes and mayo, this is one easy but tasty dish!
Recipe
– 1 fillet fresh salmon, about 250g
– 1 large potato, cut into chunks and microwaved on high till cooked, then mashed coarsely (I will increase to 2 potatoes next time because we're all spud lovers)
– 1 tbsp grated parmesan cheese
– pinch of salt
– pinch of pepper
– 3 tbsp of mayo (use your discretion – just enough for the fish mixture to be sticky, for shaping into patties)
– 1 egg, lightly beaten
– 1 tray of panko or breadcrumbs
1. Boil potato, or microwave on high till cooked, then mash coarsely into chunks.
2. In the meantime, remove bones from salmon. Rinse.
3. Bring a small saucepan of milk to a boil. Poach the salmon, about 10mins, over a very low fire till cooked. You can flavour the milk, for eg, add garlic (like I did) or bay leaves or lemongrass, etc, to give the fish an added dimension in taste.
4. Remove from milk and drain off excess fluids. Cool.
5. In a large bowl, combine mashed potato, grated parmesan, salt, pepper and mayo. Flake in the poached salmon with a fork and gently fold everything together. Do not stir or overmix.
6. Shape into patties. If the patties keep crumbling, add a little more mayo.
7. Heat up oil in a skillet. Dip one patty at a time, into egg, then panko, then into the hot oil. Fry till golden brown over a medium flame.
8. Dish up and drain excess oil. Serve.