A good crisp bread is great for breakfasts, lunch boxes or as a mid-day snack to tie you over. This one is slightly different to what I have made before, with chopped dates embedded in them, making these ones great as tapas sides with salty cheeses and salamis. I actually made these for a tapas and wine tasting evening we had with some friends. And I will share recipes for some of the other dishes I made in the coming days.
I love great tapas, but won't stick to your traditional Spanish dishes necessarily. I like to serve good and varied dishes. And tapas type food is an easy way to do so. The great thing with tapas too, is of course that you often can prepare a lot of the dishes upfront, making it less of a wait for the guests when they arrive and easier on those of us with small kids that demand a bit of attention until bedtime.
These crispbreads I made the day before serving them and just left them to dry a little on the counter. And the leftovers will be a snack for adults and kids over the coming week (or however long they last). My youngest helped making the dough initially, but had gone to bed by the time I rolled them out. He actually asked for them first thing in the morning and enjoyed sampling it for breakfast. As he is only almost 2 years old, they were a little chewy for him, but he really liked the flavor. The sweetness of the dates were obviously appealing to his palate.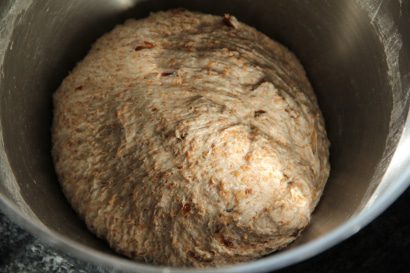 Add all the ingredients, except the dates to your stand mixer with a dough hook. Let the machine run for 8-10 minutes to form a flexible and firm dough. Add the copped dates and let the machine run at a slightly increased speed to incorporate properly for 30 – 60 seconds. Let the dough rest for at least one hour. You can leave it over night if you would like too.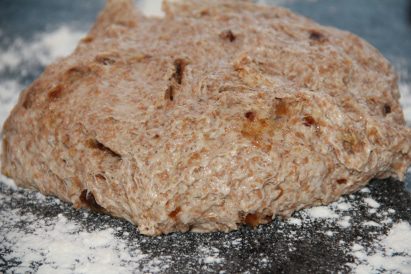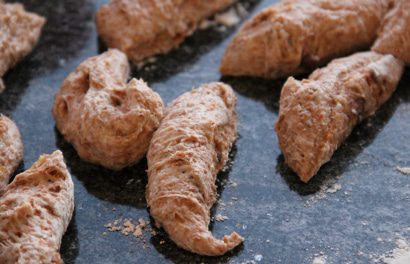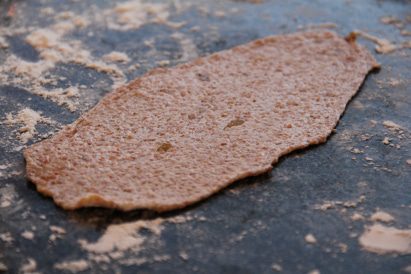 Lightly flour your baking surface and turn out the dough. Divide it into 15-18 pieces. Roll out the individual pieces to 1-2 mm thick breads. Put them on baking trays lined with baking paper and cook at 180 degrees Celsius for 10 minutes, turn and cook for an additional 5 minutes on the other side. I prefer to cook one tray at the time to have an even cooking temperature. But you can cook two trays in one go, but you should swap them around for the second cooking then.
Tip:
This crisp bread is not really properly crisp, even if you do roll it to 1-2 mm thickness. I don't recommend cooking it too long to get it crisper either, but rather to let it dry on the counter over night after cooking it.
For serving, as the mentioned tapas side, it is a great addition. But it is also great by itself as a snack, breakfast or lunch. It goes very well with sweater spreads, such as jams and the Norwegian brown cheese, or with heavier and saltier cheeses like a blue cheese if you like that. The sweetness of the dates accompany the salty blue cheeses extremely well.