Mexican mac and cheese is a twist on the classic mac and cheese, loaded with black beans, corn and zesty spices. This version is gluten free but feel free to substitute regular pasta.

Since finding out I couldn't eat gluten, there has been a major void in my life. Ok, maybe I am being a little over dramatic here since the void I am talking about is pasta. Mostly cheesy pasta like this spicy Mexican inspired mac and cheese and fettuccine Alfredo, but I don't discriminate against pasta. I have missed it all from spaghetti and meatballs to homemade herbed pasta.
Yes, I could have spaghetti squash, and do quite often in the fall and winter months, but sometimes you just want the real deal, ya know?
So I have experimented with some of the gluten free pastas available and I have finally found one that I love- the corn pasta at Trader Joe's. This stuff is delish. (Seriously, the first time I made it was with my aunts who both said they didn't want to eat gluten free food with wrinkled noses. I went back to the kitchen later to find all my leftover pasta totally gone. My aunt later, somewhat sheepishly, admitted that this pasta was AWESOME.) It's also much less expensive than other gluten free pastas- I think it was about $1.29 per package- comparable to the price of regular pasta!!!
Hallelujah.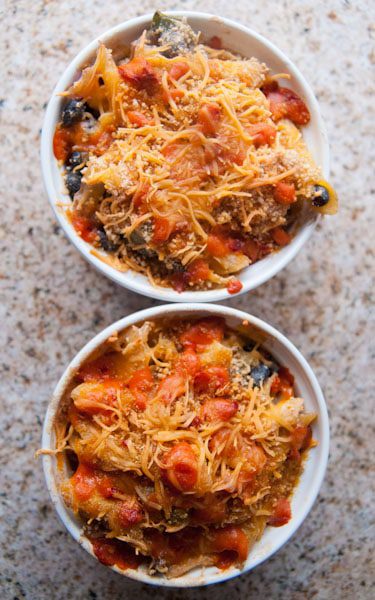 While I am on the subject of Trader Joe's and my current love affair with them, I absolutely love their cheeses, and let's be honest, the fact that there is normally someone giving out samples even if you go on a random Tuesday night. On one such trip, I found this amazing Red Leicester cheese with chili and red bell peppers. It was amazing- the perfect mix of creamy cheesiness with the right amount of heat from the chili peppers without it being overpoweringly spicy. In short, yum.
Spicy Mexican Mac and Cheese with Black Beans, Corn, Red Peppers and Onions
Ingredients
8 ounces of penne pasta (I used Trader Joe's corn pasta, obviously, but feel free to sub whatever pasta you prefer especially if you are not following a gluten free diet)
1 red bell pepper, finely chopped
1 cup of corn
2 sweet frying peppers, finely chopped
1 cup of black beans, rinsed and drained
1 red onion, finely chopped
1 tablespoon of olive oil
3 tablespoons butter
1 cup of shredded cheddar cheese (I used cheese made from 2 percent milk)
1 cup of Red Leicester cheese with chili and red bell peppers (can sub any other cheese you'd like if you aren't big on heat)
1 1/2 cups of fat free half and half
3 tablespoons of cornstarch (plus about 3 tablespoons of water)
1 tablespoon of smoked paprika
1 tablespoon of chili powder
1 teaspoon of garlic
pinch of salt
black pepper to taste
1 cup of Rice Chex
How to Make:
Cook the pasta according to directions on the package.
Chop up your onion and peppers and in a large stick frying pan with a tablespoon of olive oil over medium heat. Season with salt and pepper. When the veggies start to soften, add in the corn and black beans. Cook for another minute and remove from heat. Set aside.
While your vegetables are cooking, make your white sauce. Combine corn starch and half and half in a saucepan. Stir until smooth. Add butter, salt and pepper and spices. Stirring constantly, bring to a boil and boil for 1 minute. Reduce heat and add in 1 cup of shredded cheddar cheese and 1/2 cup of shredded Red Leicester cheese. Stir until the cheese is melted.
Spray a casserole dish with nonstick spray. Drain the noodles of water and pour into the dish. Add in the veggies and cheese sauce and mix together.
In a food processor, pulse together 1 cup of Rice Chex and 1/2 cup of Red Leicester cheese. Top the casserole with the cheesey cereal crumbs.
Bake in a 350 oven until the top is bubbly but not burned about 20 minutes.