What to do when strawberries are so amazing? What else, make cheesecake!
I made a scrumptious no bake mango cheesecake sometime ago and to date it gets the most google searches on my blog, must be something to do with the 'no bake' bit. Since my oven door fell off and I was left with a hole in my kitchen wall, I have resorted to less baking, or more to the point, no baking. So I tweaked my mango cheesecake to come up with this strawberry one.
You're welcome.
I am a VERY fortunate girl, I get my fresh produce from The Lettuce Shop. If you live in Perth, I suggest you look them up. Not only do they go to the market in the morning to purchase the produce, they deliver it straight to your door! To your FRONT DOOR! So of course when I heard strawberries were sensational at the moment, I ordered two punnets. I used the two punnets in this recipe.
And no this is not a sponsored post, I just love those guys.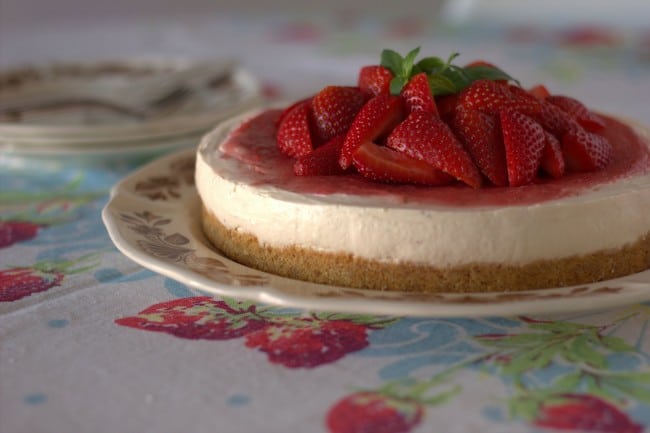 Ingredients
Base:
250g Granita biscuits, blend to crumbs
100g unsalted butter, melted
Filling:
300ml whipping cream
500g light cream cheese, softened
100g caster sugar
Juice of 1 lemon
1 punnet strawberries, hulled and pureed
10g unflavoured gelatine (1 sachet)
Topping:
1 punnet strawberries, hulled
Grease round springform cake tin. ** Tip: turn removable base of tin upside down so the cheesecake base won't stick into the groove that forms at the join.
Mix biscuit crumbs and butter well and press firmly into base of tin. Place into the fridge while making the filling.
Whip cream to medium stiffness (mousse-like texture) and chill. In another bowl mix cream cheese and sugar together until smooth and creamy.
Heat lemon juice and pureed strawberries in saucepan. Take pan off heat and sprinkle in gelatine, stirring until dissolved. Set aside to cool – gelatine and cream cheese mixtures must be at the same temperature before combining. Add ¾ of the cooled puree mixture to cream cheese and sugar mixture (the remaining ¼ kept for the top of the cheesecake), stir until combined. Fold in whipped cream until well combined. Pour into base and chill in the fridge for at least 1 hour.
Remove cheesecake from fridge after 1 hour and pour remainder of puree mixture on top. Return to fridge overnight or until fully set.
Once set, gently run a knife around the edge of the cheesecake to loosen it before unlocking the spring form pan. Garnish with strawberries and serve!