Have you ever wondered what would happen if pumpkin pie and pecan pie got a little drunk and had an illegitimate love child…
Well, if so, it has happened and the results are amazing – pumpkin spiced pecan waffles!  Because, let's be real: we all really want to eat pie for breakfast.  You know the morning after Thanksgiving and your fridge is brimming with leftover sliced turkey, sweet potato casserole topped with marshmallows, and the oh-so-delicious stuffing.  And if we're being honest, the first thing you really do is grab a knife and cut a big wedge of pumpkin pie.  (Am I right or am I right?!?) And then put a little whipped cream on top – because that's what badasses do!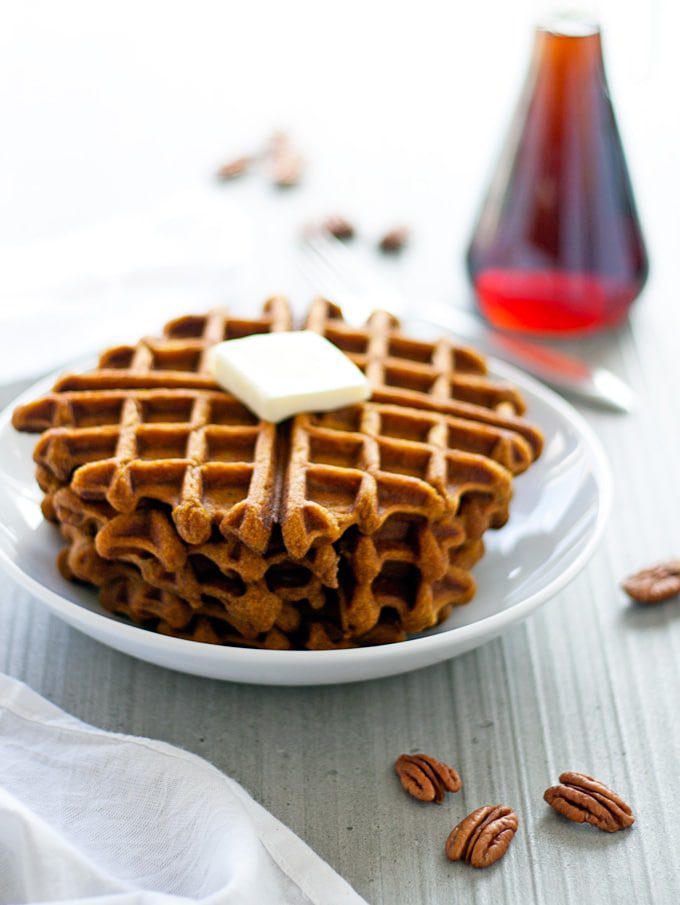 Well, now you can basically have all that amazingness of pie without the guilt and shame of shoving actual pie in your face before noon.
Plus it's the best of both pies; tasty pumpkin with the spices of clove, ginger and cinnamon with the crunch of toasted pecans.  Plus a thick pat of butter and heavy bath of syrup – seriously, does life get any better?!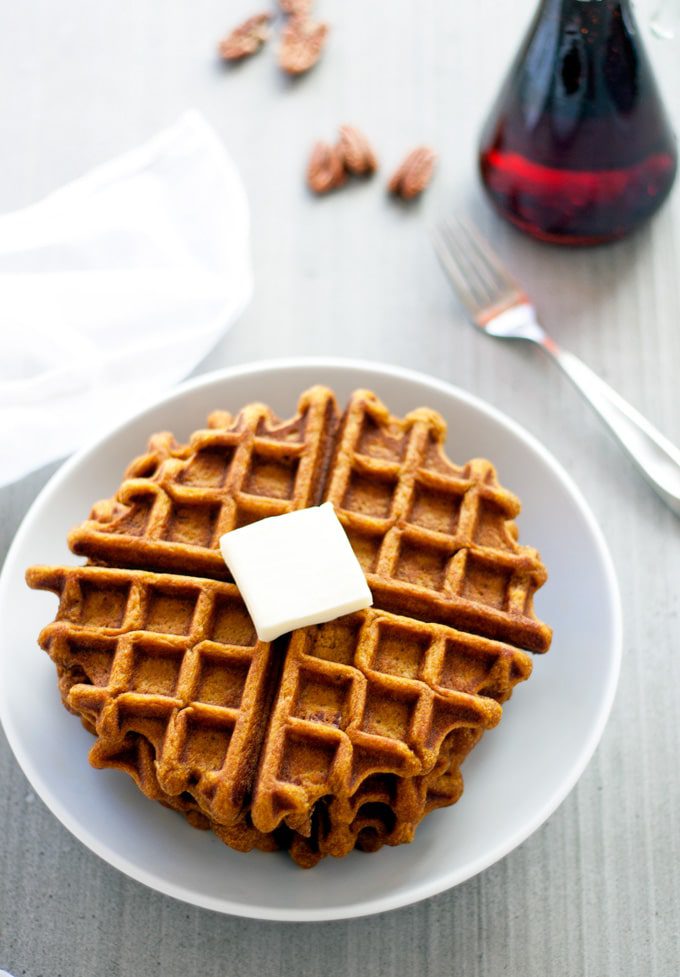 No, no it does not.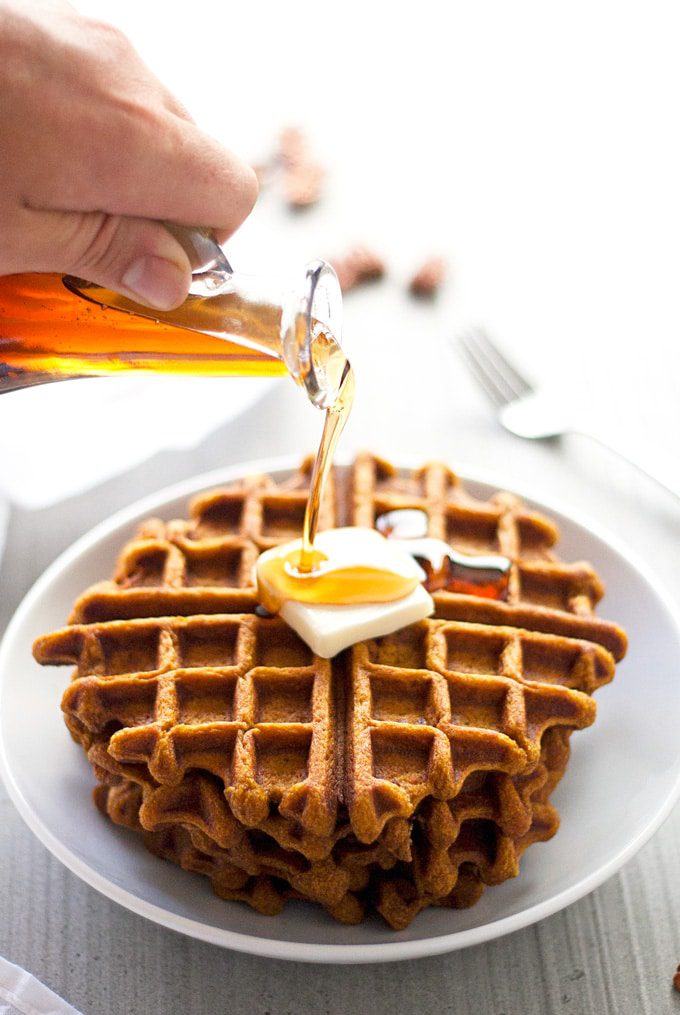 I also made the entire batch of these babies up for my fiancé and myself, which is way too much for two people, so I just froze those extra baby breakfast pies.  Now, anytime I'm craving a little pumpkin spiced pecan waffles, I can just pop one out, throw it in the toaster and be on my merry way.
And if you don't want to coat these in butter and syrup, you could easily make a waffle sandwich with leftover turkey, stuffing and cranberry!  And both are totally acceptable – because well, they're waffles and that's breakfast food.
pumpkin spiced pecan waffles
ingredients
¾ cup pecans, toasted and roughly chopped, divided
½ coconut oil
¼ cup granulated sugar
½ cup brown sugar, packed
15 ounces pure pumpkin puree
2 eggs, separated
½ cup whole milk
2 teaspoons pumpkin pie spice
2 teaspoons pure vanilla extract
1½ cups all purpose flour
1 tablespoon baking powder
½ teaspoon kosher salt
syrup and butter, for serving
Instructions
Preheat and grease waffle iron according to directions.
In a large bowl, whisk together the coconut oil, granulated sugar, brown sugar, pumpkin puree, egg yolks and milk together until smooth.
And the pumpkin pie spice and vanilla extract and stir.
In a separate bowl mix the flour, baking powder and salt.
Stir the flour mixture into the pumpkin mixture, just until combine and no dry patches are visible in the batter.
In the bowl of a stand mixer fitted with a whisk, beat the egg whites until they are white and fluffy with soft peaks.
Gently fold the egg whites into the batter.
Stir in ½ cup of the toasted pecans.
Scoop about ½ – ¾ cup (or what your waffle iron suggests) of the batter into the iron and cook according to desired doneness and darkness. See you waffle irons instruction manual for directions.
Top with butter, syrup and remaining toasted pecans.
Notes
Extra waffles can be stored in an airtight bag in the freezer for up to two weeks. To re-heat waffles, just cook in a toaster until warmed throughout.