Who doesn't love banana bread? It's a go to for many on days when you want something sweet to hit the sweet spot. Unfortunately it is often packed with lots of nastys' and very little banana! My recipe is bursting with goodness, flavour and is gluten, dairy and refined sugar free.
What's so good about it?
– Bananas are a fantastic source of potassium and energy. They're also packed with minerals that help to regulate blood pressure.
– Coconut flour is full of fibre which helps with digestion
– Chia seeds and packed with protein and omega 3 to help with cholesterol and blood pressure
– Coconut oil contains lots of good fats which can help boost immunity and also help to regulate blood pressure
So, long story short – this banana bread is the BOMB. It's super nutritious and delicious at the same time. Best part? You can whip it up in 5 minutes then let the oven do all the work.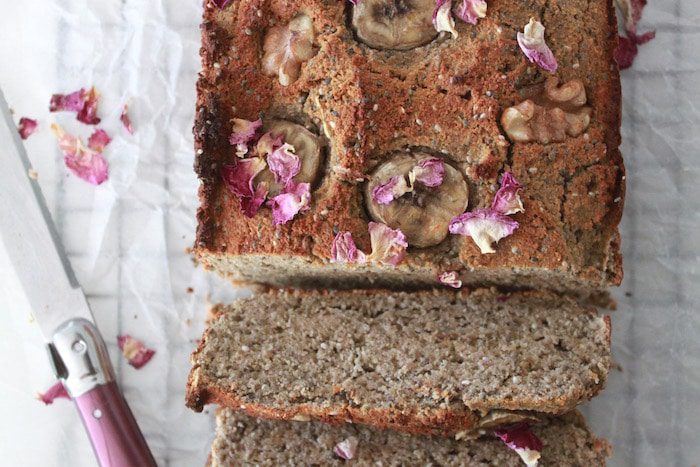 What you need:
2 or 3 ripe bananas
4 free range eggs
5 pitted dates
1 tsp vanilla extract
¼ cup coconut oil, melted
½ cup of coconut flour
¼ cup chia seeds
Lets bake!
1. Preheat oven to 150 degrees
2. Blend bananas, eggs, dates, vanilla extract, coconut oil together.
3. Pour into a bowl then add coconut flour and chia seeds. Rest for 5-10 minutes to allow for flour and chia seeds to expand.
4. Spoon mix into a greased loaf tin, top with desired toppings such as banana, walnuts and coconut then bake for 35 minutes or until a skewer inserted comes out clean.
5. Allow to cool then enjoy!