When these delicious Banana Crumb Muffins came out of my oven, I was in half a mind to just eat them and forget about taking photos. First, I thought the streusal was not the pretty golden colour it should be (I used dark brown sugar instead of light brown sugar).
Second, it was almost dinner time and I hadn't even started cooking yet. To shoot or not to shoot, that was the question. Yet something inside told me that I should just take a few shots – quickly, before the sun set – and I'm glad I acted on my instincts. They were fabulous!
I found this recipe onAll Recipes quite by accident, and when I saw the stellar rating it received, I was sold immediately.
The muffins were an explosion of banana and cinnamon in every bite. The topping really makes all the difference.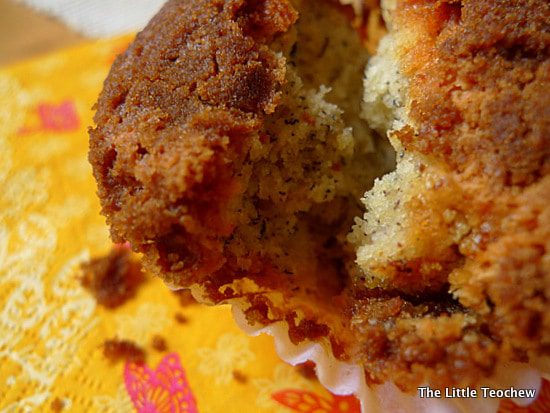 Crisp exterior, fluffy interior. Perfect!
Recipe
(adapted from here)
Makes 10 muffins
– 190g all-purpose flour
– 1 tsp baking soda
– 1 tsp baking powder
– 1/2 tsp salt
– 3 bananas, mashed
– 150g white sugar
– 1 egg, lightly beaten
– 75g butter, melted (which you can replace with vegetable oil, if you prefer)
For the crumb topping
– 75g packed brown sugar
– 2 tbsp all-purpose flour
– 1/8 tsp ground cinnamon
– 1 tbsp butter
1. Preheat oven to 190 degree celsius. Lightly grease 10 muffin cups, or line with muffin papers.
2. In a large bowl, mix together flour, baking soda, baking powder and salt. In another bowl, beat together bananas, sugar, egg and melted butter. Stir the banana mixture into the flour mixture just until moistened. Spoon batter into prepared muffin cups.
3. In a small bowl, mix together brown sugar, 2 tbsp flour and cinnamon. Cut in 1 tbsp butter until mixture resembles coarse cornmeal. Sprinkle topping over muffins.
4. Bake in preheated oven for 18 to 20 minutes, until a toothpick inserted into center of a muffin comes out clean.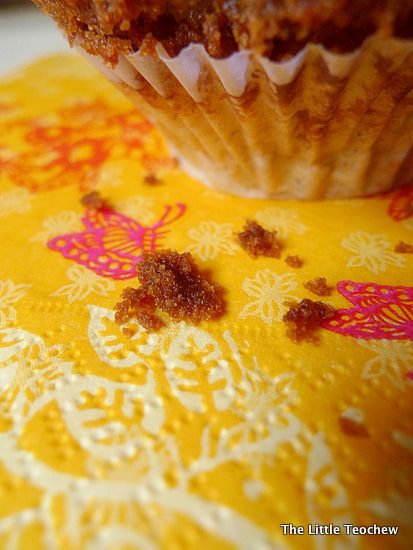 The best part of the muffin – the crumbs!