Hola (Spanish), Hello, Salut(French), Namaste(Hindi), Vanakam(Tamil)….and I'm still waving my hands saying hi to you all after taking such a long break. I went on vacation and after getting back I'm huffing and puffing catching up to my schedule that I didn't find time to dedicate to my blog (don't worry my alter ego is berating me that I'm giving a lazy excuse). Moreover, the camera I was using before was a loan and I returned it back to its owner. I'm still in the market to get a good DSLR and the inclination to click with my mobile is very somber. So with that forewarning I do want to remind that the pictures are not going to be up to par and I may have to repost the pictures after I purchase my DSLR.
After the constant demand and rave reviews I've received for my chocolate mug cake I wanted to explore more varieties of mug cake. I love coffee cakes and I love single serving cakes as they make the indulgences almost guilt free. Today's recipe is a 2 minute coffee cake from heatherlikesfood and I loved trying this recipe. I hope you enjoy this cake as much as my family did. Enjoy!!!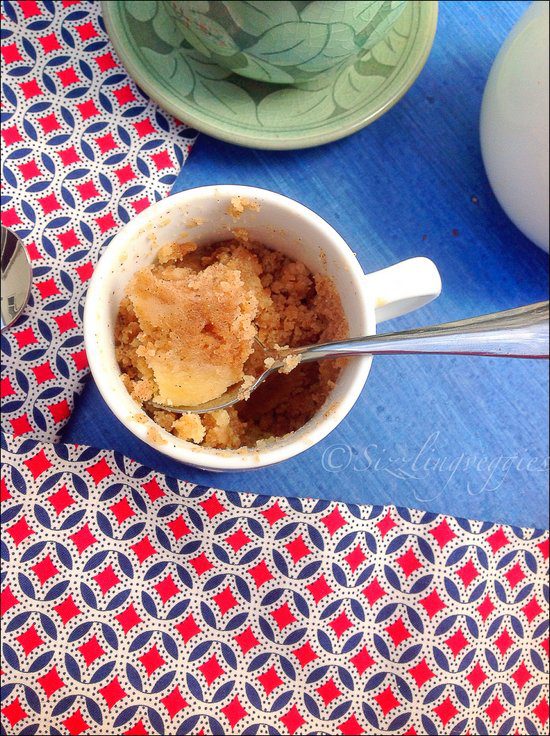 Ingredients
Butter — 1 Tbsp (room temperature)
Sugar — 2 Tbsp
Applesauce — 2 Tbsp
Vanilla Extract — few drops
All Purpose Flour — 1/4 cup
Baking Powder — 1/8 tsp
pinch of salt
For Strudel
Butter — 1 Tbsp (room temperature)
All Purpose Flour –2 Tbsp
Brown Sugar — 1 Tbsp
Cinnamon — 1/4 tsp
Instructions
In a bowl mix softened butter (not melted) and sugar and mix well. Add applesauce, vanilla extract, flour, baking powder, salt and mix until well combined. Transfer the cake mix to the mug and smooth the top with the back of a spoon.
In a separate bowl mc butter, flour, brown sugar, cinnamon with the measurements mentioned for the strudel. Mix well until all the ingredients are well combined and represent a crumble texture. Top the cake with the strudel.
Microwave the cake on high for 50-80 seconds depending on the power of your microwave. After each minute if the cake is not done then check for readiness and microwave in 10 seconds increment. Set the cake for few minutes to set. Serve warm and immediately. Enjoy!!!
Note:
Mug cakes are better baked in a straight mug without any tapering of the rim on the top.
They don't taste good once they cool off. I've tried refrigerating the leftovers and reheating for few seconds in the microwave without any considerable change to taste. However its preferred to be eaten as soon as they are done.
Mug cakes are in no way a direct substitute for original cake baked in an oven. They may not taste same as the real cake so enjoy this recipe with some realistic expectations.
http://sizzlingveggies.com/cakes-and-bakes/coffee-cake-mug-cake/