In the late morning of the cold weather, the smell of the perfectly spiced meat over the hot grill would be perfect. I love the lazy brunch in kitchen balcony where the morning breeze enters the house.
The tender and juicy pan roasted kebabs which I marinade the meat over night was our choice today.
Pan Roasted Kebab
Ingredients: (4 servings)
300 gm meat of your choice- cut into medium chunks
1 tbsp garam masala (available in Indian grocer)
4 cloves garlic- minced
1 tsp minced ginger
1 tsp salt
2 tbsp plain yoghurt
A handful of mint- finely chopped
A handful of coriander leaves- chopped
Butter for greasing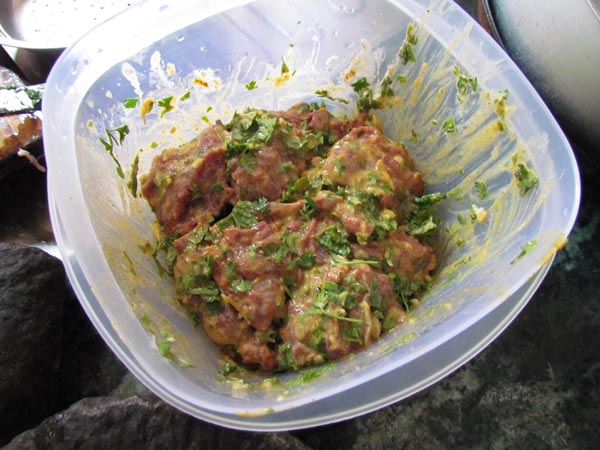 Combine meat, garam masala, garlic, ginger, salt, yoghurt, mint and coriander in the mixing bowl. Mix well with your hand, then cover and marinade overnight.
When it is ready to cook, grease the skillet and place it over the medium heat.
Add marinated meat and grill for a few minutes each side or until the meat is done.
Serve hot over salad or tortilla wrap.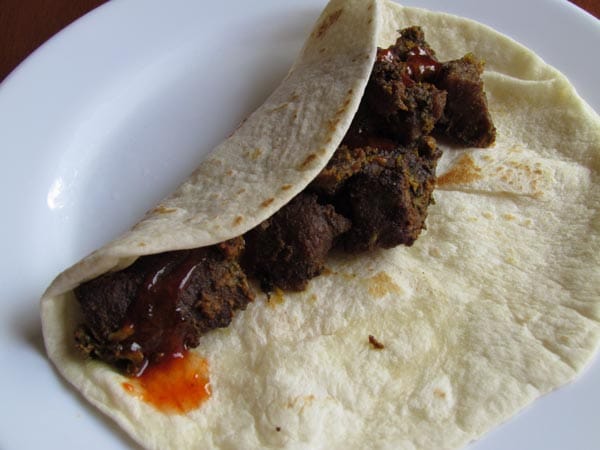 We served these juicy kebabs on tortilla wraps with sweet chili sauce. We enjoyed this delicious wrap with hot dark coffee. It was a simple and good brunch that we couldn't wait to do it again.
Have a beautiful day,