Ahhhh crab cakes, who doesn't love 'em? For the longest time I didn't bother too much with crab cakes because crab meat seems to be absurdly expensive for what you can get these days. Luckily, Trader Joes has made crab cakes more affordable and with a quality product that allows for me to make crab cakes more often than none.

So here's my easy, go to, and quick crab cake recipe. It's tasty, timeless, and about as simple as crab cakes can get. Check it out.

Whatcha Need, Tools:

Bowl

Frying Pan

Spatula 

Your Hands

Whatcha Need, Ingredients: 

TJ's 1lb Can Lump Claw Crab Meat

Panko Breadcrumbs

2 Eggs

Salt

Pepper

Chile Powder

Garlic Powder 

Onion Powder

Hot Sauce

Mayo or Sour Cream (I like Wallaby's sour cream cause it's bar none)

1. First step is to take your crab meat out of the can and place it into your bowl.

2. Add your wet ingredients which is your 2 eggs, mayo (or sour cream, and hot sauce.

3. Next you'll add your dry ingredients which is all your seasonings (garlic powder, onion powder, chile powder, salt and pepper) and then your panko bread crumbs. I usually do a good handful of panko and feel out if I need more when forming, but this is all by eye. Seasoning is all about preference, so more or less simply on what you prefer.

4. Mix your crab, wet ingredients, and dry ingredients until it's fully incorporated together. You don't want to mix too hard because we want to keep our lump meat in tack, but you want to make sure your mixture is sticky enough so that it holds form without being too full of breadcrumbs (remember these are crab cakes, not panko cakes!)
5. Form your crab cakes into even patties and place 2-3 at a time in your pan on high heat. If your cake doesn't easily lift with a spatula then it's not ready to flip.
6. Give each cake about 5-6 minutes per side, we want to form a nice and crispy crust on all these.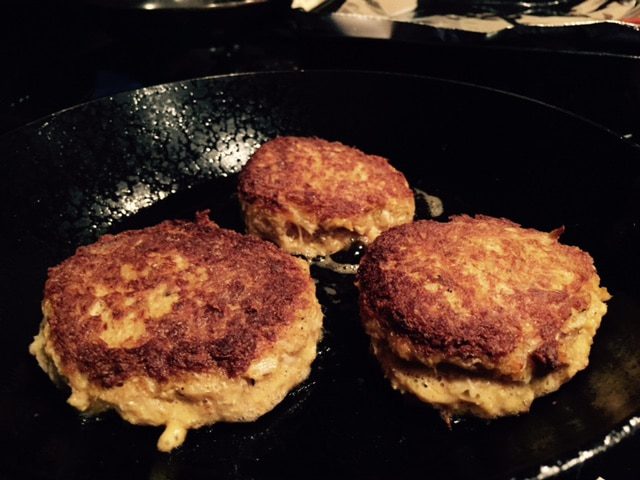 7. **Optional**, but if you are doing large batches you can warm your oven and let your done cakes warm or finish while you sear and crisp up your other cakes.
8. Remove your cakes from the pan and serve! Enjoy!
I served mine over my zucchini pasta & mint salad recipe w/ a spicy remoulad & chives for added flavor & zest.