I finally get a chance to share one of my very favorite salad (and dressing) recipes. I love to bring this salad along to parties as it looks absolutely beautiful and trumps all other simple salads. It may look complicated to make but it is so easy and you can take this salad from a 4 serving salad to a 20 serving salad in no time. It is perfect and never disappoints!
Arugula Salad with Avocado Dressing
5 oz baby arugula
1 cup frozen corn
1 Gala apple
1 medium cucumber
1/2 cup finely chopped tomatoes
1/2 large sweet onion
1/2 cup pine nuts
1 Tbsp olive oil
Avocado Dressing
1/2 of a large avocado
1 Tbsp olive oil
squeeze of 1/2 of lemon (approx. 1 1/2 Tbsp)
2-3 Tbsp fresh tangerine juice
1 tsp. maple syrup
salt and pepper to desired taste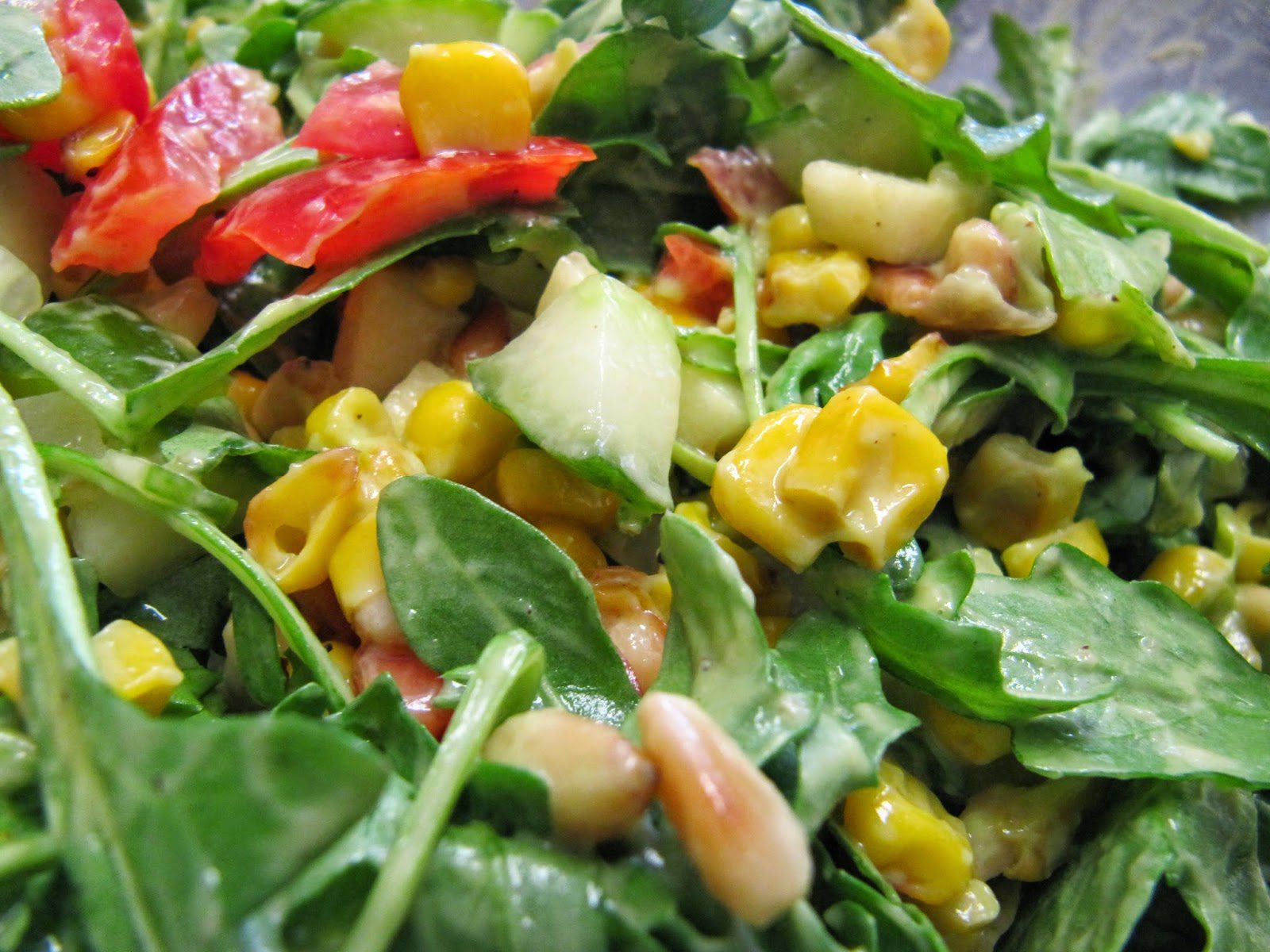 In a large bowl, add your arugula. First, you will want to gently brown the pinenuts in a frying pan. I advise not to leave the pan for a second because browning can turn to burning with a blink of an eye. There have been many of a pinenut lost in my kitchen due to attempting to multitask. Once the pinenuts are gently browned, add to the arugula. Next, in the frying pan, place your frozen corn over a low heat. Let the corn defrost and slowly add about 1/2 Tbsp of olive oil. Turn up heat and cook the corn until there is a bit of browning. Add the corn on top of the arugula.
Finely slice your onion, add into the frying pan with 1/2 Tbsp of olive oil and sauté over a low heat until translucent. Toss in with your arugula. Finely slice the cucumber, apple, and tomatoes (I like to peel my apple before slicing but that is simply a matter of personal preference). Add all three to the salad bowl.
In a food processor or blender, add the avocado, olive oil, lemon juice, tangerine juice (start with 2 Tbsp and add more after a taste test), maple syrup, and a pinch of salt and pepper. Blend until perfectly smooth. Take a little taste test and add a bit more lemon/tangerine juice or salt/pepper if needed. There is no exact measurements for this dressing. It is more of a give and take.
Toss your salad with the Avocado dressing. You may not need to use all of the dressing so add a little at a time. Enjoy!