Can we call this a healthy snack?
Roll with me here…
First, the base of this snack is dried apple crisps with all of their fiber, vitamins and minerals. It's fruit, so it's healthy.
Second, the apple crisps are dipped in dark chocolate. I'm not making it up that dark chocolate is good for your heart by helping to lower blood pressure and improve the flow of blood. It is also high in antioxidants, vitamins and minerals and can help control blood sugar.
Lastly, these snacks are sprinkled with cinnamon which aids digestion and has mild anti-inflammatory effects. Cinnamon may also help control blood glucose levels and insulin resistance.
What do you think? Healthy snack? I vote yes! 🙂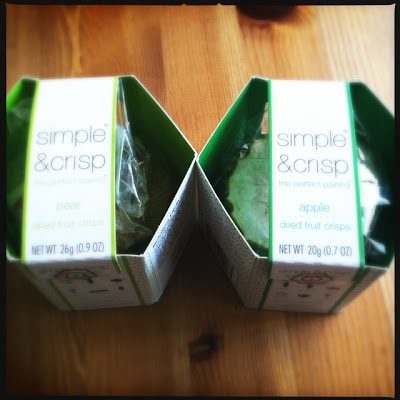 These bits of heaven were made usingSimple & Crisp dried apple crisps (photo of the box is above, along with the pear crisps they offer – both can be used for this recipe). These crisps are absolutely beautiful and can be used in so many different ways. All fruit is picked at its peak from sustainable growers and contain lots of fiber, antioxidants and minerals in each bite.
You can by these crisps straight through the Simple & Crispwebsite. They are great for entertaining and pairing with wine, using as a cracker alternative or wherever your creativity can take you! I've got a few other uses for them up my sleeve, so look for more of these crisps on here soon!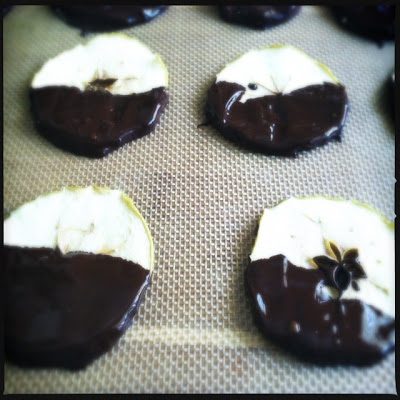 All you need for these snacks are dark chocolate and cinnamon. How great is that for entertaining????
Go forth and eat these healthy snacks!!!!
THE PASTRY POSTS CHOCOLATE COVERED APPLE CRISPS WITH CINNAMON
Ingredients:
1 pack Simple & Crisp apple (or pear) crisps
4 ounces dark chocolate (I used 72%)
3 teaspoons ground cinnamon
Directions:
Melt chocolate.
Dip half of each crisp in the chocolate and place in a cookie sheet lined with parchment paper or a silicone baking sheet and place in fridge until set – approximately 30 minutes.
Remove the crisps from the refrigerator and sprinkle chocolate half with cinnamon on both sides.
Serve immediately or keep in an airtight container in the refrigerator for up to two days.