I hope everyone had a great weekend, and for those who observe, a very blessed Easter celebration.  Growing up, Christmas was always my favorite time of the year–I'm sure this was the case for many.  But as an adult, Easter has taken on a more significant and meaningful place in my life.  It's not a grand and romantic holiday with nearly the same level of anticipation, and it's not just about bunnies and Easter egg hunts and lovely hats (though I like all those things), but it signifies freedom because of grace that covers the parts of me that I wish were not true–including those parts that I'm not willing to even acknowledge.
I wanted to bake something really special for this Easter to celebrate that freedom and the love that comes with it–I had thought about something like hot cross buns, which may not seem fancy but are traditional and have a meaning of its own, but after an unsuccessful attempt trying to make challah bread, I was fearful to work with yeast again so soon, lest I end up with a bunch of heavy, dense, inedible sweet rolls for Easter.  (I've gotten some more tips since then, so I am confident I will conquer this yeast thing!)  I ended up opting for a simpler recipe, that was light and delicate with a flavor that seemed appropriate for Spring and Easter, rosewater.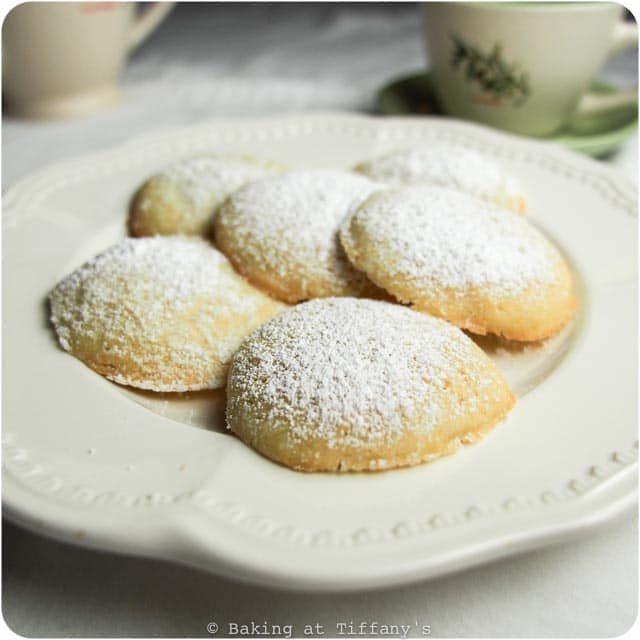 I had never heard of Sherry Yard until I received her book, The Secrets of Baking, as a gift a few years ago.  The former executive pastry chef of Spago's, she is reviving the Helms Bakery in Los Angeles with a partner, Sang Yoon (a restaurateur).  A highly esteemed pastry chef and considered one of the best in the US, I've typically had very good results from her recipes, which really does provide clear, easy-to-follow instructions to make very nice desserts and sweets.
Recipe Notes:  In The Secrets of Baking, Sherry Yard does not give measurements by weight for all ingredients–which is fine generally and much more common, of course.  However, I've recently learned how much better (and even easier) it is to measure out ingredients using a scale.  It is more precise and even cuts down on washing measuring cups and extra bowls.  This was a new recipe which I had never tried, and I followed her instructions exactly using volume measurements (e.g. cups, tablespoons, etc.), but came out with a kind of wet and sticky dough, that, when baked up, spread a bit, even after the dough was chilled.  It would be a good idea to look for visual (and texture) cues–you may need to add more flour to get it to the right consistency.  Though my cookies were not perfectly shaped, they are still perfect with tea and the rosewater flavor is unique and unexpected and usually elicits a delightful reaction 🙂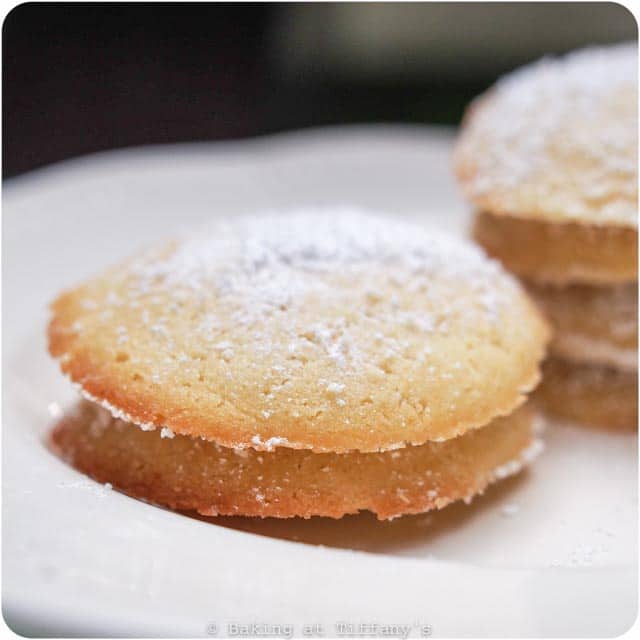 Sherry Yard's Rose Water Almond Tea Cookies
(makes about 3 dozen 3-inch cookies)
1-1/2 cups all purpose flour
1/2 cup almond meal
12 T. unsalted butter, cut in cubes
1-1/2 cups powdered sugar
1/2 t. salt
1 t. vanilla extract
2 T. rose water
2 large eggs, at room temperature
(1/2 cup of powdered sugar to dust the cookies to finish)
1.  Sift almond meal and flour together into a bowl.
2.  Cream the butter on medium speed using a stand mixer with the paddle attachment, until the butter is light in color.  Add the powdered sugar, salt, vanilla extract and rose water, and continue to mix until the butter mixture is smooth.  Be sure to scrape down the sides of the bowl during the mixing process so everything is incorporated.
3.  Mix in the eggs, one at a time, beating just until incorporated into the batter.
4.  After scraping down the sides of the bowl, add the flour mixture, mixing on low speed, until the flour is fully incorporated.  Do not over mix.
5.  Remove cookie dough from the bowl and wrap in plastic wrap tightly.  Refrigerate the dough for at least 30 minutes.  You can also freeze the dough for use later (Sherry Yard suggests that the dough can be kept frozen up to 1 month).
6.  When ready to bake, preheat the oven to 350F degrees.  Adjust the rack in the oven to the lower third, and line 2 baking sheets with parchment paper.
7.  Roll out 1″ balls of cookie dough and place each about 1″ apart on the baking sheet.  Sherry Yard suggests flouring your hands to keep the dough from sticking, however, this was not very effective for me (though my dough could have been extra sticky).
8.  Bake each sheet for about 12-15 minutes, turning the sheet around in the oven about halfway through, until lightly golden brown on the edges.  The total bake time for each sheet in my oven was closer to 15 minutes.
9.  While still hot out of the oven, dust the cookies generously with powdered sugar, then let the cookies cool completely (I did not transfer them to a cooling rack since the cookbook did not provide instructions to do so).