We're now entering one of my favorite times of the year to go to my local farmer's market or grocery store. I absolutely LOVE walking into the store or perusing the farmer's market and seeing loads of fresh strawberries, peaches, apricots, nectarines and cherries. I had my first peach of the season a couple of days ago and immediately went to the store to buy more.
Now, as you can tell from the content of this blog, I'm a dessert girl through and through. One of my favorite "comfort" desserts of all time is a warmed fruit cobbler with vanilla bean ice cream. Actually, any warm dessert served with vanilla bean ice cream gets an A+ in my book 🙂
You can use the topping for this dessert to top a pie or substitute the peaches for apricots, nectarines or even plums! YUM! Also, since fruit is such an important part of a healthy diet, feel free to eat as many pieces of this as you'd like. That's how it all works, right? As long as there's fruit, eat away? 😉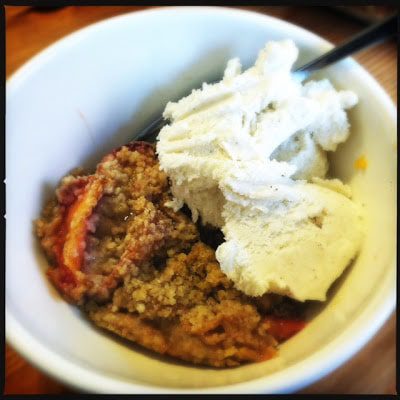 THE PASTRY POSTS FRESH PEACH CRISP
Makes 1 9×13 crisp
Ingredients
6 ripe peaches, pitted and sliced
1 teaspoon ground cinnamon
1 cup all purpose flour
2/3 cup brown sugar
6 tablespoons cold unsalted butter, cut into pieces
Directions
Preheat oven to 375F.
In a large bowl, mix the peaches and cinnamon and set aside.
In a food processor, add flour, brown sugar and butter and pulse until well combined.
Mix half of the sugar mixture with the peaches and transfer to a 9×13 baking pan.
Pour the remaining sugar mixture on top.
Bake until golden brown, approximately 30 minutes.
Enjoy warm with vanilla bean ice cream.
Crisp will keep in the fridge, covered, for a couple of days.