Noodle soup is a popular street food in Thailand. There are so many kinds of noodle soup. It can be made with chicken, duck, seafood or any kind of proteins. There are also so many different varieties of noodle used in noodle soup dishes. It can be thick and flat or thin like angle hair pasta. The noodle can be made from rice, wheat or even moong bean flour.

I can eat noodle soup everyday. In fact, when I was living in Thailand, I ate it everyday. Sometimes for breakfast, most of the times for lunch or late night dinner. Noodle is one of the most comforting dishes. We don't usually made noodle soup at home because it's so cheap and sold everywhere in every street which makes us forget how easy it is to make it at home.
The most important element of noodle soup is broth. You want fresh broth that is full of flavor. I usually made broth with bones, a few herbs and Chinese five spices. Noodle soup can be very healthy when you add a lot of bean sprouts and some vegetable in it, too.
I used marinated meat I made for Thai Sukiyaki I show you earlier. It's cooked so tender very easily in boiling broth. Noodle soup should be served piping hot so the broth should be ladled into with bowl right before serving.
Easy Noodle Soup with Marinated Meat

Ingredients: (4 serving)

For Marinated Meat

300 gm flank steak- sliced

4 cloves garlic- minced

4 tbsp light soy sauce

2 whole eggs- beaten

For Noodle Soup      

6 cups fresh meat broth

Vegetable like Chinese kale, cabbage or bean sprouts

150 gm Rice noodle stick- soaked in water until soften

A handful celery leaves

Condiments to taste: fish sauce, white pepper, chili flakes, vinegar, sugar

Preparation:

1.  Marinate sliced flank steak with garlic, light soy sauce and eggs over night.

2.  To make noodle soup, bring meat broth to boil.

3.  When the broth is furiously boiling, add marinated meat and let it cook for 5 minutes or until tender.

4. In another large pot, bring 5 cups of water to boil and blanch soften rice noodle for about 30 seconds or so. The noodle should be just cooked, not overcooked.

5. Arrange some cooked noodle, celery leaves and vegetable in a bowl. Ladle some boiling broth and pieces of beef in it. Serve hot with condiments to adjust the taste as you like.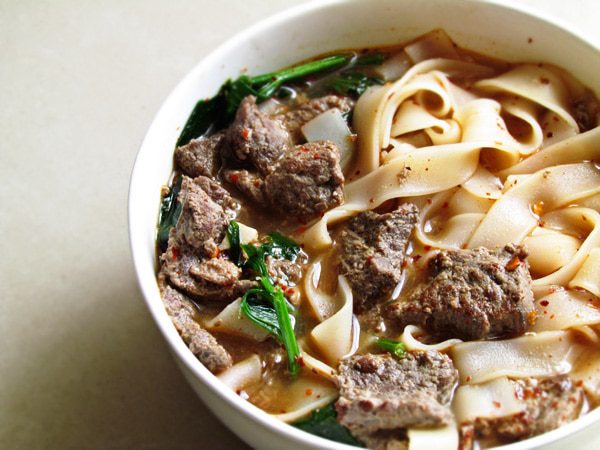 The noodle soup is truly my ultimate comfort food. It's always perfect as it is— warm and flavorful. Nevertheless, before digging in, we usually add more chili flakes, sugar, vinegar, and fish sauce to adjust the taste again. It's not that the dish is incomplete, but it's more like a ritual before eating.
Have a nice day,