We have all heard the quote, "Simplicity is a sign of perfection". I'm not a very complex person and I love when things connect to me in base level. I extrapolate many of my beliefs in cooking too. As much as I love to challenge myself in cooking/baking, labor intensive dishes I also love to kick back and relax myself by enjoying a simple meal. There is nothing more comforting to make one pot meals that are simple yet tastes so divine and gives a sense of complete satisfaction as in a feast. Today's recipe is one such meal.
Paneer is quite rich when its added to any dish. The original recipe was for a vegetable biryani and I modified it to paneer biryani. The results were just simply awesome. Enjoy!!!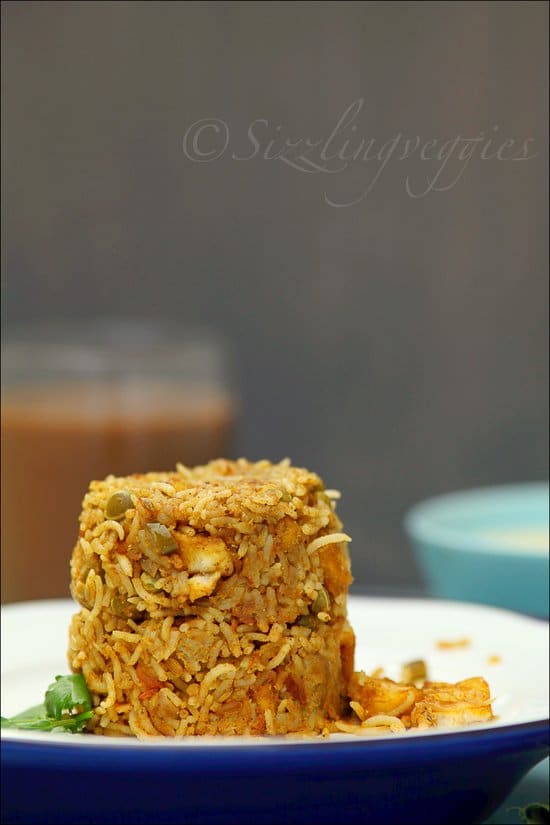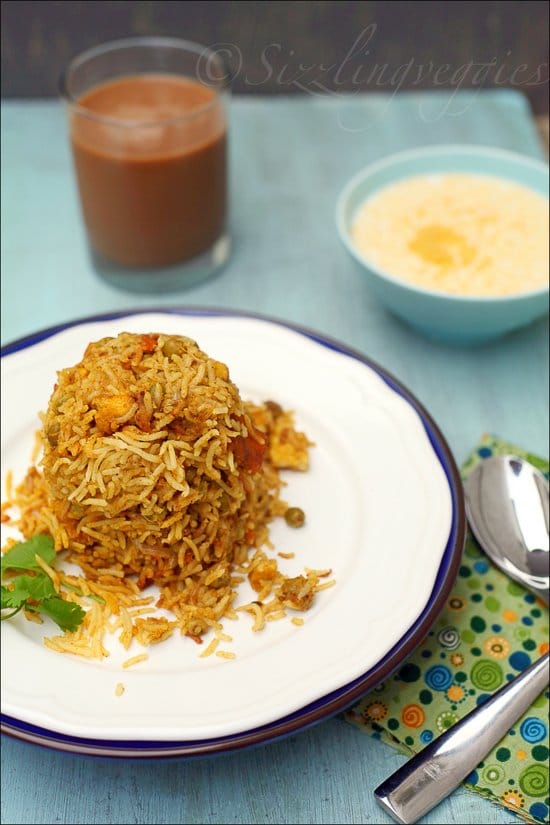 Paneer Biryani
Ingredients
Onion — 1 medium (sliced lengthwise)
Tomatoes — 1 (chopped)
Ginger-Garlic Paste — 1 Tbsp
Paneer — 200 gms (cubed)
Peas — 1/2 cup (cooked/frozen)
Green Chili — 2-3 (adjust to taste )
Coconut Milk — 1/2 cup
Turmeric Powder — 1/2 tsp
Basmati Rice — 1 cups
Mint leaves — 1/4 cup
Coriander leaves — 1/2 cup
Red chili powder — 1 Tbsp
Coriander powder — 1 Tbsp
Water -1 1/2 cups
Garam Masala powder — 1/2 Tbsp
Fennel seeds — 1/2 tsp
Cardamom — 1
Cloves –2
Cinnamon stick — 1/2 inches
Biryani Masala — 1 Tbsp (optional)
Salt — to taste
Instructions
In a bowl soak basmati rice (washed) in warm water for at least 30 minutes. Then drain the water, fry in a Tbsp of ghee and set aside.
Grind mint and coriander leaves into fine paste and set aside.
In a pan heat oil and add fennel seeds, cardamom, cloves, and cinnamon and fry for a minute. Once the flavor is infused, add sliced onions and fry till they turn translucent. Add ginger-garlic paste and green chillies and fry for a minute.
Add chopped tomatoes, turmeric powder, red chilli powder, biryani masala (if using) and fry for few minutes. Now add cubed paneer, peas, salt, and ground mint-coriander paste. Mix lightly till everything is well combined. Add coconut milk. Cook until the gravy just starts to boil. Switch off flame.
Transfer the gravy into electric rice cooker, add rice, water (1 1/2 cups) and mix well. When the electric cooker is done either unplug or transfer the rice into serving bowl to avoid rice from burning at the bottom. The rice can also be cooked in pressure cooker. Garnish with coriander leaves. Serve hot with your choice of raita. Enjoy!!!