Chickpea flour, also known asbesan or gram flour, is basically what it sounds like: ground up chickpeas. It has always be carried in Indian, Pakistani and Middle Eastern markets, but has recently made its way into other stores and products due to its gluten-free nature. There may be a slightly different taste depending on whether it's imported, as chickpeas elsewhere are a different  variety than those found in the US. In addition to being gluten-free, chickpea flour is a great substitute for those of us who need to watch our wheat intake. This includes people on low-glycemic diets and women. Apparently, as women get older, the majority of us develop mild wheat allergies that like to wreak havoc on our digestive systems and weight. I'm sure I don't have to tell you how much that sucks. Chickpeas are also high in fiber, protein, iron, folic acid and low in carbohydrates. Basically, they're good for you.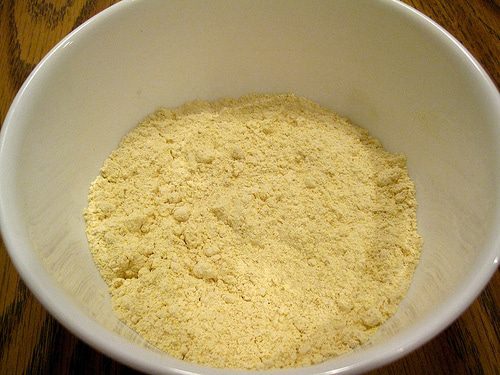 So what do you use it for? It can replace flour or cornstarch as a thickening agent; be used to dredge items when adding a crust or breading; and it also creates a nice roux for sauces. It has a slightly nutty sweet taste, so unless the recipe strictly calls for chickpea flour, think about the other ingredients going into your dish. It likely won't alter the taste of a sauce or crust, but may alter the taste of a recipe that is primarily made of flour. I've seen it used in yeast and quickbreads, cake and cookies, and even to makefries. It apparently goes quite well with chocolate, and replacing up to 1/4 of the flour in these recipes gives a richer, nuttier taste. In that vein, according to Bob's Red Mill, you would substitute 1 cup of wheat flour with 7/8 cup of chickpea flour, as it absorbs water like nobody's business and would otherwise dry out your baked goods.
If you're looking for some tried and true recipes, let's talk traditional uses. In the Indian subcontinent, chickpea flour is used to makepakora, flat breads (papadum), balls (bonda) and other items that all appear to be fried. They also use it to make a facial exfoliant, but I prefer to eat my food, not wear it on my face. In the Middle East, they make falafel and hummus. In Nice, they use it for a crepe known as socca (or farinata if you are in Genoa, Italy). The Italian region of Liguria is also known for a chickpea polenta known as panissa. And in Spain? It forms of the basis of beautiful tapas known as tortillitas de camarones.
While I will be making and posting about a few other dishes (pakora? socca? cookies?) over the next week or so, I chose to start my chickpea flour extravaganza with tortillitas de camarones because it's a savory, versatile dish. You can substitute in a variety of herbs and seafood depending on what you have on hand. When cooked, the batter is crispy on the outside, soft on the inside, and boasts an herbed, nutty taste. This, along with some spring onions, was the perfect complement to the traditionally used shrimp. I would certainly serve this to guests, so give it a try.
Tortillitas de Camarones (As found in the NY Times; Makes 4)
1/2 cup chickpea flour
1/2 cup all purpose flour (you can use 100% chickpea for a nuttier taste)
1/2 tsp. baking powder
1 cup + 2 tsp. water
1/3 cup chopped onion or scallion (I used scallions, but I bet leeks would be good)
1/2 cup raw shrimp, roughly chopped into 1″ pieces (you may also use scallops or other seafood)
2-3 Tbsp. chopped thyme, parsley, chives or cilantro (I used fresh thyme from my garden)
kosher salt
pepper
olive oil
Directions
1. In a bowl, whisk flour, baking powder and water thoroughly so there are no lumps. Add in a scant tablespoon of kosher salt and a few turns of your pepper mill. Taste a dab of the batter (it's not gross, don't worry) to make sure it is seasoned to your liking.
2. Mix in chopped herbs, onion/scallion and seafood At this point, you should have a pancake-like batter with chunks of seafood and onion. If you think your batter is too thick, add a little water.
3. Heat an oiled 8″ non-stick frying pan to medium heat. You don't want to use too much oil, as it will soak in around the edges and alter the taste; but you want to coat your pan so the edges of yourtortillitas get crispy. You can use a combination of cooking spray and oil as well.
4. Pour in approximately 1/4 of the batter, making sure to cover the pan like a crepe. Cook for approximately 3 minutes, flip, and cook for another 3. You should have some brown and crispy edges, and your shrimp should be bright pink. Six minutes should be sufficient for other chopped seafood.
5. Serve warm, with a slice of lemon. Make sure to save yourself some or your guests may leave you high and dry.