When life hands you lemons… discard their skin, discard their pulp, water them down, and add copious amounts of sugar. No, mr/mrs. wasteful pants. When Life hands you lemons, you thank Life for the freebies and go make lemon pickle! 
Embrace the lemon. Love the lemon.
Lemon pickle is eaten with very simple "curd rice"(e.g. white rice mixed with plain yogurt). It's sorta your lazy mid-day meal kinda a dish, travels well, and makes honey take a second look for its longevity. It also takes very little pickle to spice a plate of curd rice, so it's an economical dish as well. Thanks, Life!
This takes a long time to make (5-10+ days), but only gets better with time. The other plus side to this long wait is that it is mostly just waiting.
Use the ripest lemons with the thinnest skins for the best results. The thinner the skin, the tastier the pickle. You could even choose to keep the seeds in the pickle, but I discard them.
Lemon Pickle
Special Ingredients: sea salt (or kosher salt), hing (asafoetida), methi (fenugreek) powder, mustard seeds
Special Tools: Airtight container, patience
In a bowl, put:
Cover the lemons with boiling water, and let them soak in hot water overnight (~12 hours). This softens their skins, and helps in the process of breaking them down.
Next, discard the water and slice the lemons into 1/8th (or smaller) and then cut the slices in half. You could keep the pieces bigger, but I recommend slicing fairly small since the cooking aim is to break down the lemon.
Place the lemons in an airtight container, then mix:
5 tbsp sea salt (or 5 tbsp kosher salt)
1 tsp turmeric
Cover with the lid, and let set for 5 days. The lemons will really start breaking down. If you're so inclined, pick up the container and shake it to re-apply the salty lemon juice all over the place.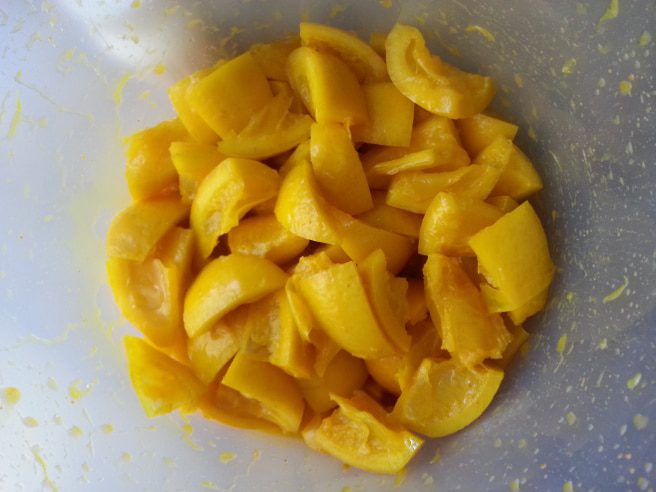 After 5 days has passed, open your lemon lid, and take a small pan and heat
1/2 cup oil (I use olive)
1 tsp Mustard seeds
When the mustard seeds pop, add:
3 cloves garlic, minced (1 tbsp)
Remove from heat, mix in:
1/4 cup cayenne powder (or more, but I feel 1/4 cup does the trick)
1/4 tsp hing
1/4 tsp methi
You'll get an aroma immediately, dump all the seasoned, hot oil onto your lemons and mix.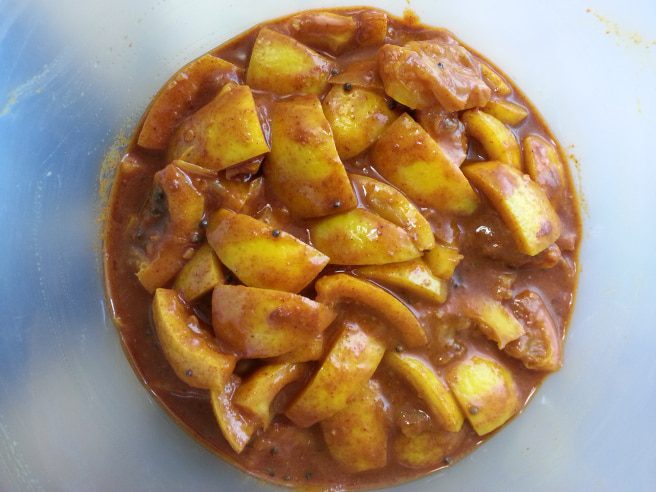 You could eat the pickle at this point, but the longer you wait, the more the skin will have broken down and you'll have a less bitter taste.
Leave for 5 more days, periodically giving the container a violent shake or two (so it knows you're the boss).
Eat (a little dab will do ya!) with rice mixed with plain yogurt and can the remainder for later enjoyment!